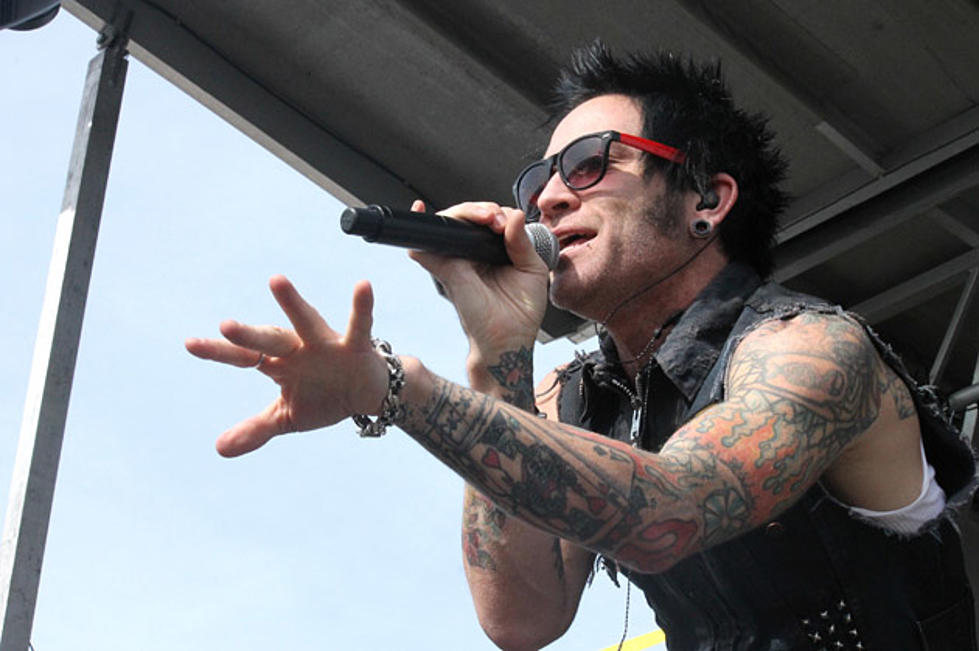 Singer A. Jay Popoff on Lit: 'This Band Has Always Been a Brotherhood'
Liz Ramanand, Loudwire
Lit have had one heck of a journey as a band, releasing their fifth studio album, 'The View From The Bottom,' last year after an eight year break. They were also recently part of 2012's ShipRocked Cruise, which featured numerous talented acts on a boat sailing from Florida to the Bahamas and back.
While on the cruise, we had the chance to chat with frontman A. Jay Popoff about the new album, how the tragic death of their drummer Allen Shellenberger affected the band, as well as future plans for Lit and much more.
Lit have endured numerous hardships as a band; how has that made you stronger individually and as a group?
It definitely changed perspective on the big picture. This band has always been a brotherhood, you hear any band say that but our band literally grew up together. To lose a brother, it's hard enough not only when you're best friends and you're partners in something like Lit - it's our business and our life, it's like losing a limb.
It definitely brought the rest of us together -- Kevin [Baldes] and Jeremy [Popoff] and I --and [we] pulled some deeper, sentimental songs when we wrote 'The View From The Bottom.' There are songs that are therapeutic for us. Lyrics have always been important to us but it's a little less about the partying and drinking – we have those songs on here but it's more about, just life.
What does the title 'The View From the Bottom' specifically mean to you?
It was an image that came to us more than what it actually says. On the cover, it's us raising our glasses and it's sort of like this new beginning in a way and we have a song called 'Here's To Us' – this whole record is all about family and unity and that's just the toast. 'The View From the Bottom' is looking up at the bottom of a glass.
It was great seeing you onstage [during your ShipRocked set]. You guys have been away for a while - what did you guys miss most about playing shows and touring?
That was the part we missed the most – getting out there. We did continue to do occasional one off shows, it was just enough to keep us going but really getting out on the road over the summer was awesome – just everyday waking up on the tour bus, hanging out after.
You have nowhere else to go except back on the bus so it's cool to hang out with people and reconnect with fans, new fans that were too young to come out to the shows before –we're meeting a lot of those people and now they're old enough to drink, so a lot of raising glasses with new people.
What made you guys decide to write and create music again?
Nathan Walker, our drummer now, he was really close with Allen [Shellenberger], it was when we decided to induct him into the group -- I don't know it was weird, everything just lined up and that's when songs started to flow.
We continued to write because we're songwriters outside of the band, as well, but actual Lit music just wasn't coming to us, everything we would right we'd be like "That's not Lit." My brother and I we do most of the writing and the songs just started feeling like Lit again and so we just went for it.
Was there every a moment where you thought you and the rest of Lit might not ever make music together again or did you feel that it would take some time and happen naturally?
We knew that we would always make music together because there really isn't any other option. We've spent our entire lives doing this and it's just what we are and we just have such a cool fanbase all over the world and constantly getting hit up by people who want new music.
I just felt like we owed it to ourselves as a band, we owed it to the fans that have been so patient and we didn't want to put out some half assed record just because it had taken so long. We wanted to deliver something that we're proud of.
What are plans for Lit in 2013?
We're planning on getting back out on the road and probably writing another record, too. We're not going to sit around and wait, we're feeling creative. The fire's back and passion's there and we just want to keep it going.
Watch Lit's Music Video for 'The Broken'