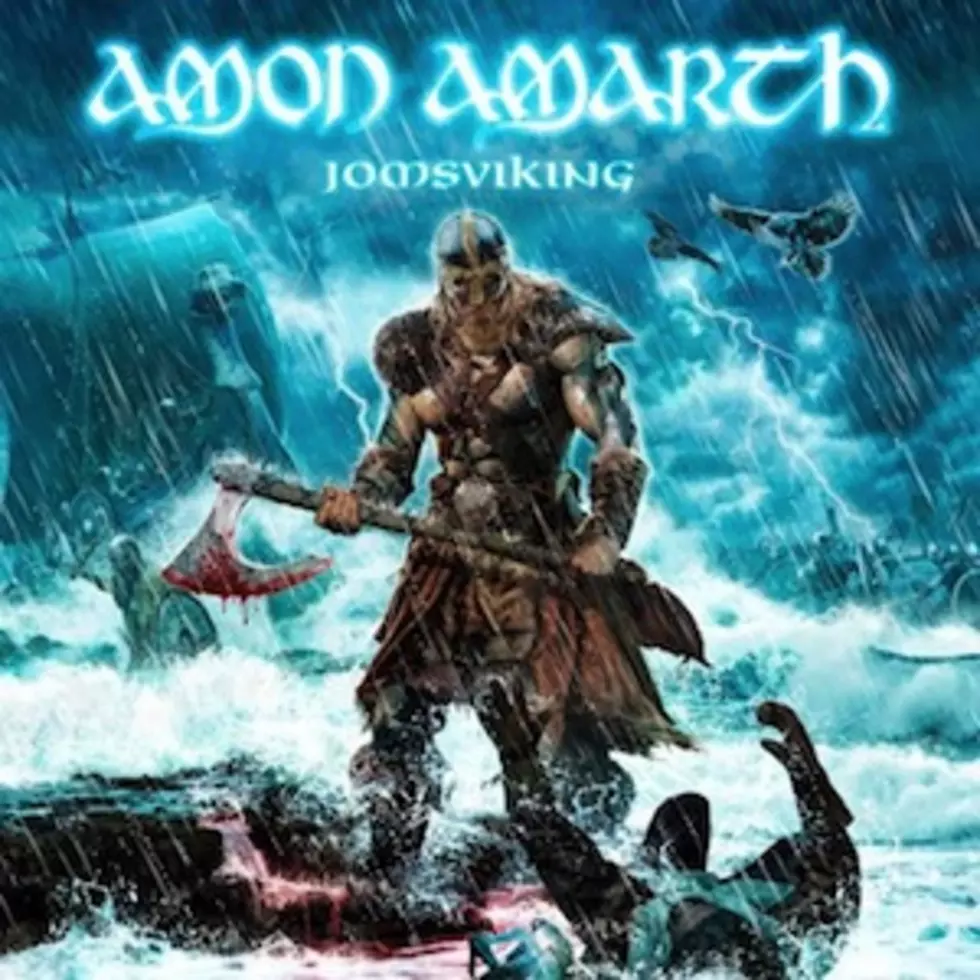 Amon Amarth Unveil 'Jomsviking' Album Details, 'First Kill' Video + North American Tour Dates
Metal Blade
Amon Amarth have just given us all a bunch of reasons to get excited! The Nordic metal warriors have announced the release of their 10th studio album, premiered a video for the song "First Kill" and unveiled a batch of North American tour dates!
Amon Amarth's 10th full-length album is called Jomsviking and will be released March 25. "The Jomsvikings were a shadowy and legendary sect of Viking mercenaries, as shrouded in myth now as they were when they fought across Europe and the Middle East," says vocalist Johan Hegg. "Ruthless and deadly warriors who fought for the highest bidder, their code was simple: Show no fear. Never retreat. Defend your brothers, and when called upon, avenge their deaths. I felt we were finally ready to use their story as the jumping off point for an Amon Amarth album. The Jomsvikings and their world is the background for the story of a young man that is in love with a girl but unfortunately she's being married off. He accidentally kills a man when this happens and he has to flee - but he swears to have revenge and win her back. He can't let go of the past. He feels that he's been wronged and his life has been destroyed. The way the story evolves is not a happy story."
Of course, viking imagery adorns the album cover while "First Kill" has become the first battle hymn from Jomsviking. We all remember our first kill, right? Well, Amon Amarth's "First Kill" is heavier than a seven foot battle axe. On a snowy war field, vikings battle to the death has swords meet shields and pierce flesh.
Amon Amarth are set to tour North America with support from Entombed A.D. and Exmortus. Tickets go on sale Jan. 29 at 10AM local time. Check out the full list of dates below!
To pre-order Jomsviking in various bundles, head over to Amon Amarth's website.
Amon Amarth, "First Kill"
Amon Amarth, Jomsviking Track Listing:
1. First Kill
2. Wanderer
3. On A Sea Of Blood
4. One Against All
5. Raise Your Horns
6. The Way Of Vikings
7. At Dawn's First Light
8. One Thousand Burning Arrows
9. Vengeance Is My Name (bonus track - for digibook, digital, LP, and viking ship editions)
10. A Dream That Cannot Be (Featuring Doro Pesch)
11. Back On Northern Shores
Amon Amarth 2016 North American Tour Dates:
4/07 - San Diego, Calif. - House of Blues
4/08 - Phoenix, Ariz. - The Pressroom
4/09 - El Paso, Texas - Tricky Falls
4/10 - Albuquerque, N.M. - Sunshine Theater
4/12 - Dallas, Texas - House of Blues
4/13 - San Antonio, Texas - The Aztec Theater
4/15 - Houston, Texas - House of Blues
4/16 - New Orleans, La. - House of Blues
4/17 - Atlanta, Ga. - Tabernacle
4/18 - Tampa, Fla. - The Ritz
4/20 - Charlotte, N.C. - The Fillmore
4/21 - Silver Spring, Md. - The Fillmore
4/22 - New York, N.Y. - Best Buy Theatre
4/23 - Boston, Mass. - House of Blues
4/25 - Rochester, N.Y. - Water Street Music Hall
4/26 - Burlington, Vt. - Higher Ground
4/28 - Quebec City, Quebec - Imperial
4/29 - Montreal, Quebec - Metropolis
4/30 - Toronto, Ontario - The Danforth
5/01 - Cleveland, Ohio - House of Blues
5/02 - Detroit, Mich. - St. Andrews
5/04 - St. Louis, Mo. - The Pageant
5/05 - Chicago, Ill. - The Riviera Theatre
5/06 - Lawrence, Kansas - The Granada Theater
5/07 - Denver, Colo. - The Ogden Theater
5/09 - Omaha, Neb. - Sokol Auditorium
5/10 - Minneapolis, Minn. - Varsity Theater
5/12 - Winnipeg, Manitoba - The Garrick
5/13 - Saskatoon, Saskatchewan - O'Brian's Event Centre
5/14 - Calgary, Alberta - MacEwan Ballroom
5/16 - Vancouver, British Columbia - The Commodore
5/17 - Seattle, Wash. - Showbox Market
5/18 - Portland, Ore. - Roseland Theater
5/20 - San Francisco, Calif. - The Warfield
5/21 - Los Angeles, Calif. - The Wiltern Theater
See Amon Amarth in the 10 Best Metal Albums of 2006
See Amon Amarth in 10 Amazing Death Metal Vocalists You Can Actually Understand