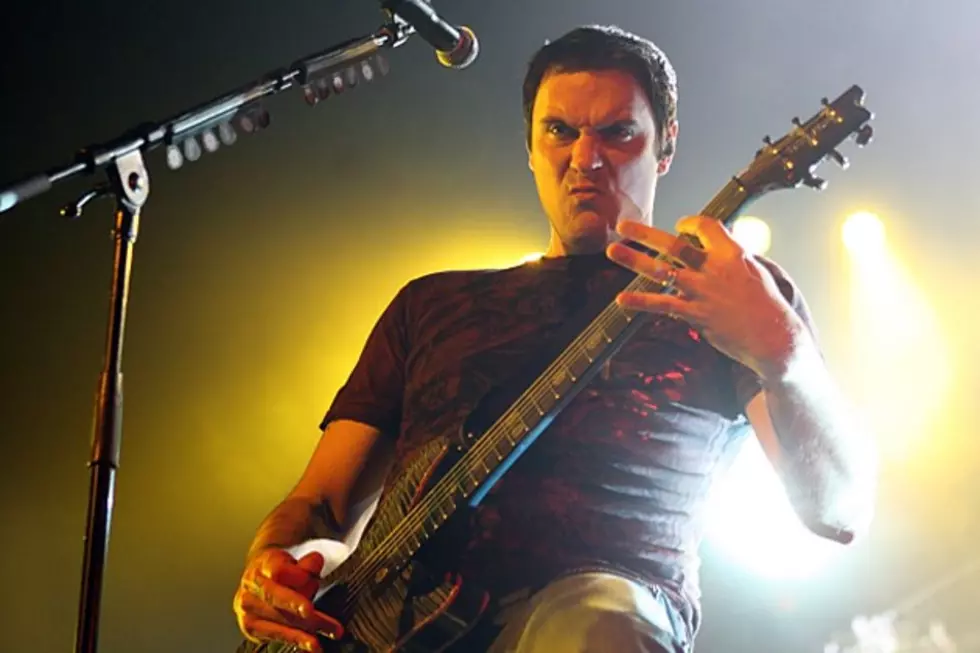 Breaking Benjamin Announce 2015 U.S. Spring Tour
Mary Ouellette, SheWillShootYou.com
Breaking Benjamin have announced dates for their 2015 U.S. spring tour. The band will play several radio station concerts and big music festivals on the trek, including Rock on the Range and Rocklahoma. They'll also be bringing along Young Guns as special guests on many of the dates.
You'll notice a lot of new faces in the band when you see them on tour. Frontman Benjamin Burnley is the only remaining member from the group's previous lineup. The rest of the band is comprised of ex-Picture Me Broken drummer Shaun Foist, former Forever Ouevre bassist Aaron Bruch, previous RED guitarist Jasen Rauch and ex-Adelitas Way guitarist Keith Wallen. Those new band members were announced in August of 2014 and you can check out a picture of the band's current lineup below.
It's been a tumultuous five years for Breaking Benjamin and the members in the group. Back in 2010, the band revealed it was going on an indefinite hiatus so Burnley could deal with an illness. While on that break, several band members gave their record label permission to release a greatest hits album without getting Burnley's consent. The frontman took those members to court, claiming he had legal rights to the group's name, In 2013, Burnley won the case.
That same year, Burnley got back on stage playing small acoustic performances. The following year, he announced the new lineup for the group. Breaking Benjamin just wrapped up a short winter tour in Rochester, N.Y. on Valentine's Day and are now gearing up to play the full-scale spring tour.
Breaking Benjamin 2015 U.S. Spring Tour Dates:
4/17 -- Pharr, Texas – Pharr Events Center*
4/19 – Corpus Christi, Texas – Concrete Street Amphitheatre*
4/21 -- Birmingham, Ala. – Iron City*
4/22 – Atlanta, Ga. – The Tabernacle*
4/24 -- Tampa, Fla. – WXTB Rockfest
4/25 – Fort Myers, Fla. – Fort Rock Festival
4/26 -- Jacksonville, Fla. – Welcome to Rockville
4/28 – Mobile, Ala. – Soul Kitchen*
4/29 – New Orleans, La. – The Civic Center*
5/02 -- Chattanooga, Tenn. – Track 29*
5/03 -- Concord, N.C. – Carolina Rebellion
5/13 -- Pittsburgh, Pa. – Stage AE Indoor*
5/15 – 5/17 -- Columbus, Ohio – Rock on the Range
5/22 – 5/24 -- Pryor, Okla. – Rocklahoma
(* denotes Young Guns as special guest)