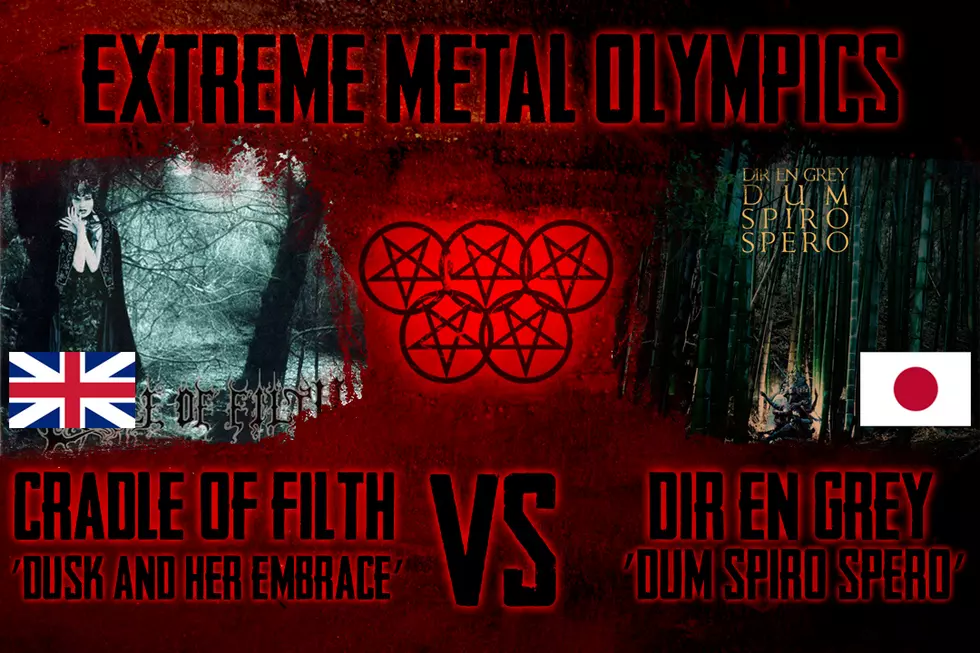 Cradle of Filth vs. Dir En Grey – Extreme Metal Olympics 2016, Round 1
Music for Nations / Okami
In the first round of the Extreme Metal Olympics, we've got a gothic matchup as Great Britain's Cradle of Filth square off against Japan's Dir En Grey as Dusk and Her Embrace and Dum Spiro Spero go head-to-head.
Dusk and Her Embrace fully realized Cradle of Filth's initial vision to marry black metal with gothic elements and dark and literary lyrics. Frontman Dani Filth's whistle-toned, tea kettle wail puts another unmistakable stamp on the band's sound. Melodic guitar playing and a rather lush production contrasted black metal's typical lo-fi approach, saving the gothic aspects from being underutilized by these British innovators.
Representing 'The Land of the Rising Sun' are the avant-garde outfit Dir En Grey. Dum Spiro Spero, which translates to "While I Breathe, I Hope," is one of the band's most potent and heaviest records. While it still contains a fair amount of clean singing, there's no denying songs like "Different Sense" will erase any doubt that Dir En Grey can thump and rumble with the heaviest of bands.
Which album will move on to the Quarterfinals of the Extreme Metal Olympics? Vote for either Cradle of Filth's Dusk and Her Embrace or Dir En Grey's Dum Spiro Spero in the poll below and check out a song from each album beneath the poll if you're unfamiliar.
(This poll will end on Thursday, Aug. 11, at 9AM ET. Fans are able to vote once per hour, so keep coming back to make sure your favorite song wins!)
Cradle of Filth, "Dusk and Her Embrace"
Dir En Grey, "Different Sense"
Extreme Metal Olympics Matchups