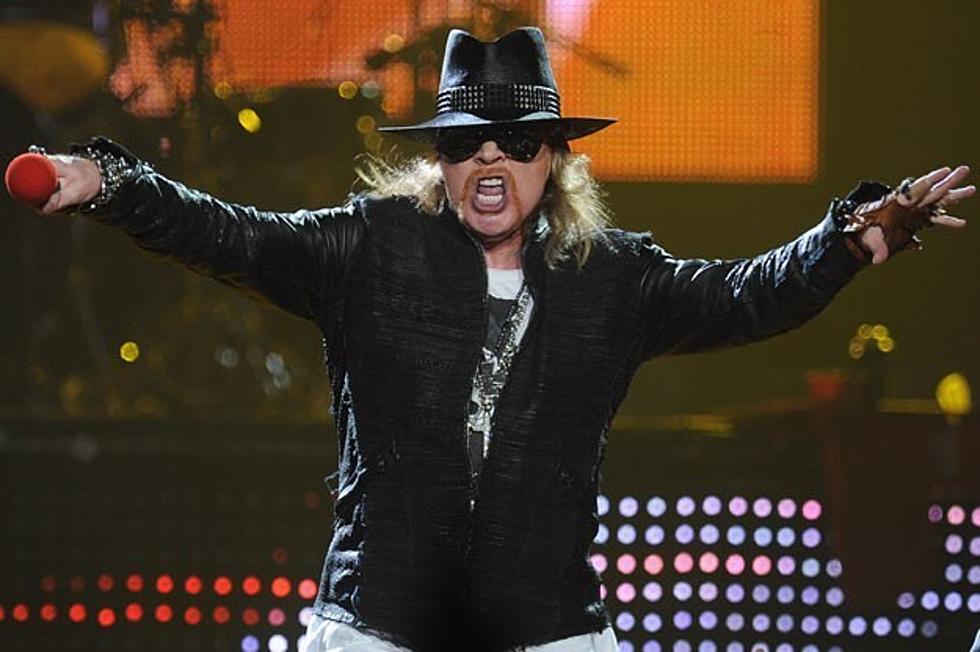 Guns N' Roses Rock Acoustically for 2012 Bridge School Benefit
Theo Wargo, Getty Images
The fun part of Neil Young's annual Bridge School benefit is seeing acts who normally rock out attempt to pull off a fully acoustic performance, and that's what fans got Saturday night when Guns N' Roses unplugged for a rare stripped-down set for those on hand.
Young's annual event, which raises funds to aid in the education of severely handicapped children, returned to its yearly home in Mountain View, Calif. for the first of two nights. It was there where Jack White, Flaming Lips and others performed acoustic sets, but the real curiosity of the evening would be how Guns N' Roses would handle it.
How rare was the performance? Recently, guitarist DJ Ashba revealed, "A lot of the acoustic shows in the past, I would still play on the [electric] Les Paul — but for this, we're going all acoustic, no electric anything. That's how Neil [Young] envisioned the whole thing, so we're gonna stay true to that, for sure."
The group worked up a eight-song set that surprisingly included such harder-edged tracks as 'Welcome to the Jungle' and 'Paradise City.' Other highlights from the performance included the rather funky opening number 'You're Crazy,' the "sentimental" favorite 'Used to Love Her' and a really cool stripped down version of 'Sweet Child O' Mine.' The evening also featured the festival's host, Neil Young, joining the band for a cover of his 'Don't Let It Bring You Down.'
The band not only seemed to be having fun with the challenge, but also took in their surroundings as various members wandered to the side of the stage to play specifically to the students the show was benefitting. Proceeds from the night will aid the Bridge School's continued efforts in advancing the educational pursuits of severely handicapped children.
Editor's Note: Video footage that initially appeared online after the show has been removed due to copyright claim.
Guns N' Roses Bridge School Benefit Set List:
'You're Crazy'
'Used to Love Her'
'Welcome to the Jungle'
'Better'
'Sweet Child O' Mine'
'Patience'
'Don't Let It Bring You Down' (with Neil Young)
'Paradise City'