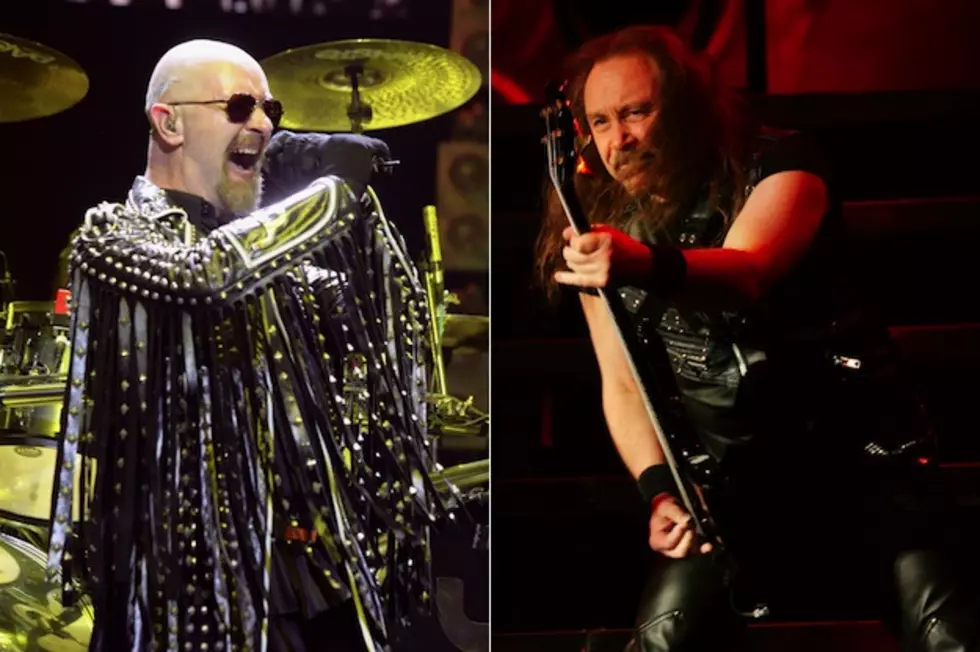 Judas Priest's Rob Halford and Ian Hill Talk 'Chosen Few,' Upcoming Album + More
Metal Gods Judas Priest have kicked off the North American leg of their 'Epitaph Tour,' which they claim will most likely be the last large world tour of their over 40-year career.
The band recently released the compilation album, 'The Chosen Few.' The collection features Priest classics chosen by members of such bands such as Black Sabbath, Metallica, Lamb of God and Guns N' Roses, among others, who celebrate the career of the heavy metal veterans.
We sat down with Judas Priest singer Rob Halford and bassist Ian Hill in New York City shortly before their performance of "You've Got Another Thing Comin'" on 'Late Night With Jimmy Fallon.' In addition to answering some of our Loudwire readers' questions, the legendary vocalist and bassist spoke about the 'Epitaph Tour,' their new guitarist Richie Faulkner, their upcoming studio album and more:
You're about to start the North American leg of the Epitaph tour, how has the tour been so far and what are the biggest differences playing here as opposed to South America or Europe?
Halford: South America you get up really f---ing early. I've got to stop swearing. [Laughs] You go to bed at around 2AM or 3AM, then you get a wake-up call at 7AM and you go, "This isn't why I wanted to be in a rock 'n' roll band." You drive all together in a van to the airport, you take your shoes off, you take your laptop out of your bag and you do that for all of South America and all of Mexico. It's grueling, but the payoff is when you stand in front of all those metal maniacs and everybody's going nuts and you're having the best of times together.
You come to America and then "Woo Hoo!" the tour bus! [Laughs] Long, straight roads with few bumps in them, and "Look there's a Burger King! There's a 7-Eleven!" When Pantera toured with Priest in 1991, they'd say, "Where's the Circle-K dude?" [Laughs] I'd say "There's no Circle-K in Paris, Dimebag." It's just the convenience of living the life of rock 'n' roll is different in every country, but the great anchor are the fans. The fans are spectacular wherever you go.
So you've said that the Epitaph tour will most likely be your last "major world tour." How did you decide which songs to include in your setlist knowing that this may be the last time that many fans will see you live?
Hill: With great difficulty. [Laughs] For every song you put in you've got to drop somebody's favorite. This setlist has taken us two-and-a-quarter hours to play onstage, which is longer than we've played for a long, long time. There are so many "evergreen" songs that we'd probably get lynched if we didn't play them, you can't drop them. So, we had to start adding and adding and adding, and I think we've achieved our goal. We've picked a representative song off each album – at least one. I think its turned out to be an excellent setlist at the end of the day.
Have the fans been reacting well to the setlist?
Hill: Oh, yeah. Some of the earlier ones like 'Never Satisfied,' from the first album you get a few blank stares, but after the second bar they get into it. It's a great song and the fan's reactions have been absolutely tremendous.
The closest show to NYC that you are playing on this upcoming tour is Nov. 18 at the Izod Center. Is it true that you're still banned from Madison Square Garden?
Halford: I don't really know about that. We'd have to try and book ourselves in there. It's an amazing venue isn't it? It's like the gigantic version of CBGB's in terms of what it represents. If you've got the Garden on your tour it's like a highlight. It's like we just got confirmed for the Budokan in Japan, which is like the equivalent to the Garden in New York or the Royal Albert Hall in London. A lot of bands want to play the Royal Albert Hall and we actually played there for the first time a few years ago for Roger Daltrey's Teenage Cancer Trust Foundation. To be in that building, you think of all the people who have been in there, it's spectacular.
It's the same with the Garden with all those great basketball games that have happened there, all the great boxing matches that have happened there, and all the other artists in the entertainment industry. If those walls could speak… But we don't know if we're still banned quite honestly. Probably not now after all these years, but to some extent it's still nice to go "Yeah dude, we're banned from the Garden!" [Laughs] We caused $300,000 worth of damage, which is a fact. So part of it is we hope we're still banned, but the other side is "Please don't ban us anymore." We would love to play the Garden again.
After K.K. Downing left the band, it left you looking for a new guitarist. How was Richie Faulkner chosen as his replacement?
Halford: It was difficult, wasn't it Ian?
Hill: Yeah. He actually came from somebody else. We asked another guitarist if they were interested but their schedule wouldn't allow it, they had already committed themselves to something else, and he suggested that we should listen to Richie, and we did. Then he came up to see Rob and Glenn [Tipton]. He made an impression on Rob and Glenn, so we gave him a go and we're glad we did.
Halford: You never know how these things are going to work out, because primarily you're looking for someone who can play the parts – and boy he can play those parts. He just really tears it up because he also injects his own style and technique. I think we all agreed that we didn't want a copycat version of K.K. We wanted somebody to be their own person and to take the stage and do their own thing. When we play 'Rapid Fire,' he's literally in the front row; he's on the edge of the stage. He's just this phenomenal force in rock and roll.
I can't wait to see where he's going to be after the American tour because he's already elevated himself through Europe and South America, but America because of its cultural prestige as a rock 'n' roll country is about to be taken by storm by Richie. He was on fire the other night in Monterey. It's been very interesting watching him and listening to him. Richie Faulkner from Tilburg in Holland, which was our first date to Richie Faulkner on stage in Monterey, Mexico all those months later, is a different guy. He's just blossomed in a tremendous way and he's brought a really important, invaluable dimension to this band. It's given us a lot of thought about what we're going to do next.
His first performance with you was on 'American Idol' and it just seemed like Richie was huge playing that solo from 'You've Got Another Thing Comin'.' How did the band come into contact with 'Idol?'
Hill: They actually contacted us. [Contestant] James Durbin apparently was given the choice of a song to do for the grand finale and he wanted to do one of our songs and play along with us, so they contacted us and it took us about three seconds to agree. [Laughs] That was something you can't turn down and of course James is a great bloke.
Halford: My home phone started pinging because people in America we're going, "There's a guy on 'American Idol' doing "Another Thing Comin'." I saw him and I thought, "We've got to watch this guy." Instantly I thought, "This guy has got something really special here." Then I remember speaking to management a few days later saying, "I've got a feeling that towards the end there's a very good possibility they might call Priest in," so that was always floating in the back of our minds while we were working and doing other things. Of course as he progressed, unfortunately he didn't go as far as we'd hoped he would, which is probably a good thing because that's metal – you're just about to get to the peak and then you fall off the cliff. [Laughs] And that's great, that really makes James more real, not that he isn't. James is a real metalhead.
We shouldn't give him to the pop world, we should keep him for ourselves right?
Halford: He wouldn't let that happen to himself as well, which is great. We got very close to him in the 48 hours we were together. We went out to dinner with him. He's just so grounded. He knows exactly what he wants to be and what he wants to do. We know that he's going to be okay, because if you look at some of those clips with Jimmy Iovine and all the other people saying "We think you should do this," and James would say "I'm not doing that, I'm picking these songs to do myself." He's committed and dedicated like real metalheads are, so we've really got the horns up for James on his upcoming release.
I hope he goes the same way as Daughtry, because Daughtry is a great singer, songwriter, performer and he's done really well. I really hope James goes in the same direction. His voice is absolutely phenomenal and he can do a lot of great things, so as long as he's got the songs anything can happen for James.
One interesting aspect about your new compilation 'The Chosen Few' is that artists from completely different backgrounds picked some of the same tracks. David Coverdale from Whitesnake and Randy Blythe from Lamb of God both picked 'The Green Manalishi.' Klaus Meine from Scorpions and Corey Taylor from Slipknot both picked "You've Got Another Thing Comin'." Were you surprised by the unlikely pairings?
Halford: Yeah, absolutely surprised. We had no idea what anyone was going to pick, did we Ian?
Hill: No, it was totally up to them. It's our only compilation album where we had absolutely no control whatsoever of what's going on it.
Halford: It's great that you should marry the guys together though. That Klaus from Scorpions and Corey from Slipknot should both like that particular track and say what they've said about particular songs that they enjoy from Priest. It really shows you the way that metal has this amazing generational crossover to two totally different worlds.
Members of Black Sabbath and Metallica were among the acts that chose the tracks for 'The Chosen Few.' What songs would you choose from those three acts if you were helping to put together a similar compilation for them?
Halford: For Black Sabbath, I'd probably pick 'Black Sabbath,' because that's like the most evil song ever written. For Metallica, I'd probably pick 'Blackened.' I'm into old school Metallica personally and old school Sabbath.
Hill: It's funny; I'd have to go listen to the albums again. There's always a hidden gem somewhere. You always pick out, "Oh yeah, I used to love listening to that," and then you tend to discard the rest of the album as time goes on. We've been doing albums now for 30 or 40 years and even with our songs I forget what the hell we've done on our albums, so I'd have to look back and listen to them all again and see if there are any hidden gems in there before I just blurt out what I've been listening to for the last 30 years.
Both 2011 compilations 'Single Cuts' and 'The Chosen Few' only cover your work until the early '90s; do you feel like this represents your career in the right way or do you feel that some of your later material should have been included?
Halford: I think it's just a fun retrospective. You can't do it all in one go, it's impossible. I think you just have to look at the moment that you're working with. Maybe there'll be a 'Chosen Few 2' or 'Chosen Few 3.'
Hill: The other thing is that there was a gap there where Rob wasn't with us and the two albums we've done since Rob's return are still very, very familiar and very fresh. In a lot of cases they haven't sunk in yet – the great songs off the last two albums. They haven't gotten established yet, so that's maybe one of the reasons.
It seems like when you're around for such a long time it's hard for the new stuff to really sink in with the fans.
Halford: That's the way it goes, yeah.
Hill: Of course, as far as singles are concerned, we haven't had any singles off the last two albums. [Laughs]
Halford: We've never been a singles band. We love our label to death, Sony. That's why we thought why do you want to do this? They said, "Well we did release single tracks to promote the records, particularly in America, some of which did really well, some of which just filtered through to introduce the new release." We had no idea that our label had done so much. It was just the idea that we were going to do the 'Single Cuts.'
When you've been together for 40 years, that's what bands do now. It's time to reminisce about your life in music and to put together these box sets that you may or may not choose to add to your collection. Some fans just want to go from studio album to studio album and don't want the box sets, but pretty much all of the Priest fans are like, "Give me it all, I want everything! I want the lot. I want to put my 'Singles Cuts' next to my 'Metalogy,' I want to put that next to my remasters."
Hill: It's a good concept though; you've now got the singles out. I'd be great if they then go for the Judas Priest production pieces and then the heavier songs or the faster songs. You can pick out any little area of heavy metal, which is immense really and we've done a lot of all of it over the years.
You've revealed that you are several songs into a new album that is slated to come out next year. What's the latest you can tell us about the album?
Hill: The three songs we've recorded don't include Richie yet; they were done before he was officially announced, so we'll have to include him in some way, shape or form. Rob and Glenn do the majority of the writing. Richie of course probably has some ideas of his own, which we'll utilize.
Halford: He just brings another metalhead into the writing process. We didn't know what was going to happen when we started to work with Richie on the road. Basically that was all we hoped for; to find a good guitar player to do the parts that were needed, but Richie's gone beyond that now. There was talk earlier of whether Richie was in for good or if is he just a hired gun. Speaking for myself, he's in for good; for however long we can continue as a band and if Richie wants to do the gig he's got the gig. And it looks like he does want to do it because firstly he's mad about Priest, he loves the band to death and I think we all agree that something special can happen there from the recordings and the writing side of Priest.
You can't really describe a record by using words can you? It's a real metal classic album for Priest, and it'll be interesting to see how Richie is going to inject his style in his writing. He's the new kid on the block and he's 31. [laughs] We're in our 60's you know, so he's thinking as a 30-odd-year-old metalhead with his style and his influence from the people who inspired him are in his performance, so he's going to bring that into the writing side of what we do. It's going to be very cool to see where we're going to go.
Richie's very old school to some extent; we did 'Rockline' last night and he was asked, "Who are your favorite guitar players?" He goes, Hendrix – everybody says Hendrix, as they should. Then he mentioned Zakk Wylde and five other guitar players, which we never had heard him speak about before. I think that's definitely going to be brought into the writing sessions. There's about 10 or 12 songs that Glenn and I mapped out – four of which were recorded and mixed and are ready to go. Originally we were going to release one or two tracks to support this tour but our label asked us to hold off until next year. So we'll go back and re-record those songs and put Richie in there and then see what else he can bring into the rest of the material. It's going to be great. It's going to be a classic Priest album.