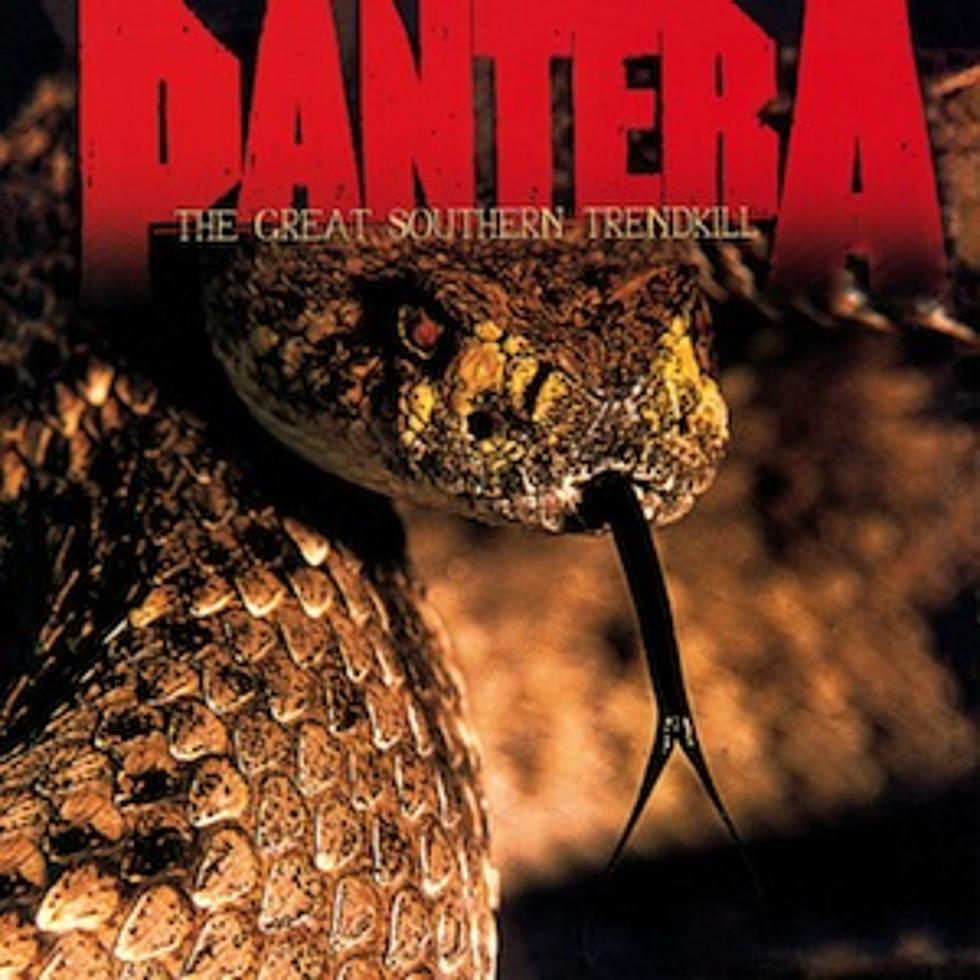 Pantera's 'The Great Southern Trendkill' to Receive 20th Anniversary Edition Release in October
EastWest
Pantera have another big anniversary to celebrate this year. The Great Southern Trendkill turned 20 back in May and Rhino is marking the occasion by releasing a special "20th Anniversary Edition" of the album set to drop on Oct. 21.
This two-disc set includes the original album remastered, plus a dozen previously unreleased mixes, instrumentals and live recordings. Those who pick up the set will also be able to check out some rare photos from The Great Southern Trendkill era, as well as new liner notes in the packaging from esteemed rock critic and radio producer Katherine Turman that dig into the album's legacy.
The Great Southern Trendkill peaked at No. 4 on the Billboard 200 album chart and went on to be the band's fourth straight platinum-selling album. The disc yielded three singles -- "Drag the Waters," "Suicide Note, Pt. 1" and "Floods" -- and featured some of the fastest songs and most down-tuned tracks of the band's career. Speaking of "Drag the Waters," you'll get to hear an early mix of the track, while a "Suicide Note, Pt. 1" intro and early mix are among the highlights of the second disc. Plus, there's an early mix of "Floods" as well, and live recordings of "War Nerve," "Suicide Note, Pt. II" and "Sandblasted Skin."
You can look for the Pantera The Great Southern Trendkill: 20th Anniversary Edition arriving on Oct. 21 via Rhino in both CD and digital formats. In addition, a single LP titled The Great Southern Outtakes, featuring a majority of the material on the second disc, will be available as well. Check out the track listing for the disc below.
Pantera, The Great Southern Trendkill: 20th Anniversary Edition Track Listing
1. The Great Southern Trendkill
2. War Nerve
3. Drag The Waters
4. 10's
5. 13 Steps To Nowhere
6. Suicide Note Pt. I
7. Suicide Note Pt. II
8. Living Through Me (Hell's Wrath)
9. Floods
10. The Underground In America
11. (Reprise) Sandblasted Skin
1. The Great Southern Trendkill (2016 Mix)
2. War Nerve (Live '98)
3. Drag The Waters (Early Mix)
4. 10's (Early Mix)
5. 13 Steps To Nowhere (Instrumental Version)
6. Suicide Note Pt. I (Intro) *
7. Suicide Note Pt. I (Early Mix) *
8. Suicide Note Pt. II (Live '98)
9. Living Through Me (Hell's Wrath) (Instrumental Version)
10. Floods (Early Mix)
11. The Underground In America (Early Mix)
12. Sandblasted Skin (Live '98)
*Not included in The Great Southern Outtakes LP release
See Where Pantera Ranks Among the Top 50 Metal Bands of All Time
11 Unforgettable Dimebag Darrell Moments