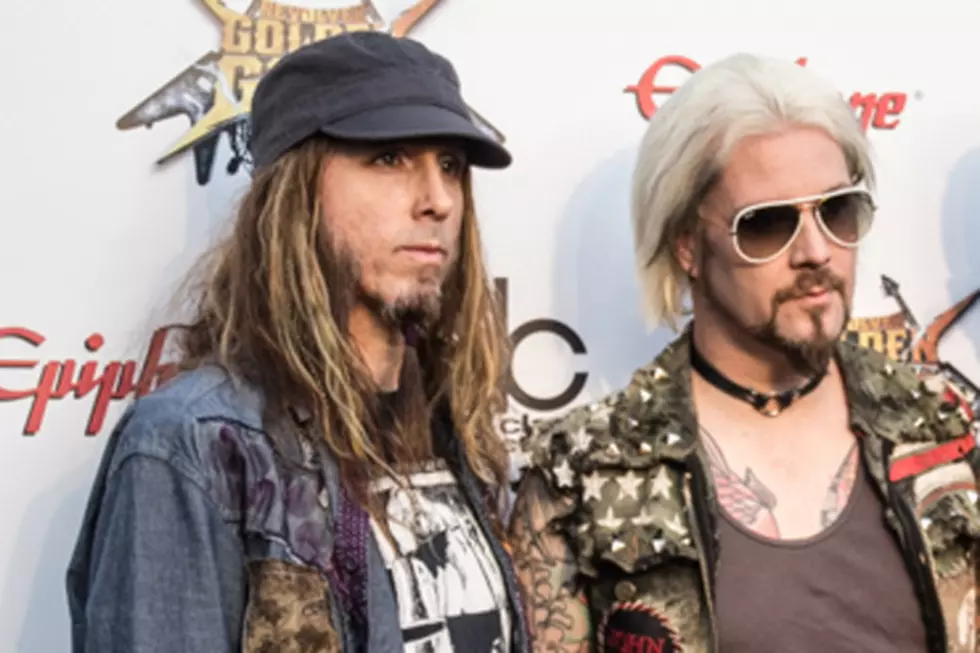 Rob Zombie Rockers Ginger Fish + John 5 Talk 'Zombie Horror Picture Show' + John 5 Solo Album
Kathy Flynn, WickedGoddessPhotography.com
These are busy times in the Rob Zombie camp. The band is getting ready for more touring, the release of their 'Zombie Horror Picture Show' DVD and companion book, and yes, they've somehow found time to start work on a new album.
Loudwire caught up with drummer Ginger Fish and guitarist John 5 on the Revolver Golden Gods Black Carpet and got an update on all things Rob Zombie, while John 5 shared a few details about his upcoming solo record, as well.
I know that last year's Mayhem trek is the basis for the new DVD and there was such great energy at the show I saw. Can you talk about what you got out of those shows last year.
Ginger Fish: It was tons of fun.
John 5: We did a DVD from it actually and that comes out May 20 and there's a book that comes out with it called 'The Zombie Horror Picture Show' and that's out May 20 and then the crowds were just incredible. So we made a DVD. It was our first time ever, and we're going on the road …
John 5: We're going on the road Friday and then what else are we doing?
Ginger Fish: It was a first for Rob, a first DVD, first book. We're always moving forward and there's always things happening.
John 5: And we're in the studio right now and it's been so busy. It's been crazy ridiculous, and I have a record of my own coming out called 'Careful With That Axe.' The first single will be at the end of July, so everything's going great. And Ginger's been in there filming.
Ginger Fish: No qualms about it. We've been in there tracking and getting it done. No cutting, no editing, it's just shredding.
John 5: So people will love it.
Well there's a lot in what you just said, so let's break it down a little bit. First off, 'The Zombie Horror Picture Show' DVD, I know Rob also directed it, as well. How great is it to have someone with that artistic eye perhaps giving you something different than the norm?
John 5: Let me tell you something that is different from a lot of DVDs. There is not one edit with sound. There's no fixes. There's no overdubs, it's completely live. We practice and rehearse all the time and there's not one overdub. Rob's like, 'If you don't get it right, you don't get it right.' We had two shows to put it together and luckily we just got it.
And I know that Rob was not necessarily initially receptive to the idea with all the cameras around, but then eventually decided to do it. How was it for you knowing that both the live show and things offstage were being filmed?
John 5: It's great because it's such a big show. And now we're going to be able to watch it for years and years and years down the road, so we're really proud of it and I'm so happy that it got done, because it is something to see, that's for sure.
And also you mentioned the fact that you're back in the studio. What can you tell me about the direction and how far along you are?
John 5: Direction, it's just heavy rock. It's crazy, heavy stuff. We just started recording at Rob's house and laying down some stuff and it's going great so far. He's going to lay down some vocals a little later on and we're just really excited about it.
And John, you've got your own album coming up. If you want to share a little bit about the album …
John 5: Well it's coming out at the end of July and it's called 'Careful With That Axe' and it's just crazy, man. 'Careful With That Axe' and all the song titles are related around axe murders and stuff, so it all comes around and makes sense.
Is it too early to say what the single's going to be?
John 5: Well with my record it's going to be 'This Is My Rifle.' It's really cool and I think people are going to just eat it up.
Ginger Fish: That's a great title.
For both of you, with the acts being saluted tonight at the Golden Gods, are you fans of either Axl Rose or Joan Jett?
John 5: Oh my god, Guns N' Roses, it's like jeez, that's what made me move out to Los Angeles, 'Welcome to the Jungle,' you know, it's been a huge inspiration for me.
Ginger Fish: And Joan Jett, you can't say anything bad about Joan. She's amazing. I actually want to go see her backstage and hang out with her.
You're also nominated for Best Live Act here tonight (they would later win). Can you talk about what the fans mean to you and your show?
Ginger Fish: The fans have been great, and I have to say that if it wasn't for the fans, we wouldn't be doing it.
John 5: I love meeting the fans and I love shaking hands and that's what it's all about. It really is.
Ginger Fish: And the other bands nominated too, you've got Motley Crue, Slayer. You've got iconic bands and they're just phenomenal at what they do, so to be nominated with them is just amazing.
Our thanks to Ginger Fish and John 5 for the interview. You can pre-order 'The Zombie Horror Picture Show' in DVD and Blu-Ray formats, while the pre-order for the companion book can be found here. You can also enter to win a Rob Zombie 'The Zombie Horror Picture Show' autographed DVD and book courtesy of Loudwire at this location.