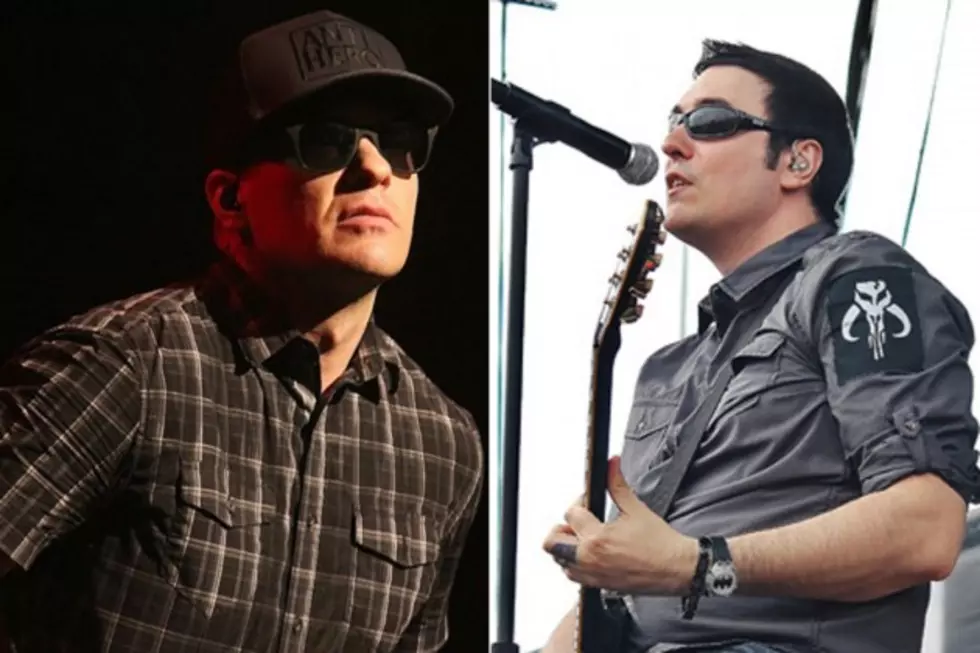 Shinedown + Breaking Benjamin Team Up for Fall 2015 U.S. Tour
Liz Ramanand, Loudwire (2)
It's been a few years away for both Shinedown and Breaking Benjamin, which makes the fact that they're pairing up for a U.S. tour this fall all the more sweet.
The veteran rock acts are burning things up this year. Breaking Benjamin recently released their Dark Before Dawn album, which debuted at No. 1 on the Billboard 200 album chart. The album was also voted as the Loudwire June 2015 Release of the Month by our readers and has yielded the radio hits "Failure" and "Angels Fall."
As for Shinedown, the band just revealed that Threat to Survival is the title of their new album and that it's due Sept. 18. The disc has already spawned the hit single "Cut the Cord."
The two acts will kick off their tour Oct. 16 in Wichita, Kan., with dates booked through a Nov. 24 finale in Portland, Maine. Included in the run is a stop at the Aftershock Festival in Sacramento, Calif., on Oct. 24, where both acts are among the top-billed performers.
Tickets go on sale to the general public this Friday (Aug. 14) at 10AM local time. A limited number of pre-sale tickets will be made available to members of Shinedown's and Breaking Benjamin's fan club members beginning at 10AM local time on Tuesday (Aug. 11) through 10PM local time on Thursday (Aug. 13). To join the fan clubs, check out Shinedown's here and Breaking Benjamin's here.
Sevendust, who are promoting their Kill the Flaw album and the new single "Thank You", will open all dates in November.
Shinedown / Breaking Benjamin 2015 North American Tour
10/16 -- Wichita, Kan. -- Intrust Arena
10/18 -- Lubbock, Texas -- Lonestar Amphitheater
10/20 -- Rio Rancho, N.M. -- Santa Ana Star Center
10/21 -- Phoenix, Ariz. -- KUPD Festival @ Mesa Amphitheater
10/22 -- Las Vegas, Nev. -- The Joint
10/24 -- Sacramento, Calif. -- Monster Energy Aftershock 2015
10/26 -- Everett, Wash. -- Xfinity Center
10/27 -- Kennewick, Wash. -- Toyota Center
10/29 -- Bozeman, Mont. -- Brick Breedan Fieldhouse
10/30 -- Salt Lake City, Utah -- Maverick Center
10/31 -- Broomfield, Colo. -- 1st Bank Events Center
11/2 -- Sioux Falls, S.D. -- Denny Sanford Premier Center*
11/4 -- Cedar Rapids, Iowa -- US Cellular Center*
11/6 -- Peoria, Ill. -- Peoria Civic Center*
11/7 -- Youngstown, Ohio -- Covelli Center*
11/8 -- Salem, Va. -- Salem Center*
11/10 -- Knoxville, Tenn. -- Knoxville Coliseum*
11/11 -- Huntsville, Ala. -- Von Braun Center*
11/13 -- Nashville, Tenn. -- Bridgestone Arena*
11/14 -- Little Rock, Ark. -- Verizon Center*
11/15 -- Cape Girardeau, Mo. -- Show Me Center*
11/17 -- Fayetteville, N.C. -- Crown Center Coliseum*
11/19 -- Uncasville, Conn. -- Mohegan Sun Arena
11/20 -- St. College, Pa. -- Bryce Jordan Center*
11/21 -- Huntington, W. Va. -- Big Sandy Arena*
11/23 -- Albany, N.Y. -- Time Union Center*
11/24 -- Portland, Maine -- Cross Insurance Arena
30 Most Anticipated Rock + Metal Albums of 2015