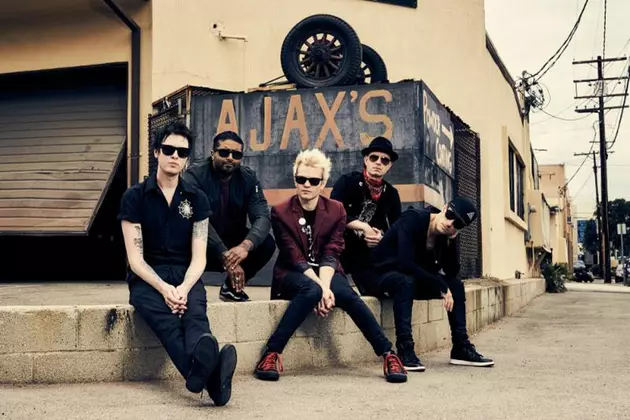 Sum 41 Reveal Dates for Fall 2016 'Don't Call It a Sum-Back' Tour
Hopeless Records
And the winner for "punniest" tour title of 2016 so far goes to Sum 41, who are making their comeback on the "Don't Call It a Sum-Back" tour. The band is currently gearing up for European tour dates that will continue through the month, but after a September breather, the band will fire up the touring machine once more for a North American run.
The rock vets will take out Senses Fail and As It Is on the tour that launches Oct. 5 in Orlando, Fla. and continues across the U.S. and Canada before winding down Nov. 6 in Los Angeles. A full list of dates can be seen below.
Sum 41 have been through quite a bit through since their last album, from lineup changes to a serious health issue with vocalist Deryck Whibley, but have emerged re-energized and ready to rock once more. Their 13 Voices album is due Oct. 7 via Hopeless Records and the band has been building the buzz with their new song and video for "Fake My Own Death."
Whibley spent four months in the hospital after his battles with alcoholism resulted in his liver and kidneys collapsing. "I had to learn how to do everything again-my motor skills, learning how to play guitar again... I couldn't even walk at the time," says the singer. "It was really difficult, but at the same time if I didn't have a record to make, I don't think I would have recovered as quickly, or even at all. Writing music gave me a purpose. I had to get better."
The current Sum 41 lineup features Whibley, bassist Cone McCaslin, guitarists Tom Thacker and Dave "Brownsound" Baksh, and well as drummer Frank Zummo.
For this upcoming tour, Sum 41 have teamed up with CID Entertainment to offer a trio of VIP Experiences, where fans can have everything from a meet-and-greet to an invitation to a pre-show jam. The VIP pre-sale begins tomorrow (Aug. 9) at 10AM local time, while the traditional public on-sale starts this Friday (Aug. 12) at 10AM local time. In addition, the band has partnered with the Sweet Relief Musicians Fund to help raise money and awareness on their upcoming tour. Donations can be made during ticketing checkout.
Sum 41 / Senses Fail / As It Is Fall 2016 North American Tour
10/5 -- Orlando, Fla. -- House of Blues
10/7 -- Fort Lauderdale, Fla. -- Revolution
10/8 -- St. Petersburg, Fla. -- State Theatre
10/9 -- Atlanta, Ga. -- Masquerade
10/11 -- Boston, Mass. -- House of Blues
10/12 -- Philadelphia, Pa. -- Fillmore
10/13 -- Sayreville, N.J. -- Starland Ballroom
10/14 -- New York, N.Y. -- Playstation Theater
10/17 -- Montreal, Quebec -- Metropolis
10/18 -- Toronto, Ontario -- The Phoenix
10/19 -- Detroit, Mich. -- St. Andrews
10/21 -- Chicago, Ill. -- House of Blues
10/22 -- Minneapolis, Minn. -- Mill City Nights
10/25 -- Edmonton, Alberta -- Union Hall
10/26 -- Calgary, Alberta -- MacEwan Hall
10/28 -- Vancouver, British Columbia -- Commodore
10/29 -- Seattle, Wash. -- Neptune
10/30 -- Portland, Ore. -- Hawthorne
11/1 -- San Francisco, Calif. -- Regency
11/2 -- Riverside, Calif. -- Riverside Municipal Auditorium
11/4 -- Phoenix, Ariz. -- Livewire
11/5 -- San Diego, Calif. -- House of Blues
11/6 -- Los Angeles, Calif. -- Mayan
See Sum 41 in 10 Greatest Songs Under One Minute Long