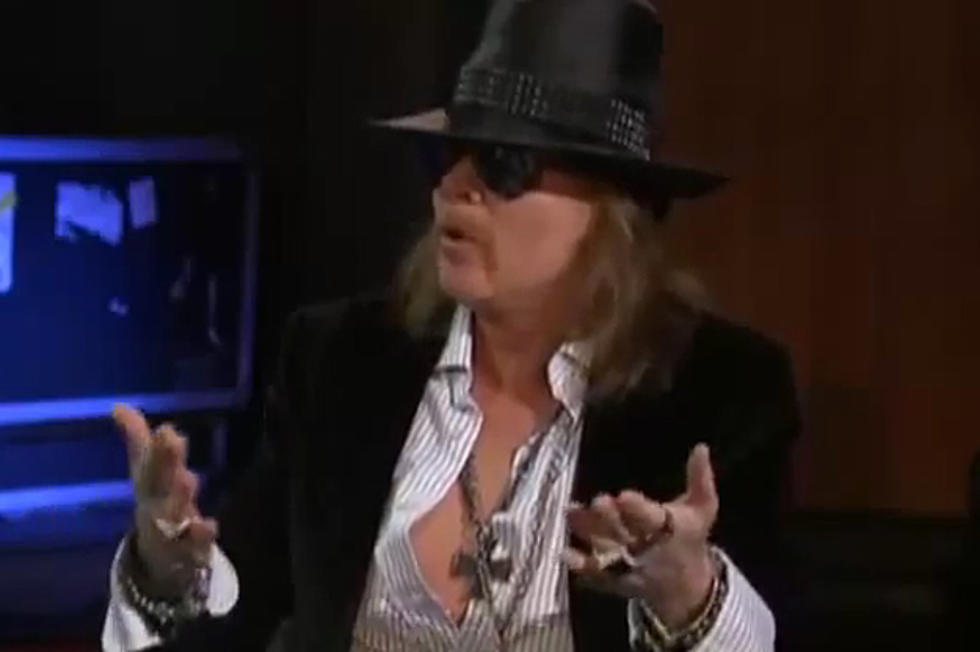 'That Metal Show' Recap: Axl Rose Talks Lateness, Slash + Original 'Appetite' Cover
After a few weeks of hype, Season 9 of VH1 Classic's 'That Metal Show' kicked off last night (which isn't its regular night, mind you) with the mother of all interviews and on National Metal Day. The camera-shy, elusive W. Axl Rose agreed to a sit down with Eddie Trunk and co. in the early morning hours in Miami. He was rather candid and shared his thoughts on his lateness and lawsuits. He also revealed his original idea for the 'Appetite for Destruction' cover.
Before getting into the meat of the interview, the show took us through the motions, with Trunk and co-host Jim Florentine sitting in the Newark Airport before flying out to Florida to see the singer. Trunk admitted, "We're trying to force the issue a little bit," since Rose doesn't regularly submit to the questions of interviewers.
When he finally got on camera and in front of their faces, Rose, with a black cap, black shades, open white shirt, black velvet blazer and a few rows of neck bling, was even-keel and quite conversational. He said that it is "interesting" to be back in the U.S., since his fans in South America are so fanatical. "I mean different things to different countries," he acknowledged. "There is a way that Brazil likes me that is different than the way Argentina does and Chile does. All of it is different than the way America does."
He spoke about mixing classic material with 'Chinese Democracy' songs during the three-hour sets on the American tour. "In the early days, our crowds were much more violent and rowdy," he recalled. "There was a sense of fighting for our songs as our songs. It's also their songs, their memories and I want to put as much into it as I can for them." He preps for the marathon shows by doing cardio "when I can" and getting himself in the right head space.
Trunk was ballsy enough to ask about Rose's perennial tardiness, questioning what his preparation is like and why he just can't show up on time. Rose offered a lengthy and revelatory answer, saying, "Not complaining or to be a wuss or whatever, a lot of times, the day of show, for whatever reason, things start going wrong... and no one knows why. It's like people get hit by ADD. You try and sort this and get yourself in the right head space. It's more like sports and having to play the big game. I think we're doing better as far as that goes."
As for Guns N' Roses' past history of being reaaalllly late? Axl said, "A lot of this goes way, way back to 1991, when we were super late going on stage. I should not have been on tour. I went on tour for three reasons: my manager booked a tour without authorization. If Slash died of heroin, it's my fault. And Slash pushing me."
He also admitted that he turned things around with the crew. "The band didn't care about me, so my head was not about them," he said. "The crowds were more violent then. They want you to succeed or tear you apart. The crew was not getting their sleep. It was about getting the album done and out. There was a lot going on."
He also showed his sense of humor about his inability to be on time, saying, "I lived right behind my school, and I couldn't make it to the class in grade school. I had a job at the grocery store down the street, and I'm running down the street with wet hair, trying to tie my tie, with a sandwich in one hand… it's a comic strip."
Rose is stoked about the current lineup of he band, which Trunk mentioned in our chat with him earlier this week.
He also revealed that he originally wanted the cover of 'Appetite for Destruction' to be a photo of the tragic Challenger shuttle explosion, which was also on the cover of Time. He said he wanted to use it due to the striking nature of the image but the band was persuaded not to use it; the original cover they did use was also controversial, including the inside comic-like image of a woman being assaulted.
Rose addressed the many misconceptions that have surrounded him, saying, "It's like two decades of people talking and most of the time they are talking about things that someone who had a bias said. That whole 'Axl is a dictator?' That started with a woman named Beth and Izzy called me the Ayatollah in an interview. A lot of people think I sue everybody, but the reality is that I get sued a lot. I don't sue as much as I'd like to!"
He also recalled meeting up with bassist Duff McKagan recently and guitarist Izzy Stradlin's love of doing donuts, which goes back to the club days. No reunion talk was discussed, though!
Watch Axl Rose Talk 'Welcome to the Jungle'
Watch Axl Rose Talk 'Chinese Democracy'