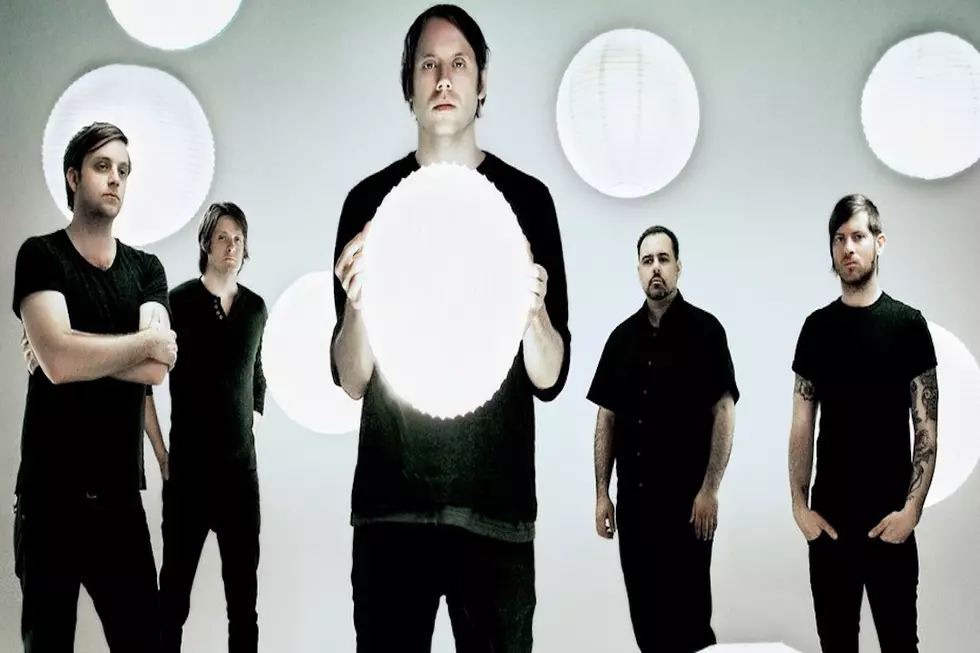 Thursday to Revisit 'Full Collapse' + 'War All the Time' on 2019 Tour, Then End Reunion
Epitaph
Thursday fans have enjoyed seeing the band revisit their Full Collapse and War All the Time albums at special shows over the past year or so, and they'll get one final chance to catch these rare shows with two legs of tour dates just announced. However, you'll definitely want to catch these shows as the announcement comes with news that the group will disband after the run.
"It's our honor to announce that we'll be ending our 20th Anniversary by taking Full Collapse and War All the Time on the road, for a very limited US tour, in early 2019," says the group. "When we reunited the band, two years ago, we had no idea that it would carry us through our 20th year or that we'd be selling out every show that we play in 2018. It's been a very gratifying and humbling year for us. This tour is our attempt at saying 'thank you' to all of the people around the US that have supported us for all these years. We'll be playing small venues, like we did when we began touring."
They finish the announcement explaining, "At the conclusion of this tour, we intend to put an end to 'the reunion.' When we stopped playing last time, it wasn't on the best of terms. This time, we get to put down touring on the very highest of notes: in each other's lives and able to pick up and play together behind closed doors whenever we want. If we are ever able to do Thursday again, it will be a new, separate chapter. Thank you all for your time, attention and friendship."
The first leg of the tour kicks off Jan. 10 in San Francisco, with Vein providing support for the run. The second leg starts Feb. 15 in Washington, D.C. with American Pleasure Club opening the shows. Tickets for all dates will go on sale this Friday (Nov. 2) at 10AM local time, though some venues have pre-sales starting on Thursday (Nov. 1). See all of the scheduled dates below.
Thursday Leg 1 Dates With Vein
Jan. 10 - San Francisco, Calif. @ Great American Music Hall
Jan. 11 - San Francisco, Calif. @ Great American Music Hall
Jan. 13 - Portland, Ore. @ Doug Fir
Jan. 14 - Portland, Ore. @ Doug Fir
Jan. 15 - Seattle, Wash. @ The Crocodile
Jan. 16 - Seattle, Wash. @ The Crocodile
Jan. 19 - Denver, Colo. @ Bluebird Theater
Jan. 20 - Denver, Colo. @ Bluebird Theater
Jan. 22 - Austin, Texas @ The Barracuda
Jan. 23 - San Antonio, Texas @ Paper Tiger
Jan. 24 - Austin, Texas @ The Barracuda
Jan. 25 - Dallas, Texas @ Trees
Jan. 26 - Dallas, Texas @ Trees
Jan. 28 - Phoenix, Ariz. @ Crescent Ballroom
Jan. 29 - Phoenix, Ariz. @ Crescent Ballroom
Jan. 30 - Anaheim, Calif. @ Chain Reaction
Jan. 31 - Anaheim, Calif. @ Chain Reaction
Thursday Leg 2 Dates With American Pleasure Club
Feb. 15 - Washington, D.C. @ Union Stage
Feb. 16 - Washington, D.C. @ Union Stage
Feb. 18 - Atlanta, Ga. @ The Masquerade
Feb. 19 - Atlanta, Ga. @ The Masquerade
Feb. 20 - Orlando, Fla. @ The Abbey
Feb. 21 - Orlando, Fla. @ The Abbey
Feb. 22 - Ft. Lauderdale, Fla. @ The Culture Room
Feb. 23 - Ft. Lauderdale, Fla. @ The Culture Room
Feb. 25 - Nashville, Tenn. @ Exit/In
Feb. 26 - Nashville, Tenn. @ Exit/In
Feb. 27 - Columbus, Ohio @ Skully's Music Diner
Feb. 28 - Columbus, Ohio @ Skully's Music Diner
March 1 - Detroit, Mich. @ El Club
March 2 - Detroit, Mich. @ El Club
March 4 - Cleveland, Ohio @ Agora
March 5 - Cleveland, Ohio @ Agora
March 7 - Philadelphia, Pa. @ Underground Arts
March 8 - Philadelphia, Pa. @ Underground Arts
March 9 - Boston, Mass. @ Middle East
March 10 - Boston, Mass. @ Middle East
March 15 - Baltimore, Md. @ Ottobar
March 16 - Baltimore, Md. @ Ottobar
March 17 - Brooklyn, N.Y. @ St. Vitus
13 Defunct Bands We Want to Reunite in 2018