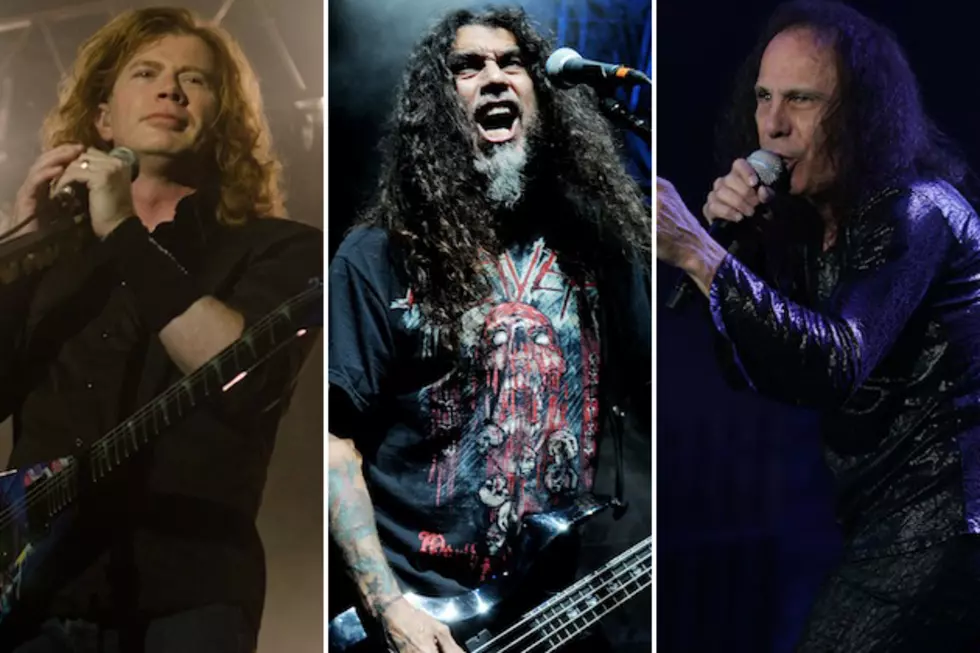 Top 10 Metal Songs About Cannibalism
Daniel Boczarski / Paul Kane / Kevin Winter, Getty Images
Loudwire welcomes Don Jamieson as a guest writer. Jamieson is a co-host of the popular VH1 Classic program 'That Metal Show,' as well as a stand-up comedian who tours the country (see his current dates). Here, Jamieson manages to offer a humorous look at the Top 10 Metal Songs About Cannibalism:
There are times when you're just sitting at home wondering what to crank up on the old stereo. You have an appetite for metal and for hum--- ... well, let's just say you reach for your "Awesome Cannibal Mix Tape" and pop it in. What's that you say? You don't have one? Well you should. And here are the 10 deviant delights that should be on everyone's cannibal playlist. Also, it's funny that you still have a tape player.
'Butchered at Birth'

Cannibal Corpse

With a name like Cannibal Corpse, you're a ringer for this category. From the album of the same name, 'Butchered at Birth,' a grotesque golden oldie, shreds at the frantic pace of a murder in progress. You can almost picture the oozing bile, bladder spurting urine and zombie masturbation -- that is, if you're already a serial killer.

'Pleasures of the Flesh'

Exodus

From Exodus' excellent 'Pleasures of the Flesh' album, this murderous melody starts with the beat of primitive drums warning you that you are about to enter unwelcome territory. But alas, it's too late! You stumble upon a tribe of hungry cannibals in the jungle who are on the hunt for dinner. And guess who just became the main course?

This terrifying tune off Megadeth's 'Cryptic Writings' tells of a wicked temptress with mystic lips and lusting eyes. Out of all these ways to die, this seems like the sexiest. Who wants to be hanging up in Ed Gein's farmhouse when you can be devoured by the sexy She-Wolf?

'Headhunter' is the title track off Krokus' classic 1983 album. Let's face it, nothing goes better with sex, drugs, rock 'n' roll than a heaping serving of human flesh. Listening to this homicidal hymn gives me nightmares of being chased with an axe by a flesh-crazed Fernando Von Arb.

Off Rammstein's fourth album 'Reise, Reise' which I'm guessing means "Rise, Rise" in German, the Deutsch ditty 'Mein Teil' is based on the tale of two men who meet and one agrees to be eaten by the other. The only thing more disturbing than this song is the actual true story it's based on.

Every cannibal mix needs a mid-tempo Bloodbath jam just to break up the monotony. None is more perfect than this tale of woe from the 'Nightmares Made Flesh' album that tells the story of a man whose only wish is to be devoured before his very eyes. A wonderfully disturbing little number and a nice companion piece to Rammstein's 'Mein Teil'

Seems natural that the late, great Lord Petrus Steele would pen this carnivorous classic as he once had his own teeth filed into razor-sharp points. Sharp enough, no doubt, to pierce human flesh should he himself become a predator in this post-Armaggedon, neo-barbaric world.

'Eating the Cannibals'

Heaven & Hell

Ronnie James Dio takes a break from his usual imagery of wizards and demons to put a new twist of the whole consuming human flesh thingy. Now instead of being the hunters, the cannibals become the hunted. Tony Iommi's crushing, accompanying riffs simulate the sounds of crunching bones.

This Motorhead tale of upper-class consummation is what's known as a cannibalistic triple-threat. It is the first single from the 'Rock 'n' Roll' album, is the name of a film that features thespian extraordinaire Lemmy and a song on said film's soundtrack. Being a cannibal is no fun (long hours, no health insurance) but if there's one person who can make it seem that way, it's Lemmy.

Slayer love documenting atrocities to the dead. Disguises crafted from rotting flesh in 'Dead Skin Mask,' sex with a cadaver in 'Necrophiliac' and this graveyard classic from 'South of Heaven.' If I had to had to be consumed by any band, it would be by Slayer's hand. They seem to know what they're doing.