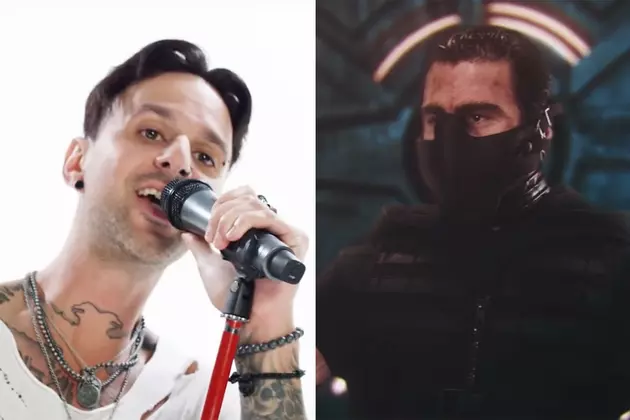 Battle Royale: Message From Sylvia Snag Top Spot, Nickelback Enjoy Solid Start on Video Countdown
YouTube (2)
With Earthside's eligibility running out as the band ended at No. 1, that left a vacancy atop the Loudwire Battle Royale Video Countdown -- one that Message From Sylvia were finally ready to claim. The band's "Heart of War" video has hovered near the top of the Battle Royale for months. However, their stay at No. 1 will be short-lived as they too have reached their maximum eligibility. The band will receive one final victory lap week of voting before being retired regardless of position. Rachel Lorin's "I Hate You" and Thrice's "Hurricane" put up the biggest challenge, finishing second and third in the voting.
Elsewhere on the Battle Royale, it was a big week for debuts. Nickelback led the way with their futuristic "Feed the Machine" video arriving at No. 4. Greta Van Fleet's Zeppelin-esque performance clip "Highway Tune" settles in at No. 6, while Dying Fetus' "Fixated on Devastation" was fixed on the No. 7 position. Miss May I's "Lost in the Grey" and Gemini Syndrome's "Sorry Not Sorry" round out five new clips in the Top 10 at No. 8 and No. 10 respectively. See the full Battle Royale Top 10 below.
You think that was a big week for new videos? See what next week could hold! We've got videos from Metallica ("Now That We're Dead"), Avenged Sevenfold ("God Damn"), Stone Sour ("Fabuless"), All That Remains ("Madness"), Highly Suspect ("Little One"), Of Mice & Men ("Unbreakable"), Alestorm ("Alestorm") and Edge of Paradise ("Mystery") entering the voting. See those clips, along with every eligible video, by clicking on the links in the poll at the bottom of this post. You can vote once per hour through the deadline of Friday, May 5 at 11AM ET in the poll below. Vote frequently to ensure your favorite clip makes the Top 10!
10

"Sorry Not Sorry"

Gemini Syndrome

8

"Lost in the Grey"

Miss May I

7

"Fixated on Devastation"

Dying Fetus

6

"Highway Tune"

Greta Van Fleet

5

"Equal Rights Equal Lefts"

Otep

4

"Feed the Machine"

Nickelback

2

1

"Heart of War"

Message From Sylvia