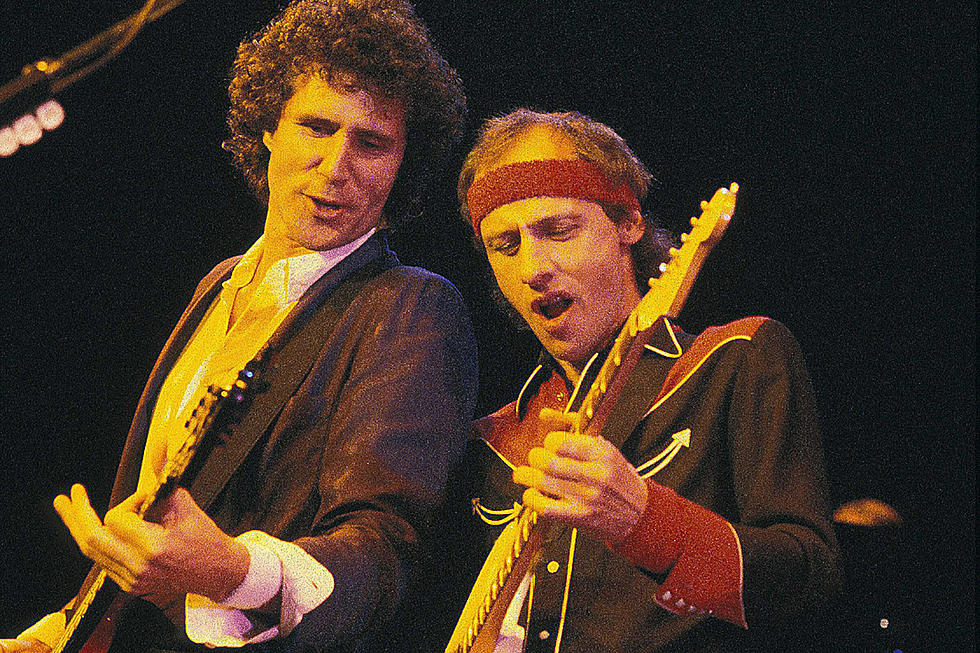 Dire Straits Has Turned Down 'Huge Amounts of Money' to Reunite
Ebet Roberts/Redferns, Getty Images
Dire Straits bassist John Illsley admitted the band still has no interest in reuniting, despite many lucrative offers to do so.
During a conversation with The Telegraph, Illsley noted that he regularly gets together with the band's former manager.
"Every time we have lunch, [he] says to me, 'I wish people would stop offering me huge amounts of money to put [Dire Straits] back together,'" Illsley revealed.
READ MORE: Dire Straits Albums Ranked Worst to Best
"When you stop a machine like the Dire Straits thing, there's a massive vacuum," the bassist continued, admitting that transitioning to life without the band was a big adjustment. "There's a massive vacuum. And you ask yourself if it was a good idea. And I had to keep telling myself that it was a good idea. Because you're doing something else, completely different – I was in London studying painting, I got some lessons, made a terrible mess for seven or eight years, and then started doing art shows. I thought, 'Okay, this is fun'. And I stopped playing music for quite a while. I leant the bass against the wall and said 'Thank you very much but I'm doing something different now'."
Why Did Dire Straits Disband?
Illsley and frontman Mark Knopfler were the only two members to be in Dire Straits for the band's entire existence. The group officially called it quits in 1995, but – unlike so many other bandmate horror stories – the musicians have remained close friends. Looking back, Illsley believes they ended Dire Straits at the right time.
"I sort of knew that things were coming to an end," the bassist confessed. "And I was pretty happy about that because we were exhausted. We were exhausted. Mentally, physically, emotionally exhausted. Most of our marriages were falling apart, we weren't seeing our children very much – it was all wrong, basically. It's the usual things that can happen to people in bands."
Still, Dire Straits' heights – like hit the song "Sultans of Swing" and the massively successful "Money for Nothing" – were something to behold.
READ MORE: How ZZ Top and MTV Inspired Dire Straits' 'Money for Nothing'
"I can openly admit to you that I really enjoyed the success of the band," Illsley continued. "I'm speaking for Mark as well, we both really enjoyed [it]. It comes with a certain amount of stress, obviously. You've got to really dig deep sometimes to keep it working. I think Mark said – and I hope I'm quoting him correctly here – but he said that success is great, but fame is what comes out of the exhaust pipe of a car. It's something you don't really want."
Top 100 '80s Rock Albums
UCR takes a chronological look at the 100 best rock albums of the '80s.
Gallery Credit: UCR Staff