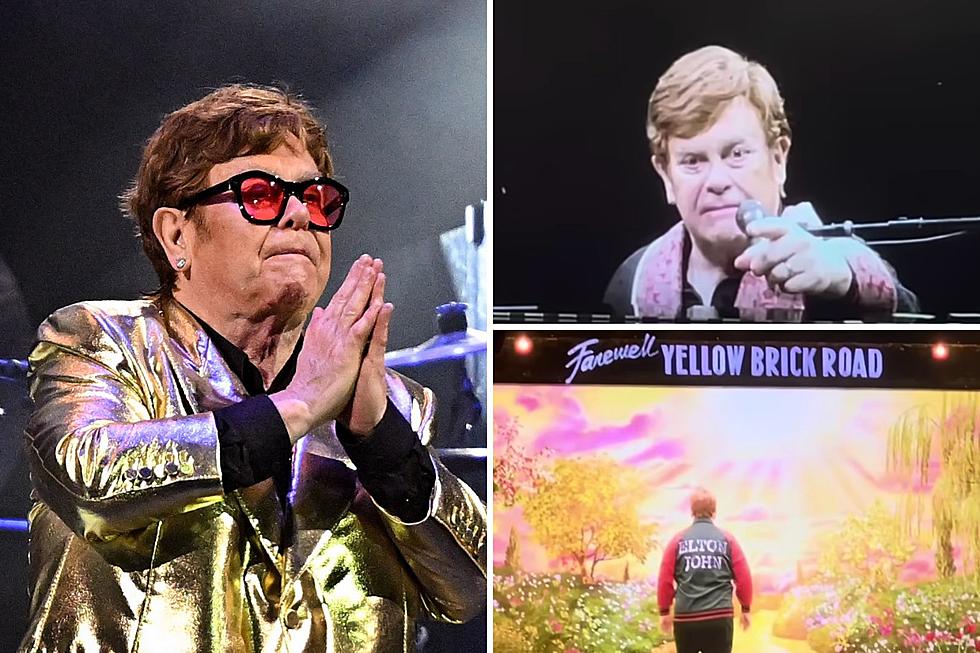 Elton John Gets Emotional During Speech at Final Show of Farewell Tour, Says He'll Be Back 'Quicker Than You Think'
Leon Neal, Getty Images / YouTube: gasthlm
At the final show of his exhaustive Farewell Yellow Brick Road tour, Sir Elton John delivered an emotionally charged speech in front of an adoring crowd in Sweden on Saturday (July 8), also revealing that while it's his last-ever tour performance, he'll be back "quicker than you think."
The trek began back in 2018 and was temporarily interrupted by the pandemic before the globe-trotting resumed, ultimately reaching its conclusion with the 330th show of the run.
During the encore and before "Goodbye Yellow Brick Road," the final song of the 23-song set, John addressed the crowd, touching on his fantastic career which has spanned more than half a century.
"It's the Farewell Yellow Brick Road tour show, and the last one. We're ending it in the beautiful city of Stockholm, Sweden. My very first show in Sweden was on the 7th of July in 1971, so it's more or less 52 years to the day I first played in Sweden," he says in the beginning of the fan-filmed video seen further down the page (transcription via UCR).
He then takes the time to individually shout out select fans who have been to dozens of shows, even naming fans who have attended more than 200 Elton John concerts. It's an incredibly personal touch and demonstrates a sense of humility.
"You have no idea how much that means to me - your beautiful words and kindness... it's just amazing," the legend continues, "I've had the most wonderful career, beyond belief. 52 years of pure joy, playing music. How lucky am I to play music? But you know I wouldn't be sitting here and talking to you if it wasn't for you. You've bought the singles, the albums, the CDs, the cassettes but most importantly you've bought the tickets to the shows. And you know how much I love to play live. it's been my lifeblood to play for you guys and you've been absolutely magnificent. Thank you!"
READ MORE: Greta Van Fleet Reveal the Elton John Advice That Stuck With Them
The crowd roars with applause as John smiles back at them.
"I will never forget you guys. I've played so many concerts, how could I forget? You're in my head and my heart and my soul and I thank you so much."
"I will never be touring again but I may do something in the future, a one-off thing or... but that's miles away," John reveals, suggesting that this will not be his last-ever live performance, but rather the last show as part of an official tour.
"I want to appreciate my family, my sons, my husband, my family, everything," he says of his immediate plans away from music, noting, "I've earned it and I don't regret it tonight. But I want to say thank you to the band, the crew, everybody."
"I will miss you guys so much, but I will see you much quicker than you think," he concludes as the 76-year-old begins playing "Goodbye Yellow Brick Road."
Watch the video below.
According to setlist.fm (which may not be 100 percent accurate/complete), Elton John has played 4,168 shows during his career, which began in 1968. Exactly how many more he intends to play remains to be seen, but it sounds like he'll be living out "The Bitch Is Back" before he takes his final bow!
Elton John, Speech at Final Farewell Tour Show (July 8, 2023)
Elton John Setlist — July 8, 2023 (Final Show of Farewell Tour, via setlist.fm)
01. "Bennie and the Jets"
02. "Philadelphia Freedom"
03. "I Guess That's Why They Call It the Blues"
04. "Border Song"
05. "Tiny Dancer"
06. "Have Mercy on the Criminal"
07. "Rocket Man (I Think It's Going to Be a Long, Long Time)"
08. "Take Me to the Pilot"
09. "Someone Saved My Life Tonight"
10. "Levon"
11. "Candle in the Wind"
12. "Funeral for a Friend/Love Lies Bleeding"
13. "Burn Down the Mission"
14. "Sad Songs (Say So Much)"
15. "Sorry Seems to Be the Hardest Word"
16. "Don't Let the Sun Go Down on Me"
17. "The Bitch Is Back"
18. "I'm Still Standing"
19. " Crocodile Rock"
20. "Saturday Night's Alright for Fighting"
Encore:
21. "Cold Heart"
22. "Your Song"
23. "Goodbye Yellow Brick Road"
Bands Who Had Final Tours That Weren't Final
Whether due to interpersonal turmoil, the desire to pursue other creative endeavors and/or something else, here are 10 acts who – intentionally or not – announced final tours that, well, weren't actually final.