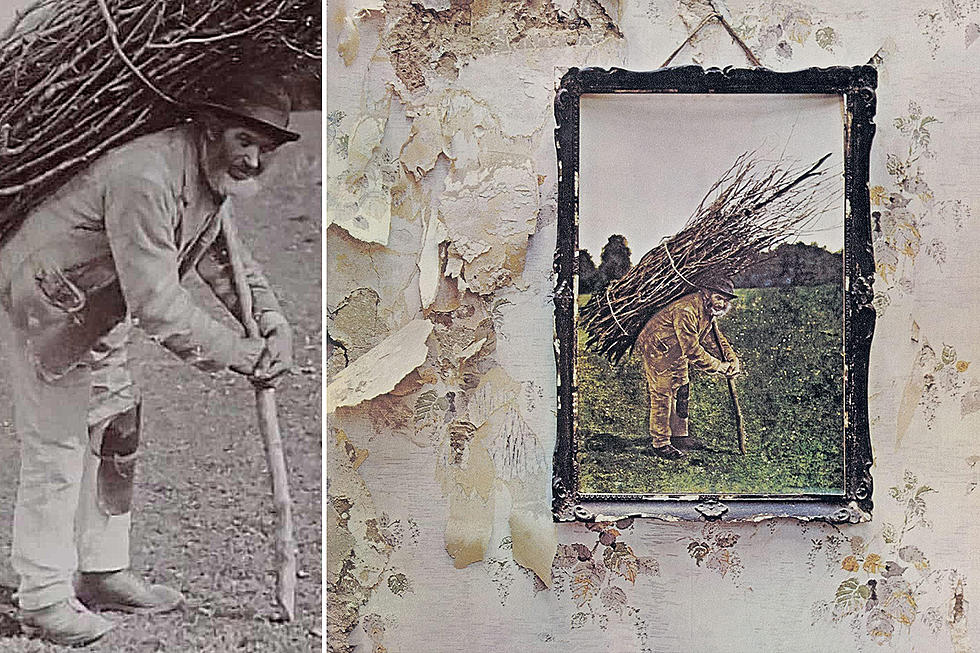 Man On 'Led Zeppelin IV' Cover Identified After 52 Years
Wiltshire Museum / Atlantic
The identity of the man on the cover of Led Zeppelin IV has finally been identified by a historian, 52 years after the album's release.
The well-known image of an elderly, bearded figure, who's carrying a bundle of wood on his back, is said to have been discovered by Robert Plant in an antique store while the album was under production. It was colorized and hung on the wall of a partly-demolished building for the cover shoot.
University researcher Brian Edwards discovered another print of the same picture in 2021 while studying the pictorial history of Wiltshire, a mostly-rural county of England known for its ancient stone circles including Stonehenge and Avebury.
READ MORE: 'Led Zeppelin IV' - The Story Behind Every Song
Further research revealed that the handwriting on both prints match, which led to the conclusion that the picture was taken around 1892 by photography teacher Ernest Howard Farmer. He'd written the caption "A Wiltshire thatcher" on the print, which helped Wiltshire Museum discover that the roof mender was named Lot Long. When the shot was taken, Long – sometimes known as Longyear – was a widower living in the town of Mere.
Newly-Identified 'Led Zeppelin IV' Photo to Feature in Exhibition
"Led Zeppelin created the soundtrack that has accompanied me since my teenage years," Edwards said (via the Guardian). "I really hope the discovery of this Victorian photograph pleases and entertains Robert, Jimmy and John Paul."
The photo will be part of an upcoming exhibition titled The Wiltshire Thatcher: A Photographic Journey Through Victorian Wessex in 2024. "[W]e will show how Farmer captured the spirit of people, villages and landscapes of Wiltshire and Dorset that were so much of a contrast to his life in London," said Wiltshire Museum director David Dawson. "It is fascinating to see how this theme of rural and urban contrasts was developed by Led Zeppelin and became the focus for this iconic album cover 70 years later."
Top 10 Concert Films
The next time you're in the mood to watch a classic rock artist tear it up in front of a screaming crowd, reach for one of these movies.
Gallery Credit: Jeff Giles
Was Jimmy Page Almost Part of a New Supergroup?