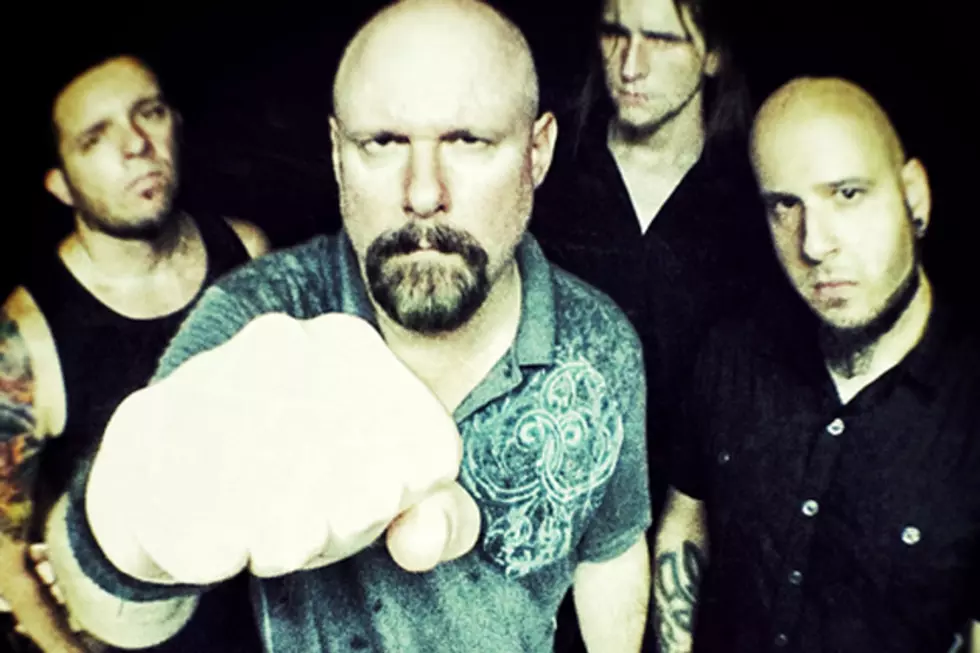 Pro-Pain's Gary Meskill Talks New Album, Touring, Vinyl + More
SPV/Steamhammer
It's hard to believe that New York metal outfit Pro-Pain have been creating hardcore music since the early 90s. Founded and still fronted by Gary Meskill, Pro-Pain recently celebrated the release of their latest studio album, 'The Final Revolution,' which finds the frontman reaching back in history and creating music that will sound familiar to long-time fans.
While touring Europe with his other band, Darkhaus, Meskill chatted with Loudwire and opened up about 'The Final Revolution.' Beyond the new album, he talks about everything from touring to his love for vinyl to what it's like being the only remaining original member of the band he created.
Fourteen albums into your career, why did you decide to return to the classic sound of Pro-Pain with darker and more intense grooves?
Since I'm the sole songwriter of the current album and most of our older works, I think that 'The Final Revolution' takes on certain nostalgic characteristics and provides a nice comfort zone for the fans. I have a certain writing style which I bring to the table, which is somewhat darker than the style of some of the other writers -- past and present -- in the band. Having said that, I don't feel that 'The Final Revolution' is that safe of an album, as it also possesses a lot of newer elements and influences for fans to sink their teeth into. It's equally as important for us to stay true to our sound -- and to our fans -- and to stay relevant by releasing what we feel is a solid album which is both current and competitive in today's heavy music environment.
You mentioned that you were the sole writer for everything on 'The Final Revolution.' What was that process like?
Personally, the process has become more or less second nature. I've been doing this much longer than I haven't, so I guess you could say that's it's sort of in my blood. I'm constantly maturing as a songwriter, and it's always exciting to be able to deliver a new creation to the fans. The creative process for me is the most gratifying.
On top of that, you recorded the album in less than two weeks. What did a typical day look like in the studio? It must have been nonstop.
It was actually quite relaxed, and we had ample time to do other things than just record. The band did quite a bit of pre-production and we were very well rehearsed going into the studio. So, upon arrival it was just a matter of getting good tones and then capturing solid performances. Over the years, we've learned not to second guess ourselves in the studio and to focus more on capturing a certain fire and energy. A dog can chase his tail all day, but when a band does it in the studio it can prove to be quite costly to get back to where you started.
If there's one thing I can say about 'The Final Revolution,' it's that it is overwhelming, in a good way. After listening to it from front to back, you feel like you've gotten the wind knocked out of you, but you want to do it all over again. What track is most important to you?
Thanks! For my ears, the defining tracks on the album are 'Deathwish,' 'One Shot One Kill,' 'Southbound' and 'Emerge.' Those songs encapsulate the sound and spirit of 'The Final Revolution.'
How has your involvement with Darkhaus, a band with an obvious different sound, influenced or impacted the writing of 'The Final Revolution?'
I don't think that Darkhaus has had an influence on 'The Final Revolution.' The style is vastly different from Pro-Pain, and any experimentation which we could ever dream of doing with Pro-Pain would be miles apart from what we create in Darkhaus. I'm equally as passionate about both bands, however.
You're the only founding member left in Pro-Pain. Do you ever think about that, or is that fact irrelevant to you and your work with the band?
I think about it from time to time, and for some I suppose it's quite relevant, but for me not that much anymore. In a perfect world, we would have endured the past 22 years with the same lineup. In the real world, Pro-Pain have struggled to keep things afloat for most of those 22 years and sometimes real life situations take over and shake things up a bit in terms of our lineup. The best that the remaining members can do is to try and move forward with a lineup that represents the band 100% onstage and off. I think we've done a fine job of that, all things considered.
What is it like touring Europe and the U.S.? What are some of the main differences you find?
In my opinion, there are more similarities than differences when it comes to the audience and venues here and abroad. The main differences are purely cultural and geographical. We enjoy touring all over the world and have divided our time quite equally between North America and Europe throughout the course of our career. We have frequented Europe quite a bit more in recent years, however.
Your first album came out over 20 years ago. Have you considered re-releasing it, perhaps remastered or packed with demos/unreleased studio tracks?
We are currently discussing the possibility of re-releasing our catalog through SPV [record company] sometime in the near future, [possibly] on vinyl. It's difficult to say at this time what the new packaging will include, but I'm sure it will be cool ... Let's get back to the glory days of vinyl, shall we?
Why'd you decide to press 'The Final Revolution' on vinyl? In today's day and age of digital distribution, there are several reasons -- both financial and time-wise -- to not go the vinyl route.
As a music consumer, I have always preferred vinyl over all other mediums. I like the way it sounds, I like the packaging. To me, it's much more special than purchasing a CD or downloading files.
How important do you think vinyl is to the rock and metal community?
It's slowly coming back into style and it commands a higher level of importance than it did five, even ten years ago. However, nowadays vinyl is more for collectors than mainstream consumers.
Your 14th studio album with Pro-Pain is on store shelves. What's next for you and the band?
We just completed a full scale European tour in support of the new album, and we are currently discussing plans to tour the U.S. later this year. Other than that, we have some European Open Air festivals lined up for the summer. Darkhaus will also play select Open Air Festivals and will tour with Subway To Sally in Europe this coming April.
'The Final Revolution' is available as a standard CD release, special edition digipak and limited edition colored vinyl. Pick up your copy here.
Watch the Video for Pro-Pain's 'Deathwish'