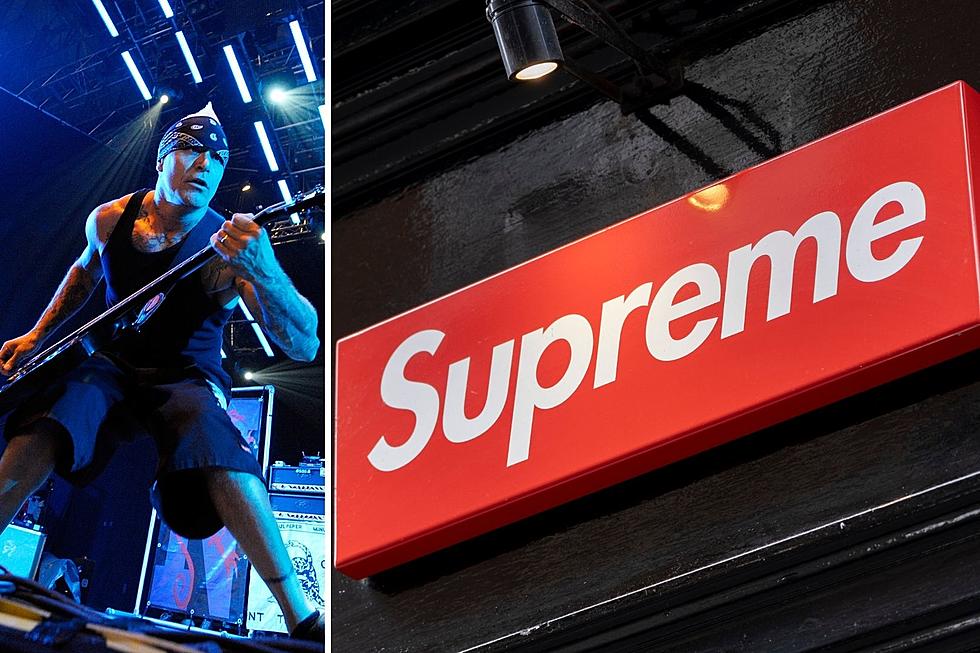 Hardcore Band Sues Supreme + Hip-Hop Group Over Use of Band's Logo
REBEL Media, WireImage / Mike Kemp, In Pictures (Getty Images)
Last week, the hardcore band Sick of It All filed suit against streetwear giant Supreme and the hip-hop group Mobb Deep, claiming infringement of their longtime band logo — a stylized dragon — after a Supreme x Mobb Deep clothing collab used a markedly similar design this summer.
That lawsuit asserts that Mobb Deep have infringed on the band's logo before, in at least two instances as far back as 1997 and 2003. In fact, Sick of It All, who have used the logo since the '80s, served Mobb Deep a cease-and-desist letter in the latter instance, which is included in last week's filing.
See the full text of the suit toward the bottom of this post — it is available to read in a PDF file.
READ MORE: Is This the Greatest Hardcore Punk Song Ever? Jesse Leach Weighs In
"This case arises out of Defendants' [Supreme and Mobb Deep - Ed.] improper and illegal use of a nearly identical logo mark to Plaintiff's [Sick of It All via their Bush Baby Zamagate label] inherently distinctive, incontestable and famous logo, both of which are depicted below," the lawsuit states.
It says Supreme's "adoption and use of their knockoff logo over thirty-five years after Plaintiff commenced use, after Plaintiff's repeated prior objections, and in the face of Plaintiff's incontestable federal trademark registration is not just reckless and inexplicable — it is willful infringement."
The suit adds, "In addition to Federal trademark rights, Plaintiff has common law rights in and to Plaintiff's Mark in connection with Plaintiff's Goods and Services dating back at least as early as 1987."
The lawsuit alleges copyright infringement, unfair competition and violation of business law in New York, where both Sick of It All and Mobb Deep originate. It asks that Mobb Deep stop using the logo and seeks expenses and court fees.
Sick of It All vs. Supreme/Mobb Deep Shirts
From Billboard:
In June, when Supreme launched the Mobb Deep shirts, the website Hypebeast tried to explain the origins of the [group's] logo. The 'tribal tattoo-style dragon,' the site claimed, had been 'borrowed' from Sick of It All — 'who, like Mobb Deep, is from Queens, New York.'

Turns out, Sick of It All doesn't see the story quite the same way.

In Friday's lawsuit, their lawyers say that, over the course of three decades, they have repeatedly demanded that Mobb Deep stop using the dragon design, first in 1997 and again in 2003. The new complaint included a copy of a cease-and-desist that the band sent in 2003, after a version of the dragon logo was used in an insert included in 'Mobb Deep's Free Agents: The Murda Mixtape.'
Do the logos look the same to you?
Sick of It All v. Supreme + Mobb Deep
Sign up for Loudwire's newsletter and download the Loudwire app for rock and metal news.
20 Rock + Metal Musicians With Tattoos of Bands
These musicians have tattoos of other musicians.
Gallery Credit: Lauryn Schaffner