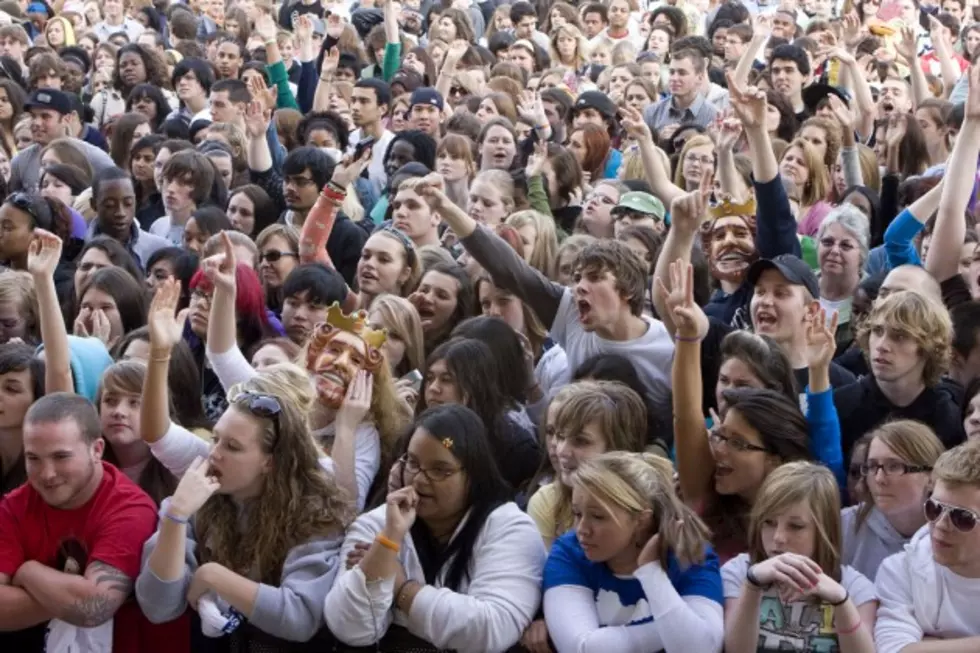 2015 Rock Guide to South By Southwest
Jeff Fusco, Getty Images
Earlier this week, we gave all the metalheads out there a look at what's on tap for this year's South By Southwest. But rest assured, rock fans, Loudwire hasn't forgotten about you. And there's lots of great rock acts heading to Austin's finest music venues March 17-21 that you'll want to check out. So take a look at our rock guide below to see who is playing where and when.
There's a little bit of something for everyone. For instance, you'll find several rockers known for their roles in veteran bands branching out in new projects. Scott Weiland, who led Velvet Revolver and Stone Temple Pilots, visits Austin's Convention Center on March 19 with his new band The Wildabouts as they rock tunes from their new album Blaster. Former My Chemical Romance guitarist Frank Iero has booked a Red 7 Patio spot for his new project Frank Iero and the Cellabration kicking off early March 21. Jonathan Tyler and the Northern Lights frontman Jonathan Tyler is playing a solo set at Lucky Lounge on March 19. And former Thrice vocalist Dustin Kensrue is furthering his solo career while playing a set at The North Door on March 19. Plus, you'll see Foo Fighters bassist Nate Mendel stepping out to promote his new project Lieutenant at a pair of shows on March 18 and 19.
Other name acts you'll find in Austin for South By Southwest include AWOLNATION, Norma Jean, Hawthorne Heights, Dead Sara, Royal Thunder, The Sheepdogs, JEFF the Brotherhood and Drivin N Cryin. Plus, there will be sets from upstart acts like Highly Suspect, Marmosets, Von Hertzen Brothers, The Stone Foxes, Hundred Visions and The Love Junkies among others.
Take a look at our Rock Guide to South By Southwest below and to check out the schedule for bands in all genres, click here.
Rock Guide to South By Southwest 2015
3/17 -- Royal Thunder -- Dirty Dog Bar -- 12AM
3/18 -- Norma Jean -- Dirty Dog Bar -- 12:50AM
3/18 -- Diarrhea Planet -- Trinity Hall / Old School -- 1AM
3/18 -- God Damn -- Lamberts -- 1AM
3/18 -- Hundred Visions -- Hotel Vegas Patio -- 9:30PM
3/18 -- Highly Suspect -- Trophy Club -- 10PM
3/18 -- Meat Market -- Mohawk Indoor -- 10:15PM
3/18 -- Lieutenant -- Bungalow -- 11PM
3/18 -- Marmozets -- BD Riley's -- 11PM
3/18 -- Von Hertzen Brothers -- The Trophy Club -- 11PM
3/19 -- Rat Fist -- BD Riley's -- 12AM
3/19 -- JEFF the Brotherhood -- Swan Dive Patio -- 12:55AM
3/19 -- Dustin Kensrue -- The North Door -- 1AM
3/19 -- Mumiy Troll -- International Day Stage Austin Convention Center -- 4PM
3/19 -- Scott Weiland and the Wildabouts -- Radio Day Stage Austin Convention Center -- 5PM
3/19 -- Lieutenant -- ACL Live at the Moody Theater -- 7PM
3/19 -- Eastern Sidekick -- Elysium -- 7:30PM
3/19 -- The Love Junkies -- Maggie Mae's Gibson Room -- 8:25PM
3/19 -- The Stone Foxes -- Maggie Mae's Rooftop -- 9PM
3/19 -- Alberta Cross -- Central Presbyterian Church -- 10PM
3/19 -- AWOLNATION -- ACL Live at the Moody Theater -- 11PM
3/19 -- Jonathan Tyler -- Lucky Lounge -- 11PM
3/19 -- Diarrhea Planet -- Swan Dive Patio -- 11:55PM
3/20 -- Quorum -- Elysium -- 12AM
3/20 -- Ceremony -- Red 7 -- 1AM
3/20 -- Hundred Visions -- Valhalla -- 1AM
3/20 -- The Sheepdogs -- Friends -- 1AM
3/20 -- Ruby the Hatchet -- The North Door -- 8PM
3/20 -- Junk Riot -- Soho Lounge -- 9PM
3/20 -- Drivin N Cryin -- Javelina -- 11PM
3/20 -- Meat Market -- 720 Club -- 11PPM
3/20 -- Death By Unga Bunga -- Icenhauer's -- 11:30PM
3/21 -- Frank Iero and the Cellabration -- Red 7 Patio -- 12AM
3/21 -- Get a Grip -- The Trophy Club -- 1AM
3/21 -- Hawthorne Heights -- Red 7 Patio -- 1AM
3/21 -- Mumiy Troll -- Lucille -- 1AM
3/21 -- Ceremony -- Gypsy Lounge -- 9:15PM
3/21 -- Future Death -- 720 Club -- 10PM
3/21 -- Slow Motion Rider -- Holy Mountain Backyard -- 10PM
3/21 -- The Sheepdogs -- Maggie Mae's Gibson Room -- 11:30PM
3/21 -- Drivin' N Cryin -- Saxon Pub -- 11:45PM
TBA -- Dead Sara
Spring 2015 Rock + Metal Festival Preview