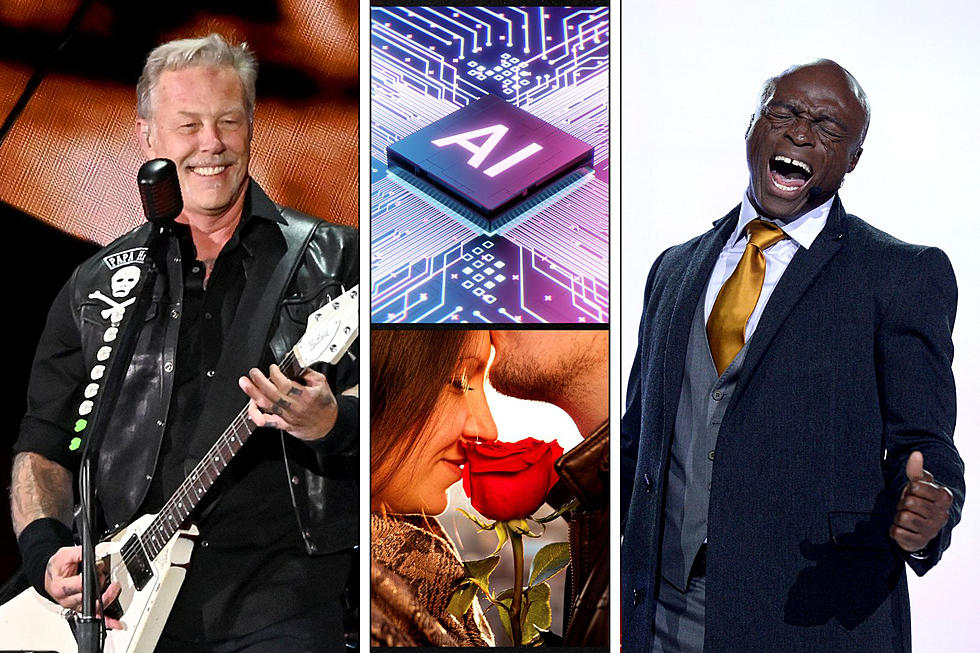 We Dare You To Not Laugh at AI James Hetfield Singing Seal's Big Hit 'Kiss From a Rose'
Noam Galai, Stringer/Getty Images / Black_Kira, iStock/Getty Images / ZoranMilisavljevic83, iStock/Getty Images / Kevin Winter, Getty Images
In a world where anything is possible thanks to AI (artificial intelligence), we now know exactly what it would sound like if Metallica's James Hetfield sang Seal's big hit song "Kiss From a Rose." And we dare you to make it all the way through without laughing.
The R&B/soul song was first released in 1994 as part of Seal's self-titled sophomore album and was featured in the Batman Forever film soundtrack one year later, which helped bolster its popularity, leading to an enduring hit beloved by so many.
The original song itself is simply fantastic — a flutter of smooth and gentle bah-bah-bah vocalizations at the beginning invoke the feeling of soaring through the clouds, surrounded by cherubs. Silkier than 1,000 thread count satin sheets, it's pure bliss.
And that's what makes Papa Het's rough 'n' tumble, dirt-caked grit that shatters the still on this AI rendition so hilarious. Instead of Seal's smooth, high-pitch croon, it's like a monster truck advertisement interrupting the song, only there's no skip button to hit after five to 15 seconds.
READ MORE: British Singer Seal Names His Favorite Grunge Band, Says They're Underrated
Once you get over the initial shock of how jarring it is to hear Hetfield on this timeless beauty, it settles in quite nicely. Still, there's a few moments that will pop up and leave you laughing with your face buried in your hands, mad at yourself that you're actually starting to enjoy this cover. It's okay — we went through the same emotional ride and made it out alive.
Listen to the AI cover further down the page.
Now if only Kirk Hammett and Rob Trujillo were still doing those onstage "doodles," paying tribute to an artist local to wherever Metallica are currently playing. Next time they hit the U.K., maybe they could've done a bit of "Kiss From a Rose!" When they were there in London back in 2019, the two covered Iron Maiden and Hammett even sang a bit — watch that here.
If it's more quirky AI covers you crave, you can also check out this video where some smartass used AI to have Megadeth's Dave Mustaine sing "Master of Puppets."
AI James Hetfield Sings Seal's "Kiss From a Rose"
Seal, "Kiss From a Rose"
We Asked an AI Chatbot Why 20 Classic Albums Are So Great - Here's What It Said
Here's what an AI Chatbot had to say about classic rock and metal albums.