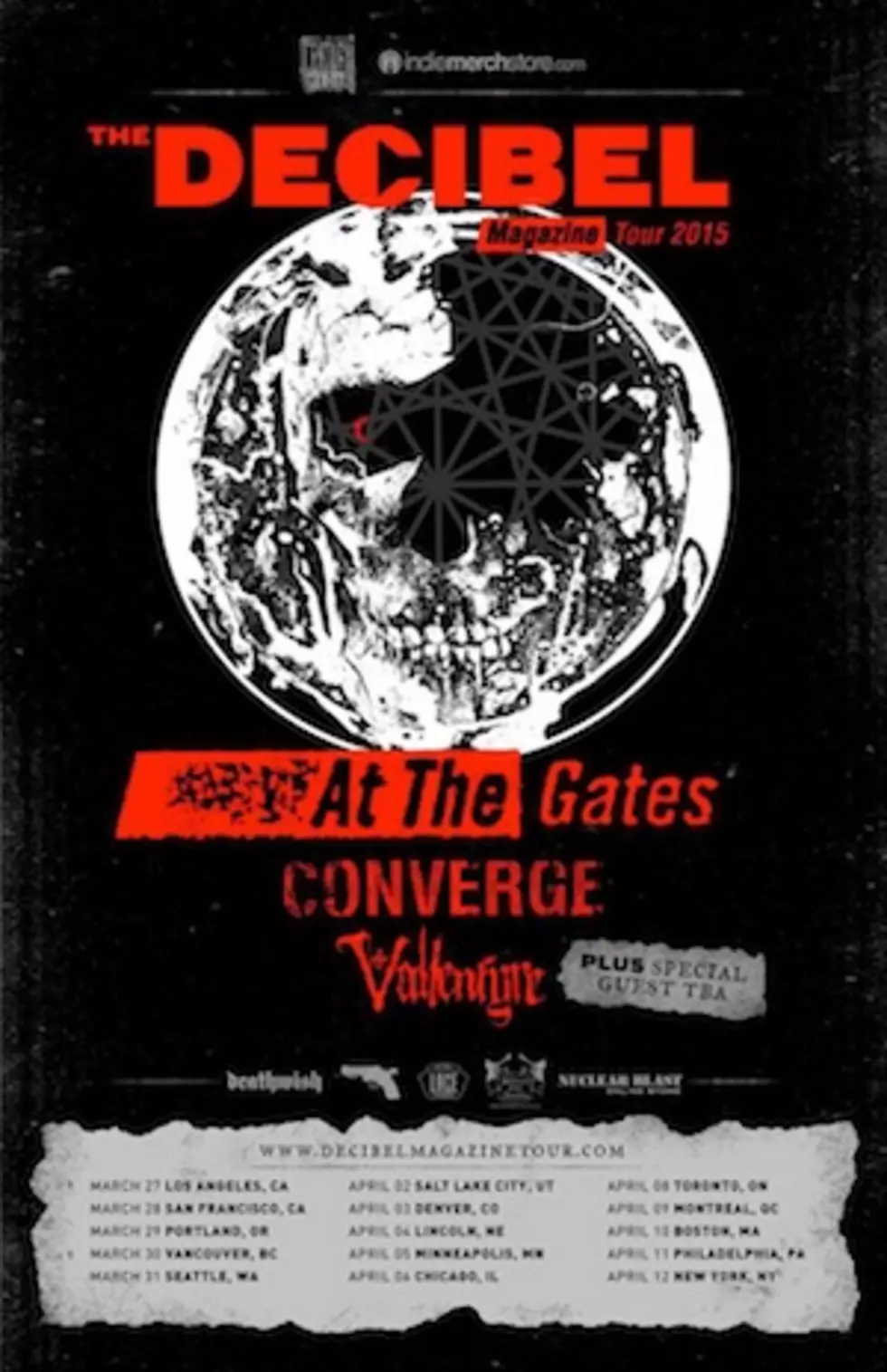 At the Gates, Converge + Vallenfyre Confirmed for 2015 Decibel Magazine Tour
2015 Decibel Magazine Tour
The lovely folks at Decibel really know how to put together a strong bill. The annual Decibel Magazine tour has become a staple of live underground metal. This year, At the Gates will headline the North American tour with Converge and Vallenfyre announced as support.
After 12 years of dormancy, At the Gates returned to the road in 2008 for their worldwide 'Suicidal Final Tour.' At the Gates started up the machine once again in 2011, touring sparingly up until May 2014. But finally, after 19 years of waiting, At the Gates will put out a new album, 'At War With Reality,' on Oct. 27. The band will support 'At War With Reality' throughout Europe in 2014/15, but we'll get them here in the U.S. beginning March 27 in Los Angeles.
"Super-stoked at finally getting to be part of the Decibel tour!" enthuses At the Gates frontman Tomas Lindberg. "A great mag, with great people behind it! And finally being able to rip out new stuff in front of a U.S. club audience? Sweet! The bill looks amazing, too! The most relevant hardcore band on the planet and the fiercest old-school death metal band on the same night as us? Excited!"
The inclusion of Converge brings even more awesomeness, and the most insane pits you've ever experienced, to the Decibel tour. "We are excited to be part of this fantastic and diverse tour," says frontman Jacob Bannon, who designed the tour logo and art. "For me, At the Gates are one of the most important bands in contemporary heavy music. It will be an honor to tour the country with them."
Metal supergroup Vallenfyre (Paradise Lost / My Dying Bride / At the Gates) also raved about the upcoming string of dates. "This will be Vallenfyre's first U.S. tour, and what a tour," beams frontman Gregor Mackintosh. "I think this is the most diverse and exciting bill of any metal tour I have seen this year. Great to be a part of it. We will be injecting some British filth into your unsuspecting American ears. Cheers."
Stay excited, because Decibel has one more band to announce soon. Check out the full list of tour dates below! Meanwhile, At the Gates also released a video for their single 'Death and the Labyrinth.' You can watch the full clip below the tour dates.
2015 Decibel Magazine Tour Dates:
03/27--Los Angeles, Calif. @ The Wiltern
03/28--San Francisco, Calif. @ The Regency Ballroom
03/29--Portland, Ore. @ Roseland Theater
03/30--Vancouver, British Columbia @ Commodore Ballroom
04/31--Seattle, Wash. @ Showbox at the Market
04/02--Salt Lake City, Utah @ The Complex
04/03--Denver, Colo. @ Summit Music Hall
04/04--Lincoln, Neb. @ Bourbon Street
04/05--Minneapolis, Minn. @ Mill City Nights
04/06--Chicago, Ill. @ House of Blues
04/08--Toronto, Ontario @ The Phoenix
04/09--Montreal, Quebec @ Metropolis
04/10--Boston, Mass. @ Royale
04/11--Philadelphia, Pa. @ Union Transfer
04/12--New York, N.Y. @ Webster Hall
Watch At the Gates' 'Death and the Labyrinth' Video