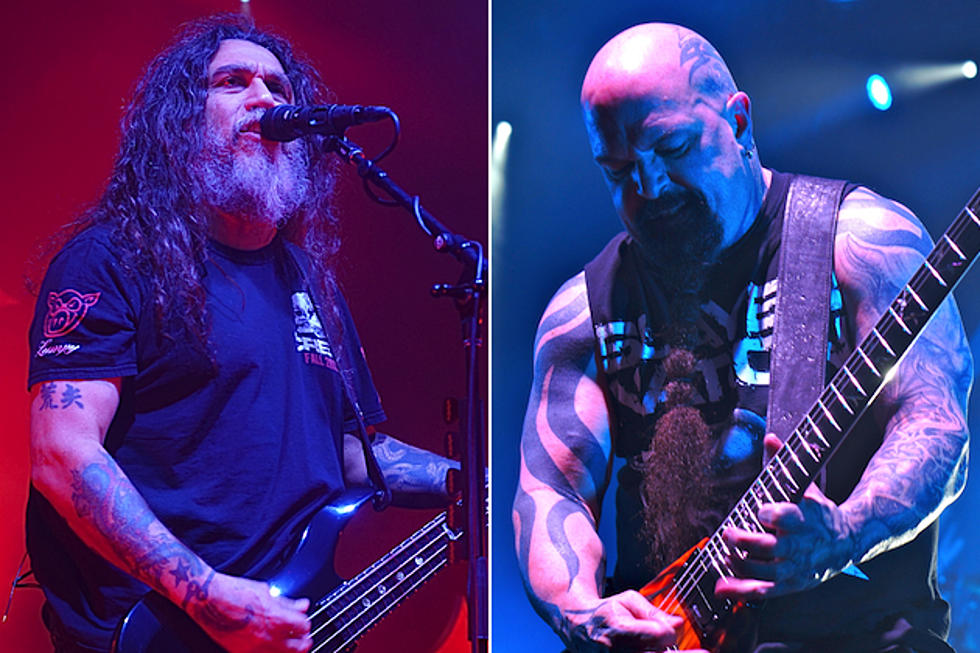 10 Best Covers of Slayer Songs
Spencer Kaufman, Loudwire
Slayer have often been imitated but never replicated. The spider-like guitar playing and thrashing mayhem of one of the world's fiercest thrash bands has an instantly identifiable sound that can never be mistaken for any other band. From the NWOBHM-inspired debut, Show No Mercy, with all its galloping and melodically sensed rhythms to the landmark Reign In Blood and beyond, Slayer have proved their worth time and time again.
They changed the game forever in 1986 with Reign In Blood, with every extreme metal band owing a massive debt to the blasphemous quartet. Slayer were evil incarnate and the band's below try to capture the essence of the magic Slayer were able to culminate in the studio. Take a look as we count down the 10 Best Covers of Slayer Songs piece by piece!
10

'Silent Scream'

Covered by Children of Bodom

Finland's Children of Bodom have always provided some entertainment with their cover song selection. Usually, they get a bit silly and cover Britney Spears, Poison, or Eddie Murphy, but here they decided to keep things on the serious side. "Silent Scream" gets the full on Bodom treatment, injecting some melodic playing and, of course, the keyboard. After listening once its clear just how much Slayer's music has a stranglehold on Alexi Laiho, giving Bodom that vicious edge to their hyper melody.

9

'Antichrist'

Covered by Dissection

"Antichrist" sees Dissection step out of their melodic blackened death metal realm and into the punk and NWOBHM fueled antics of Slayer's debut. The band's icy guitar tones give this cover a black 'n' roll feel. The style definitely held more of a grip on Jon Nödtveidt when he was playing in Rabbit's Carrot before forming Dissection. Its refreshing to hear the band play with a different type of energy and let loose.

8

'Piece By Piece'

Covered by Malevolent Creation

Slayer's grand masterpiece Reign In Blood is one of the cornerstones for the birth of death metal. The sheer ferocity of the album is what propelled the new subgenre and finally gave it the separation it needed to be distinguished from thrash. Give the album some death growls instead of Tom Araya's gritty shouts and you've got the best death metal album ever. Malevolent Creation provide just this as they lay waste to "Piece By Piece" and change a bit of the playing style to suit even heavier means.

7

'Hell Awaits'

Covered by Cradle of Filth

Cradle of Filth's brand of symphonic black metal doesn't appear to align itself well on paper when it comes to covering Slayer, but it couldn't be further from the truth. The mid-tempo groove gets a symphonic backdrop with pitch-shifted growls for a ghastly effect. When everything kicks in half way through, it makes perfect sense why Cradle of Filth selected "Hell Awaits." Dani Filth's rapid fire vocals are indebted to Tom Araya's manic delivery and some of the debt is paid off on this rendition.

6

'Raining Blood'

Covered by Tori Amos

Yes, this cover is a little unexpected and is sure to raise more than a few eyebrows, but just hit play to find out how Tori Amos made it onto a list of the 10 Best Slayer Cover Songs and at No. 6 no less. "Raining Blood" is heavy metal writ so we know what a sinister background this song has. Hearing it redone with heavy rain, a piano, and Tori's famed ethereal voice gives this song a whole new reason to be chilling.

5

'Kill Again'

Covered by Angelcorpse

Angelcorpse take their turn with "Kill Again" as their Slayer song of choice. Pete Helmkamp and his crew deliver a relentless version of the second track of the sophomore release Hell Awaits. Everything here is lockstep, with Helmkamp's vocals remaining in step opposed to the darting style of Tom Araya. After listening to this cover you'll forevermore play this after the original in the true fashion of killing again.

4

'Captor of Sin'

Covered by At the Gates

At the Gates deliver an unmistakable cover with Haunting the Chapel selection, "Captor of Sin." The band sounds raw and abrasive and couldn't sound more able to rip apart a Slayer track. The song is played just a little bit faster, always sounding ready to come unhinged at any moment, especially with the shrieking madman Tomas Lindberg behind the microphone. The Swedes put their own take on the song, embracing it with their pioneering style.

3

'Die by the Sword'

Covered by Necrophobic

Sweden's Necrophobic delivered a timepiece cover of "Die By the Sword" in 1996. The NWOBHM style song gets a death metal makeover with a twist of groove thrown in place that emphasizes the mid-90s feel. The rhythm playing under the solos has a haunting and almost gothic feel to it, giving an eerie sense that meshes perfectly with the higher vocal shrieks contrasting the death grunts.

2

'Raining Blood'

Covered by Vader

Put on Vader's cover of "Raining Blood" and count how long it takes for everyone to realize that it isn't Slayer. It's going to be longer than you expected. Up until Piotr's voice kicks in and arguably the uptempo part that gives way to the verse this cover is nearly indistinguishable from the original. The Polish band nails the guitar tone and thick production, vaulting this cover to the No. 2 slot.

1

'Angel of Death'

Covered by Monstrosity

Florida's Monstrosity was the band Cannibal Corpse's George 'Corpsegrinder' Fisher once called home. In Dark Purity was the band's first release since Buffalo's most brutal act plucked Fisher from the group. Monstrosity picked up right where they left off without skipping a beat and capped the album with one of Slayer's most vicious tracks, "Angel of Death." The song more or less paved the way for death metal and the Floridians present it the best way they know. Everything here is kept in tact and the death metal growls give this song an extra edge that makes it the perfect Slayer cover.