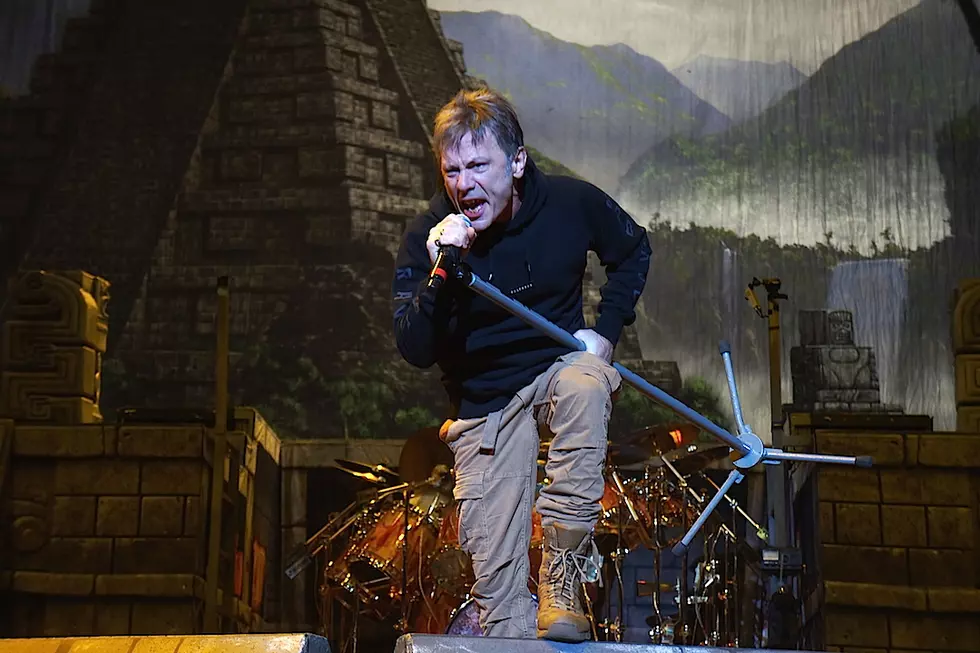 Bruce Dickinson: 'It Didn't Concern Me in the Slightest' I Might Never Sing Again After Cancer Diagnosis [Interview]
Spencer Kaufman, Loudwire
Iron Maiden's Bruce Dickinson was the latest guest on Full Metal Jackie's weekend radio program. The singer discussed his new autobiography, What Does This Button Do?, which details his childhood and upbringing, along with his path to music and eventually Iron Maiden as well as other interests like fencing and flying. It's a witty, thought-provoking read and Dickinson spoke about his past experiences as a writer, who his influences are as an author and staring down the possibility of death following his cancer diagnosis in 2015. Check out the chat below.
Alright, actually. I'm just in New York at the moment headed every which way going to a book signing.
It isn't your first book. The Adventures of Lord Iffy Boatrace was published in 1990 and then The Missionary Position in 1992. Bruce, how was having experience as an author helpful when it came time to write a memoir?
Well, not really is the answer to that. Obviously, those two books were sort of comic novels. It wasn't a question of the writing, the actual writing process because I knew what that was like. You just have to sit down and get on with it. I approached the idea of a biography or an autobiography. I didn't, obviously, have a ghostwriter - and the other thing is I did the whole thing longhand. So I did 160,000 words with biros [pens] and paper. [laughs]
Bruce, sometimes writers in literature have been a guiding reference in your music such as William Blake on your The Chemical Wedding album. Which writers have influenced you as an author?
Well, I just took a couple of autobiographies that I thought were really seminal from when I was growing up. I don't generally like autobiographies that are just all about salacious stories and gossip and that kind of nonsense. That's not really the kind of thing that floats my boat. I think it's very short term. I don't think it appeals much to a wider audience. They tend to be fairly narrow.
So what I wanted to do was have a book that had sort of a more broad appeal. You didn't have to be a heavy metal fan to read the book and go, "Oh wow, this is kind of interesting." There's a couple of books, quite old books, one of them was by an actor called David - a U.K. / Hollywood actor called David Nevin. He wrote an excellent worldwide bestseller called The Moon's a Balloon. It was a fabulous, uplifting story of his life and then his times in Hollywood. So that was great. It was a real page-turner. I read it and it was funny, it was witty. A very warm - it was like you were in a bar having a beer with the guy. So it was quite personal. Those were the sort of templates and the sort of idea so that when it came to doing the autobiography.
As you mentioned, we spoke it's a memoir, but it's not salacious, unlike other musicians biographies. Why was it important that the book not be tabloid?
Well, personally I'm not really a tabloid person. I think that so much of this stuff that's out at the moment in all aspects of the media is rubbish. It might be entertaining, but nevertheless, it's rubbish. It has very little content other than people making fools of themselves. That's not something I really subscribe too, that's why.
Bruce you were already prolific in all of your life pursuits before being diagnosed with cancer. How has facing mortality made you even more enthusiastic about everything you do?
Well I think the interesting bit is the facing mortality bit. Because, actually, that's the bit that has had the least amount of influence in what my sort of life approach has been after getting over the cancer thing. Because the idea of being scared of dying is a pretty straightforward one because it's going to happen anyway at some point. So, having had a little thought of, "Oh my god, I might die," but then you just take a step back. Do you feel sick? The answer is, not very. Not right now. I'm not going to die tomorrow and I'm not going to die next week. So in fact, what really has changed? Not a whole lot. Except you have this disease and you're going to try to get rid of it.
So having got rid of it, I then really took the approach that it wasn't dying that was the issue, it was living. [laughs] Living becomes even more important because it's so amazing that when I got the diagnosis, I was surprised. I didn't think I would be - I thought I would be really worried about possibly never singing again. But actually I wasn't. It didn't concern me in the slightest. I realized that life, all aspects of it, life, kids, family, getting up in the morning and looking at the sunshine, smelling the dead leaves in the autumn, all of that stuff was so much more precious than anything to do with work, job or anything. I think you try and live every minute.
Musician, author, pilot, entrepreneur, you're very much a modern renaissance man. What interests are yet to be tapped for you?
I'm working very heavily on the wall warts I've got going right now, actually. I've got plenty on my plate.
There isn't something that you have wanted to do and have yet to do?
Well I wouldn't mind going into orbit, but I think I've got to earn a few more bucks yet.
Thanks to Bruce Dickinson for the interview. You can snag your copy of 'What Does This Button Do?' here and to stay up to date with everything Iron Maiden are doing, follow the band on Facebook. Find out where you can hear Full Metal Jackie's weekend show at this location.
Where Does Bruce Dickinson Rank Among the Top 66 Hard Rock + Metal Frontmen of All Time?
Bruce Dickinson Talks Childhood Life Lessons + Corporal Punishment