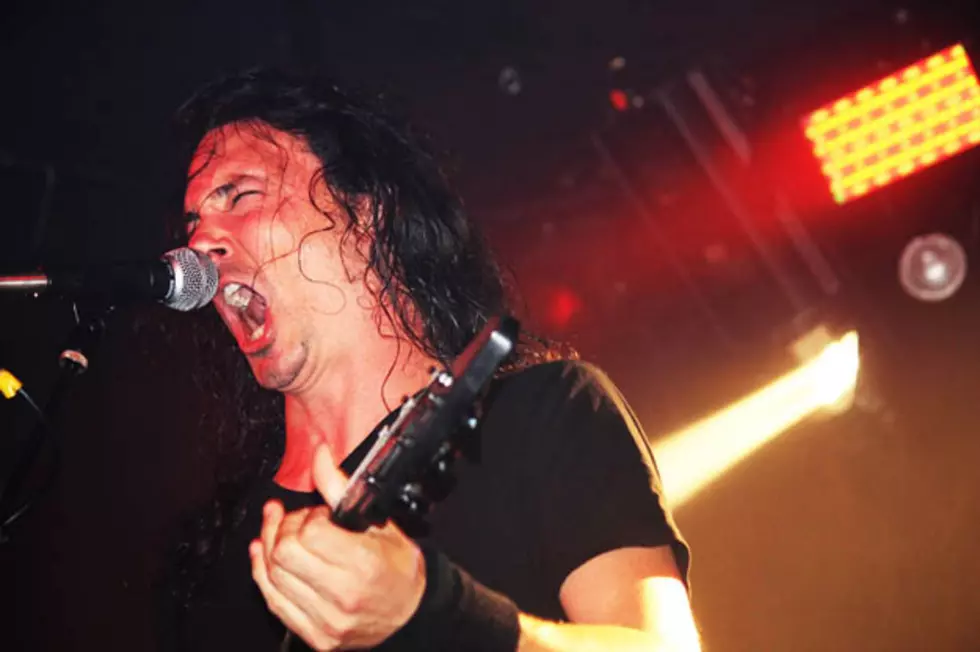 Gojira's Joe Duplantier Talks Upcoming North American Tour, Randy Blythe + 'Explosia' Video
Liz Ramanand, Loudwire
Gojira frontman Joe Duplantier was the guest on Full Metal Jackie's radio show this past weekend. He spoke all about the band's upcoming North American tour with Devin Townsend and Atlas Moth. Duplantier also voiced his opinion on the situation of Lamb of God vocalist Randy Blythe being imprisoned in the Czech Republic. If you missed Jackie's show, read the full interview with Joe Duplantier below:
Devin Townsend and Atlas Moth, you're going to be touring with these guys. Just out of curiosity, do the bands on a tour influence or change the way you think about music?
Yes absolutely and that's why we are who we are today is because we toured with all these bands throughout our career. They've had an influence on us – the way we behave onstage, the way we play, they way we approach the whole thing, sometimes it's purely technical like the way they plug in their gear.
So we always learn something from touring with people that's why I'm so happy to tour with Devin, he's such an incredible singer – one of my influences actually and he'll be opening for us [Laughs] how crazy is that? We're all huge fans of Devin Townsend, Strapping Young Lad, it's a great honor to have him on tour.
He's such an awesome and really intelligent guy so I'm sure there's going to be a lot of crazy late night conversations between the two of you guys.
Yeah [Laughs] sometimes you get lost when you talk with him because it's so wide – you have a wide range of subjects he can talk about. He's an awesome guy.
Devin sang on your 'Sea Shepherd' EP and you sang on his 'Deconstruction' album; any chance you'll be joining each other onstage on this tour?
We're trained to do good, we're trained to do our homework, we stress all day because we want to give it our best and he's still like that. It makes it harder to jump onstage for him after he played or for me when I'm warming up. We haven't talked about it actually but maybe by the end of the tour we will do something together - that would be awesome. We did in Australia one time – it was a disaster [Laughs]. We didn't get the chance to rehearse the song at all so it was really weird but it was great because we were onstage with Devin and Fredrik [Thordendal] from Meshuggah so it was very exciting to be onstage with those guys – almost too exciting, we played way too fast and I was watching them onstage and made a lot of mistakes on the guitar.
Originally, Gojira was on the bill of the Lamb of God tour that got canceled, France isn't far from the Czech Republic, what surprised you most about Randy's [Blythe] situation?
What surprised me the most was that they were not aware that one of their fans died before they went there. They were so surprised when they arrived there that police came straight there in the plane and took them to jail – the whole band went to jail the first day. I talked to Chris Adler on the phone, the same day and he was so depressed and they were shocked and surprised that it happened.
I don't know something went wrong somewhere that the information didn't go to them. I'm sure they would do something if they knew a kid died at one of their shows – at least try to reach the family, send some money – the surprise is what made it really bad for them because they're gentlemen. Randy is such an incredible guy and I'm sure he would have done something before – I just thought about this now while you were asking me the question, for me it was a bad situation, a very sad situation. I saw Randy when he came back, he has a good, strong spirit so he knows how to react to this and he'll go back there and finish this whole thing. I hope it will turn good for him, I hope he will not give have to give some more money or go to jail.
It's a well known band it would not have been difficult for someone to get a hold of him, for two years to pass and no one to even try - call the venue, call the agent call the manager, it would've taken two seconds. It still just baffles me.
The Czech Republic is very, very different than France and other countries – yes you're right it's not far, it's like another state for you Americans but in Europe each country is such a different world. I don't know how it works over there, it seems like they took advantage of that – having a big American star in their jail, maybe they tried to get some money out of this probably. For me it's just an accident, he's not guilty of anything, he's just a rockstar. He's a beast onstage and you go to see him onstage, you're not supposed to be onstage.
Anybody who's been to a Lamb of God show knows it can get violent down there and to go onto the stage while somebody's performing, it's not smart.
Yeah absolutely, I kicked so many people off stage. Sometimes people get onstage and they dance in front of the microphone so I cannot even see the crowd with them in front of me so I just kick this person, nicely but it could turn out bad. This person could fall on their head and now everybody's thinking about what happened and I talk to a lot of singers and they said "Never again they will touch a fan, it's too dangerous."
The new video for 'Explosia' really shows the intensity of Gojira live. On tour how do you come down from so much adrenaline?
I think it's the faith that we have in what we do. We really, truly, deeply embrace our music and believe in what we do, I usually say that we're not great musicians – Mario [Duplaniter] is a very good drummer and he's very stable, he's very tight and inventive and he can groove but the rest of us [Laughs] my God it's a big mess. If you could hear the separate tracks of each show, every guitar player knows when you move your head, you dance on the stage or whatever, it's hard to play tight so we're also very, very focused and we try to deliver a very tight show.
That show was really hard for us because it was really hot and the stage is small so at one point we said "You know what, let's be a punk band tonight" [Laughs] because we did this tour recently in the States in small clubs and it was awesome to go back to small clubs and to feel the craziness of the crowd and the heat. I don't know when we jam onstage we just play our music which is the thing we like the most in life and we feel inspired by this music in general.
Full Metal Jackie will welcome Mark Osegueda of Death Angel on her next show. Full Metal Jackie can be heard on radio stations around the country — for a full list of stations, go to fullmetaljackieradio.com.