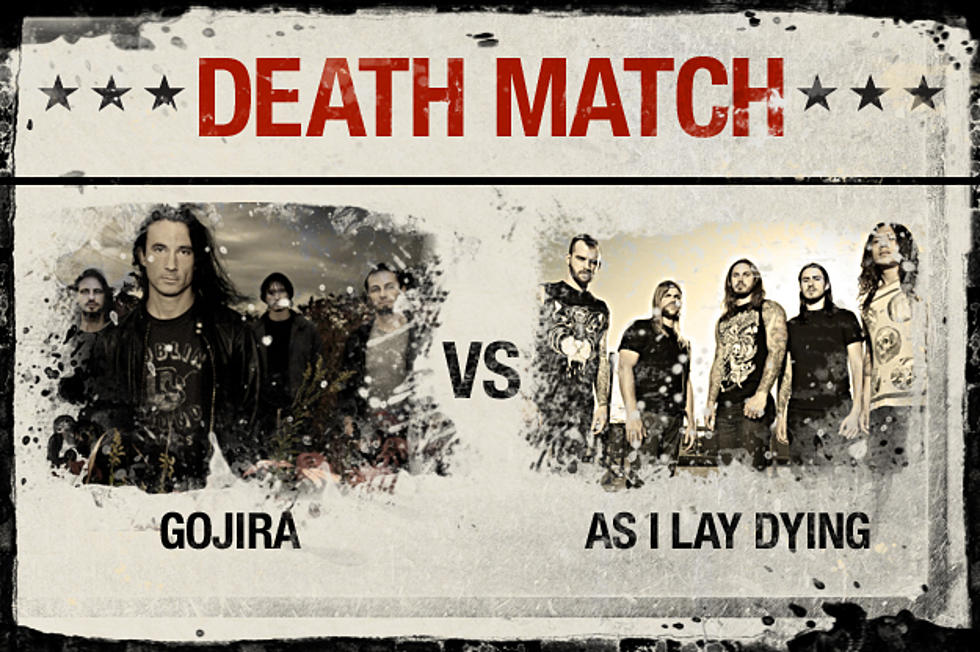 Gojira vs. As I Lay Dying – Death Match
Roadrunner / Metal Blade
Félicitations to French metal masters Gojira for claiming a win over Dethklok in our last Death Match. This racks up one win for Gojira's latest single, 'The Axe,' from their critically acclaimed 2012 release, 'L'Enfant Sauvage.' Gojira are currently at a high point in their career, but will they be able to beat metalcore's leading band?
As I Lay Dying have just drop their sixth full-length album, 'Awakened,' and the second single released from 'Awakened' is 'A Greater Foundation.' Having stuck with their signature sound while adding in some gang vocals for good measure, As I Lay Dying now find themselves in a fight to the death.
Can Gojira turn As I Lay Dying's band name into a reality after a brutal beating with a freshly made baguette? Or will As I Lay Dying crunch their French foes with their American assault? The choice is yours and yours alone. Vote for your favorite track in the poll below!
(This Death Match ends on Tuesday, Oct. 2, at 10AM ET. Fans can vote once per hour! So come back and vote often to make sure your favorite song wins!)
Gojira, 'The Axe'
As I Lay Dying, 'A Greater Foundation'
Rules of Death Match
Two bands fight to the death each week. Fans can vote once per hour. The triumphant band goes on to compete in the next Death Match. If a band wins four straight Death Matches, its song will be honored as immortal in the Loudwire Death Match Hall of Fame.