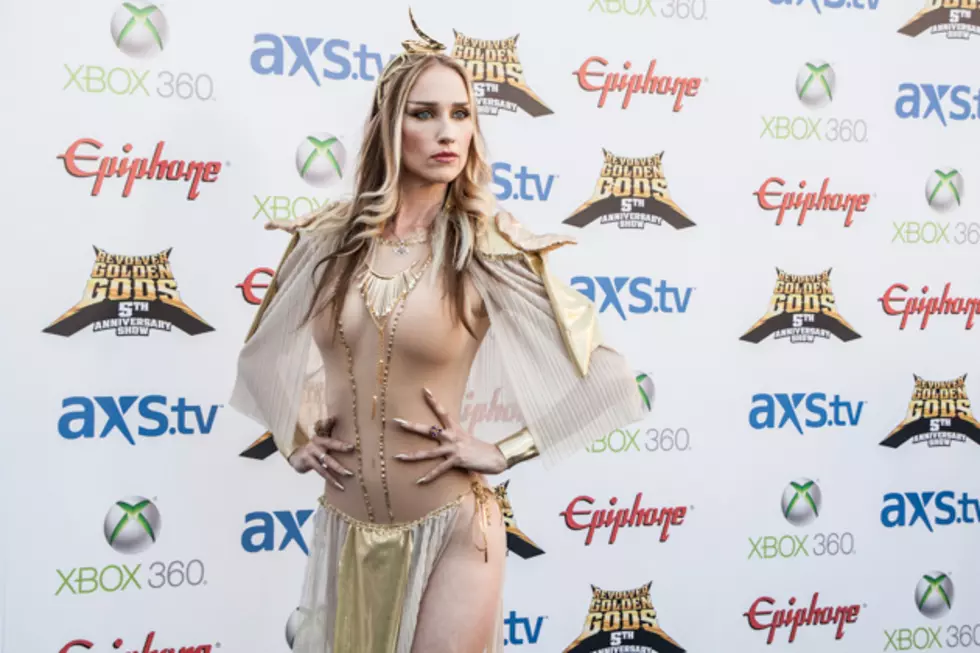 Huntress' Jill Janus: 10 Things I Need on Tour
Kathy Flynn, WickedGoddessPhotography.com
Life on the road can be difficult for even the most seasoned rock vet. Luckily Huntress frontwoman Jill Janus has provided Loudwire with this road survival guide, sharing some of her must-haves for those long tours across the U.S. and abroad. See what she suggests below:
As a woman who tours relentlessly, I've gathered several 'must-haves' while on the road. I went into tour life blind, having never toured extensively prior to forming Huntress. It was a rough adjustment period for me. I pretty much tortured my bandmates for the first two months. After a few bouts of female drama and psycho antics, I had to make a decision to control my emotions, man up and surrender to the road. Or I'd perish and take my band down with me. I found that making lists was therapeutic and brought structure to my strange, new existence as a touring musician. From the endless lists of desired sanity came my Top 10 Things I Need on Tour:
The first disposable mini-toothbrush with a breath freshening bead that allows you to have a clean, fresh mouth with no water or rinsing. Sometimes brushing your teeth the traditional way just ain't practical while touring non-stop. Wisps are cool for scrubbin' the crud in between brushing. And it's fun on long, boring drives. You can find these lil' guys on Amazon.com in bulk, or occasionally they show up in dollar stores and I'll stock up.

Simply put, GoGirl is the way to stand up to crowded, disgusting, distant or non-existent bathrooms. It's a female urination device that allows you to urinate while standing up. It's neat. It's discreet. It's hygienic. When I got my GoGirl in the mail, I was so pumped that I peed with it for a week at home. Being a girl with penis envy became a bit easier for me; I could now stand on the side of the road with my bandmates and attempt to write my initials in the snow too. I was finally one of the boys! It's great for peeing into small bottles in the van as well. Plus it's made of this space-age material that dries instantly. I've pretty much mastered the art of the GoGirl.

I now completely understand the old-timey phrase "whore's bath" -- wipe down the lady parts and you're back in action. Baby Wipes are not only for down there, I use them for full body cleansing when I can't take a shower, or when I'm just being lazy and gross.

I rapidly lose weight on tour. I'm no longer rippin' bongs in bed while wolfing down chicken nuggets. With limited food options available, extreme physical activity on stage and a crazy-ass metabolism, I just can't keep weight on. In fact, I'm stepping away from writing this to eat french fries. OK, I'm back. I drink Weight Gainer after shows and would recommend it to anyone with a high metabolism. I feel like a c--t even talking about how hard it is to gain weight, but it becomes a problem on tour and affects my ability to sustain energy while performing. A lack of consistent food also makes me feel sick, alters my mood and turns me into megabitch.

Ain't no secret that I often ask the Tarot for guidance. I travel with the same Tarot deck I've had since age 13, 'Tarot of the Old Path' -- I'll read the cards alone or sometimes I'll offer up readings for my bandmates. I've never given readings outside the band, it's something I prefer to keep sacred and special within our little circle.

Liquidlast Eyeliner by MAC Cosmetics

If I had to choose one makeup item to bring on tour, it would be eyeliner. I burn through it. I've been partnered with MAC since 2009 and I'm thrilled to have a steady supply of my favorite cosmetics. The best tour eyeliner is Liquidlast, which can stay in place perfectly for 2-3 days. Sometimes I'll say "f--- it" and see how long I can go without removing my makeup. I find that minimal facial washing can also cut back on breakouts and makes skin look healthier.

It's a unique amino acid that increases alpha brain wave activity, a sign of induced relaxation. It also helps ease occasional nervous tension, anxiety and irritability. This stuff rocks. I have severe anxiety that can turn into a gnarly panic attack on the road. When Huntress began touring in 2012, I relied on Xanax every day to ease my anxiety or help me sleep. Then I'd come home from tour, having to back off my dosage and it was always a bummer. I began taking L-Theanine (1000mg a day) in 2013, cut back on sugar and stopped drinking soda and all caffeinated beverages except black tea. My anxiety is more controlled than ever without the use of prescription drugs.

B12 (Methylcobalamin) is a lil' miracle. It boosts energy and your immune system, eases stress, irritability and anxiety, plus increases concentration. Basically, I cannot live without B12 shots on tour! When I'm not touring, I work with Naturopathic doctors and give vitamin injections. I always bring my B12 kit on tour.

I've always been "meh" about technology and resisted the iPhone until I realized how important Social Media is for a band. I'm very interactive with fans and continue to build a strong bond with them. I post on our various sites several times a day, I've got it down to a science. I rarely use a laptop on the road since I can handle all my daily Huntress posts by iPhone. That's pretty cool.

Melissa Cross and 'The Zen of Screaming'

This woman had a profound effect on my vocal ability when I first started Huntress. Her methods on the 'Zen of Screaming' DVD helped me to shed my classical inflections and birth a new depth of singing. In addition to helping me lock down my ideal metal voice, Melissa's lessons help me to maintain the voice night after night, never missing a show. I had my first lesson with Melissa in 2012 and never, ever perform without running through her soprano vocal warm-ups. She's the most important thing I bring on tour!

I like to eat them in the van after a show. In the dark, alone. Full creep zone. I love finding unique pickles on the road, and weird pickle flavored food like potato chips or candy. Yummers.