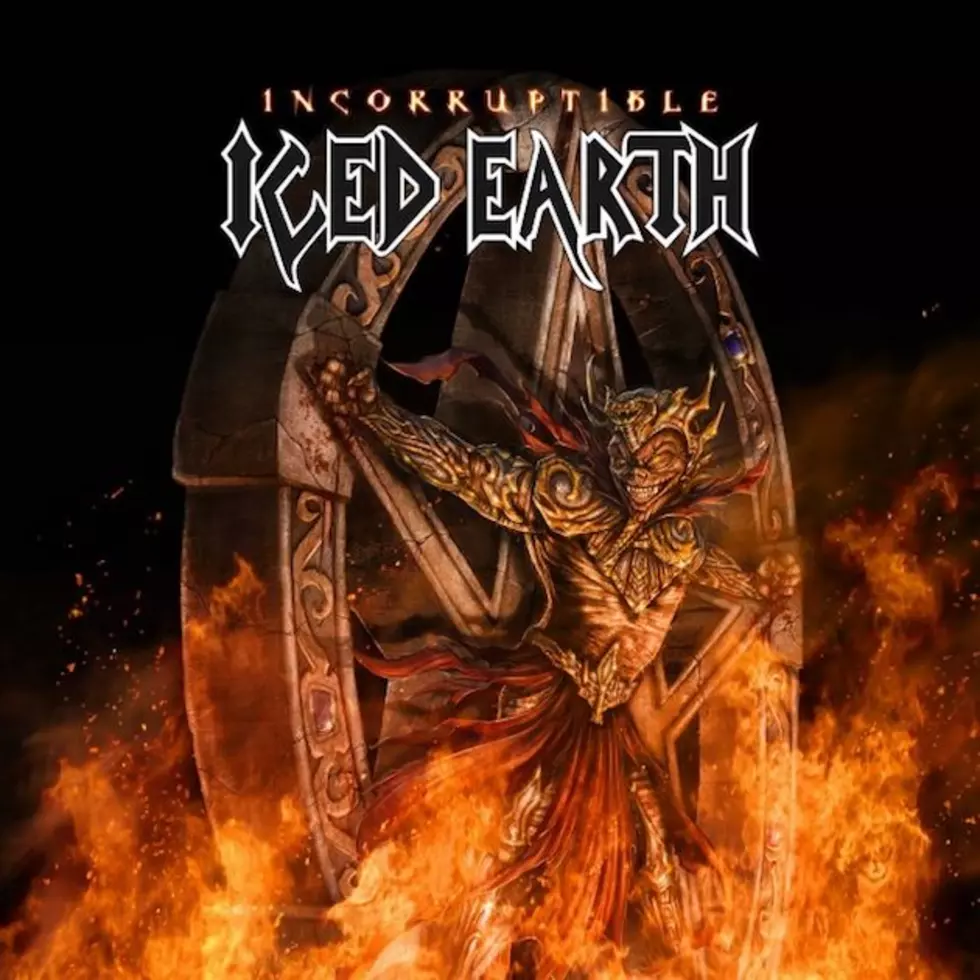 Iced Earth Reveal 'Incorruptible' Album Art, Track Listing + Release Date
Century Media
It's been three years since we last had a new offering from U.S. power metal icons Iced Earth. With the Stu Block era of the band in full swing, Incorruptible will serve as the former Into Eternity singer's third album with the group, which is expected to arrive on June 16 via Century Media.
The album will bring 10 new tracks, including the opener "Great Heathen Army," which the band performed live back in late 2016 and can be seen in the video below. While the album cover, created by David Newman-Stump and Roy Young, boasts Iced Earth's Set Abominae mascot crucified to a pentacle about to be enveloped in flames, this album will not feature a thematic concept.
"It's just 10 individual tracks not related to each other. Actually, on Plagues Of Babylon, it was only the first six that were related to the Something Wicked story; it was like a zombie apocalypse within the Something Wicked framework. But this album, it's just 10 individual songs," mainman Jon Schaffer told Metal Wani (interview below). Elaborating further, he said, "We have one called 'Clear The Way', which is about the Irish Brigade at the Battle Of Fredericksburg — very tragic, actually — but that's a big epic, like 10 minutes; and then we have one called 'Black Flag', which is a pirate song."
Incorruptible will also be the first to feature new guitarist Jake Dreyer (Witherfall), who joined Iced Earth in September of last year. Since work on the album had already been underway, mainman Jon Schaffer told Metal Wani that Dreyer was not part of the writing process, but that he did contribute guitar solos. When Shcaffer auditioned the axeman, he was also looking for a guitar player with a strong ability to write original material, so he was likely make more contributions in the future.
Incorruptible Track Listing
01. "Great Heathen Army"
02. "Black Flag"
03. "Raven Wing"
04. "The Veil"
05. "Seven Headed Whore"
06. "The Relic (Part 1)"
07. "Ghost Dance (Awaken The Ancestors)"
08. "Brothers"
09. "Defiance"
10. "Clear The Way (December 13th, 1862)"
Iced Earth, "Great Heathen Army"
Iced Earth's Jon Schaffer Interviewed by Metal Wani
Most Anticipated Upcoming Hard Rock + Metal Albums of 2017
See Iced Earth in the 10 Greatest Power Metal Bands