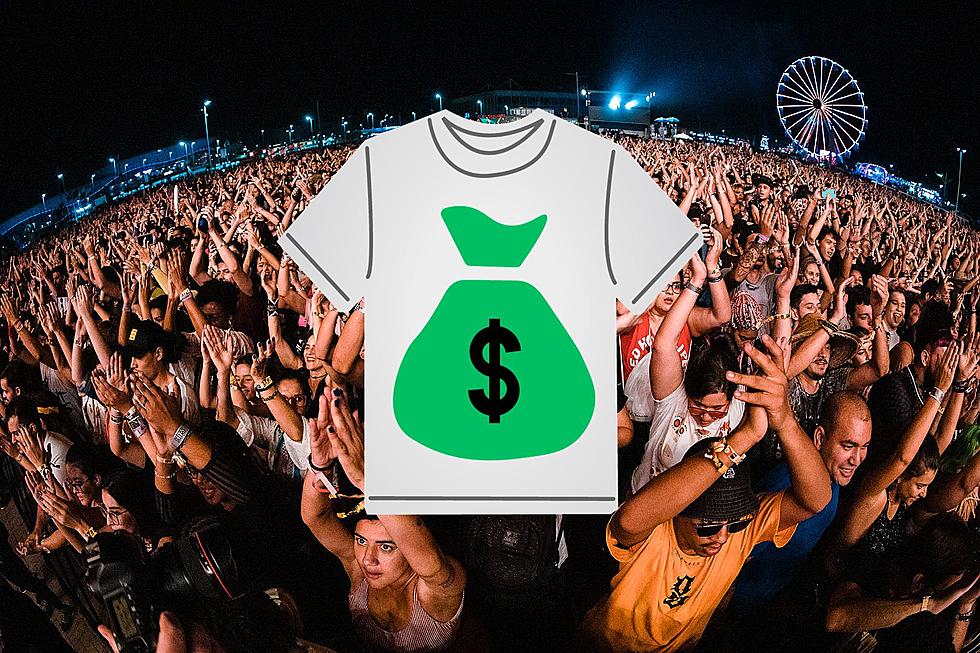 Live Nation Launches Program That Will End Merch Cuts + Offer Other Benefits
Mauricio Santana, Getty Images / Canva
Live Nation has launched a new program dubbed "On the Road Again," which was inspired by singer/songwriter Willie Nelson in an effort to mitigate the difficulties of touring and help support developing artists and crew members. Part of this new initiative includes an end to merchandise cuts, an issue several artists have spoken out against post-pandemic.
"Touring is important to artists so whatever we can do to help other artists, I think we should do it. This program will impact thousands of artists this year and help make touring a little bit easier," said Nelson.
This program will only be in effect for club venues (see participating locations here).
READ MORE: Why Do Venues Take Merch Cuts From Bands? - We Asked People Involved
What Benefits Does the On the Road Again Program Offer?
As the costs of touring have risen in recent years, it has become increasingly difficult for developing artists to make money on the road. Even in the case of veteran artists, many tours have been canceled due to financial logistics.
Bands playing at Live Nation owned and operated clubs will receive an "extra $1,500 per show in gas and travel cash for all headliners and openers on top of nightly performance compensation," reads part of the On the Road Again website.
Another perk states, "Clubs will charge no merchandise selling fees, so artists keep 10 percent of merch profits for each show."
Live Nation is also donating $5 million to Crew Nation to supports "crews across the industry facing unforeseen hardship."
Local tour promoters, venue staff and "behind-the scenes heroes helping shows happen" will also have the opportunity to earn a bonus. Tour representatives and venue crew members must work over 500 hours in 2023 to qualify, per Billboard.
"Over the next few months, On the Road Again will deliver tens of millions of dollars in extra earnings to developing artists and crew," another section of the website states.
Why Are Merch Cuts Such a Big Deal?
With the cost of touring having gone up, the chances of a developing artist earning money after a tour is finished becomes increasingly narrow. It is often not financially feasible to tour and some artists go into it understanding they will ultimately lose a certain amount of money.
With venues taking up to 20 percent or more of an artist's money earned through merchandise sales each night, profit margins can become smaller or even non-existent.
In response to this practice, which artists say have taken more money out of their pockets than in previous times throughout their career, many pushed back.
Earlier this year, Architects drummer Dan Searle suggested bands go on strike and refuse to play live until the merch cut issue is resolved and he, in turn, also floated the idea of the band earning a percentage of the bar sales as a tradeoff.
Monuments and Igorrr refused to sell merch at select shows, while Bad Omens called out venues and In Flames singer Anders Friden issued a call for bands to unite against the practice.
Loudwire also conducted extensive reporting, diving into the heart of this issue and its negative impact on touring musicians and associated personnel.
15 Most Disastrous Music Festivals in History
Here are some of the most disastrous music festivals in history, many of which proved unacceptably arduous for attendees, but a handful of others that unfortunately turned tragic. You might remember many of these instances — others you may not know about yet. Keep reading to find out.
10 Ways Not to Be an A--hole at Concerts
Because wtf is going on lately?
The Songs 30 Huge Rock + Metal Bands Only Played Live Once
Note: songs that were played as part of a medley and cover songs were not considered for this list. Only full performances of individual songs were taken into account.