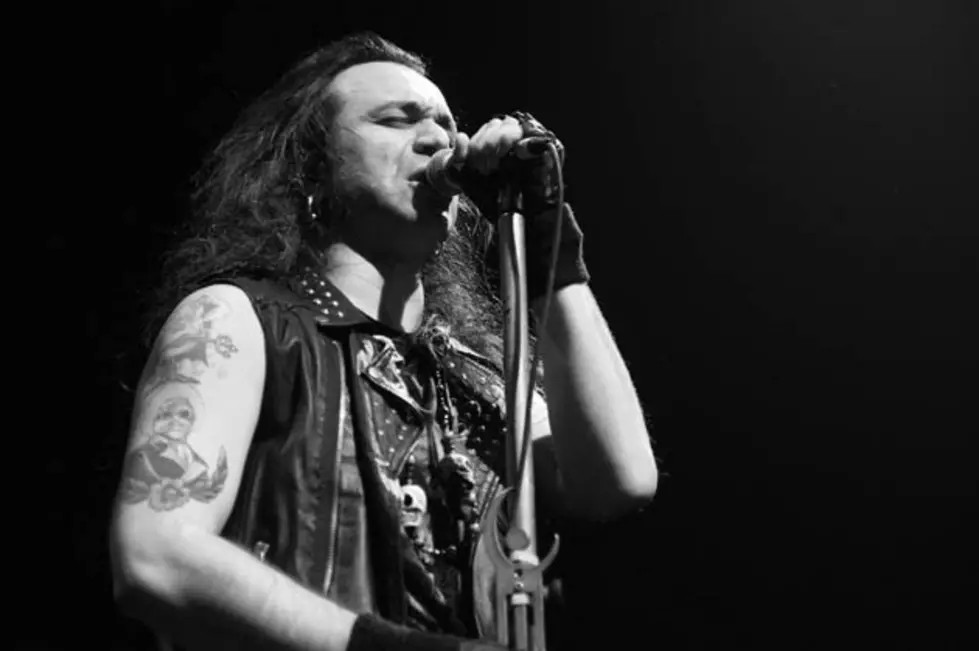 Moonspell's Fernando Ribeiro Talks 'Extinct' Album, American Fans + More
Liz Ramanand, Loudwire
Fernando Ribeiro, frontman of Portuguese metallers Moonspell, was the guest on Full Metal Jackie's weekend radio show. The vocalist spoke about the band's new Extinct album, a Brazilian tribute disc and American fans. Check out the chat in full below.
I am doing great. What about you, Jackie?
Doing great. It is great to hear your awesome accent and voice again. It has been quite a long time. We are here to talk about the new Moonspell album, Extinct. Tell me, Fernando, what make Extinct sound and feel romantic to you?
Well, actually I think that we felt the need for expanding especially as songwriters and musicians. Doing this for 23 years, sometimes you get kind of channeled into a comfort zone and it is always important for us to challenge yourself and also to challenge what gothic has become. I think Extinct is definitely an alternative for people who are a bit bored with all of the soprano versus growler thing. It's a mature album for Moonspell. We definitely laid our weight there and we went very personally into the lyrics just to do something that we thought was very musical in a way. It is an album that moves very well. It makes it special for us because we definitely wanted to expand and evolve as a band and when we finished the recording we were quite happy about it and it is exactly the picture that we wanted to give to our fans with Extinct. Now it is just hard work also to get them as excited as we are about our new album and obviously to fight with so many bands who have such great stuff these days. It is definitely a different album for Moonspell and an album we invested a lot in.
We are talking about the 11th studio album from Moonspell called Extinct. The two-disc media book edition of Extinct includes a documentary about the making of the album. Fernando, what does it show about Moonspell that fans might not already know?
I think it is the commentary. It really gets a little more close and personal to the band than ever before it was an old project that we had in our minds to document the studio days, how the album is made, what it takes for a band to reach to the right points of the song. The commentary really has three parts that kind of interact with each other. There is a very detailed making of the album with all of the technical stuff, with the producer interviews -- that part, we also wanted to show the day to day of a band from Portugal living for a month in the street, and also to show the new bands that sometimes it is not about checking into a hotel and having a chef cooking your meals. It is more about going to the supermarket for yourself and cooking for yourself and eating as a family. That part is in there as well.
The album is called Extinct. We also interviewed a bunch of professors and authors and scientists to give us a more scientific outlook about what species damages the causes of as well and the damage that we are causing to the endangered and the extinct. It was very interesting to add that dimension into the film because it really creates some awareness. I mean, we are involved in rescuing the Iberian wolf, which is a species of wolf from down here in Portugal and Spain. That professor is also there on an interview so that there is a side to it that makes it more interesting and making our part to save animals from extinction.
You have said that Moonspell needs discipline and criticism in the studio. How would Extinct have been different without that guidance?
I think that we have always worked with producers. Coming from Portugal we don't really have a rock 'n' roll or metal tradition really to learn from. There was a small metal scene but we never really identified with that sound. People were just trying to copy the bands from abroad, I mean no one wanted to listen to parts of Metallica when we stick the original one. We always understood that we have to search our sound outside of our country. Since Wolfheart, our first album that we worked in Germany for the first time, we learned that we could be creative force but that we definitely need someone to make a plan and so structure that and also to feed the band with the right bits of criticism but also with enthusiasm and encouragement here and there.
Jens Bogren, our new producer that worked with such bands Arch Enemy and Opeth, it really felt really close to the album's style something that was a little more rock driven but with metal riffs but a lot of gothic atmosphere, a lot of deep baritone and melodic vocals. We really got really involved with the album. For us it is very important to have this personal touch and human factor that allows people to work more hours and to pursue the idea until it is really done and not to leave things undone so we are really happy that we chose Jens and went to Sweden to record that album because it gave us the peace of mind that we needed away from our routine with the kids and going to pick them up from school and family and all of that part of Moonspell that exists as well. We really wanted to make Extinct totally focused on the album and going to Sweden allowed us just that.
Em Nome do Medo, the Brazilian tribute to Moonspell, just came out last year. What do you like best about listening to other bands interpret your music?
That was great news for us and we were quite taken by surprise. There are a lot of tributes around for bands we never thought were actually coming from Brazil,  a country that speaks the same language and a country that Moonspell has played many times. We were quite grateful that the underground scene in Brazil joined forces and did this very interesting thing because we have a lot of repertoire and very different stuff from album to album that the covered all the albums and to a great result, it is black, death metal and gothic metal bands chose a lot of variety.
As a musician I feel definitely flattered by it. With Moonspell coming from Portugal the odds were still a little but against us and we started to break through a little bit of Europe and we could start playing overseas as well. It seems like people are paying attention and they are doing this for bands that probably never expected to play our own country so it really feels good. Musicians living in the industry is made of a lot of hardship and you really have to be smart and to be creative to stay alive on the scene. This is the true benefit of our job that your music is getting different interpretations and I see them on YouTube. There are girls like really growling and the Brazilian tribute there are people that do all kinds of interesting tributes and I think that for us we can only feel thankful to all those people who invested their precious time to make cover versions of our songs, which is something that we never expected to happen.
What does a Portuguese band recognize about itself in fans from other countries especially American fans?
I think coming from Portugal is always a special thing for the fans. Normally people expect more bands to come out of Europe or the UK or when it comes to the continent, more German or Scandinavian bands so there was always this creativity about us that sometimes even lead people to know more about our country and where we come from, what inspires us, our history, etc. it is such an accomplishment when you go out to play there are Portuguese flags in the crowd and you go to speak to the people who aren't even from Portugal that is just showing their appreciation. We never felt that there were boundaries in metal, people actually are very open, there are bands from everywhere and people listen to bands from Iceland or bands from Greece as well. It is a very, very big melting pot of cultures and it is made of a lot of acceptance. A lot of our fans are all interested in Portugal literature for instance which is something that we use for our lyrics as well. When it comes to the American fans, I think Moonspell's first time there was in 1999.
We kept coming back, we never left our small but growing, very solid fan base. They were always great tours there were tours that didn't go that well but every year or with every tour period we go through the states and people start discovering about us as well, which is a great feeling as a band from Europe all bands find it hard to go to the states and it takes a lot of investment from us. I always felt that we would try to change that through the label and everything that sometimes the American fans like and can identify more European metal. Sometimes they get the short end of the stick like with all of the special editions being just available in Europe. Things are changing and a lot for the better. Also on the touring camp people are going to the shows and seeing bands like us so I think definitely with identification that American fans also like the small, romantic, dark oriented kinds of metal and Moonspell while growing in the States and doing it the hard way play doing a lot of tours, playing a lot of shows, I think that definitely we can reach a lot step by step a little bit of a growing crowd in the states because there are a lot of things that we can identify with.
Tell us about this U.S. tour that you guys are going to be doing.
I think a very dark and great tour it will be upon the West and Canada and also Mexico. It is going to be us and Septicflesh from Greece headlining and a special guest Death Stars from Sweden. I think that it is a very interesting package, three European bands with very different styles but in a way their fans cross a lot. We are very excited about this tour because we have been working hard over the past few years coming to the U.S. Nowadays people are very keen on having us on tour again and Extinct is having a cool reaction from the American fans, they are excited and they are eager to listen to the songs. The tour will start in late April, it is going to be through the end of May and you can find the date on the Moonspell official band Facebook or everywhere online.
We are really excited about it because normally when we write an album it takes us one year to go the States so I think that the people will get this show very fresh. We round out the European tour with Septicflesh as well in just a couple of weeks home. We have home weeks here is Portugal then we fly directly to Mexico, that will be the first date. From there it is just a quick step into the States and we are doing a full mile coast-to-coast tour over there. Don't miss it. I think that it is going to be a great, great celebration between all of the bands and the crowd. Very eager not only to play Extinct but also to travel in time through all of the repertoire that Moonspell already has.
Great to chat with you again.
The pleasure was mine. It was great sharing with you again. I think you for this opportunity for being on your show as well and helping us to promote Portuguese metal and the album Extinct. I hope to see you at the show and your listeners. Best greetings from Portugal. Rock on.
Thanks to Moonspell's Fernando Ribeiro for the interview. The Extinct album is available via Amazon and iTunes. Catch them on tour at these locations. Full Metal Jackie's weekend show can be heard on radio stations around the country — for a full list of stations, go to fullmetaljackieradio.com.