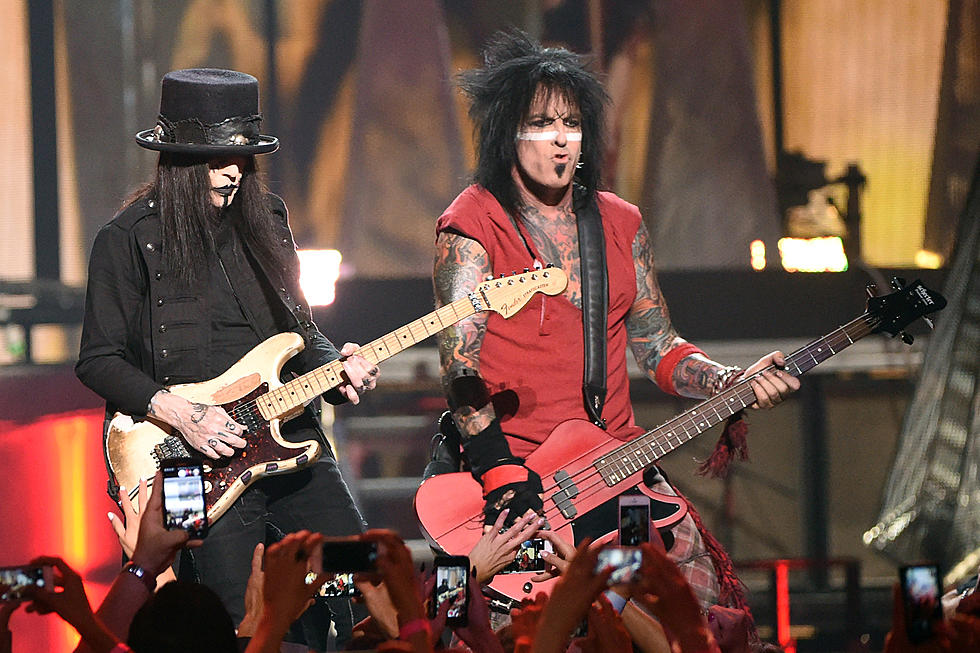 Motley Crue's Nikki Sixx – 'We Never Saw It Coming' That Mick Mars Wasn't Going to Be Able to Tour
Ethan Miller, Getty Images
After a successful, pandemic-delayed run in 2022, Motley Crue are back out on tour this year, but with one significant change. In October of 2022, Mick Mars announced his retirement from touring with the band, with the group naming John 5 as his touring replacement soon after. But earlier this year, Mars filed suit against his former bandmates claiming his was "unilaterally removed" from the band and "gaslighted" about his guitar performance. In a new interview with Guitar World, bassist Nikki Sixx says the band didn't see Mars' exit coming, and he shares that while they didn't choose to change guitarists, they are currently happy with what they've gotten with John 5.
According to Sixx, the realization that something was going to happen with Mars occurred in the midst of their Stadium Tour last year. "We never saw it coming that Mick wasn't going to be able to tour and was going to have to quit the band," said Sixx. "In the middle - not even the middle - of a huge tour, we had to ask ourselves, 'Do we want to let the fans down? Do we want to let Live Nation down? Do we want to let [tourmates] Def Leppard down? Do we want to let ourselves down because an original member of our band can't tour anymore? We had to have a deep, deep look into what we were going to do."
Though not diving into the current legal dispute with Mars, Sixx did address the addition of John 5 to the lineup. He called it "a no-brainer is a horrible situation."
"John, knowing all the members of the band, and me having this relationship with him writing and as friends, and even being in the studio with him writing stuff with the band for The Dirt, it felt like a no-brainer in a horrible situation," said Sixx. "[It was] something we did not ask for or want."
"And then it was just kind of obvious. If there was 'the guy,' John was the guy," he continued, then reiterating, "Like I said, we didn't choose this, but since we had to be put in this position, we're very happy with where we're at right now."
Since John 5 joined the group, not only has he toured with the band, but he's spent time writing with them. Earlier this year, the group got together to work on music with producer Bob Rock.
"John has the ability to play so precisely, and at the same time he keeps so much emotion in his playing," Sixx explained. "He obviously can play any style of music, and even blend them together. As a collaborator, it's amazing with John; you're like, 'Could you do…?' And he's like, 'Yes.' 'Hey, could you do…?' 'Like this?' He's fun and exciting to hang out with – whether it's his guitar playing, as a writer, and now on stage. It's literally like having your little brother right by your side. It's such a nice feeling."
Why Is Mick Mars Suing Motley Crue and What Was the Band's Response? 
Though Mars initially appeared to be on board with the touring retirement, speculation began to circulate that the guitarist was not exactly happy with how last year's tour played out. Then, in April, Mars filed suit against his former band. He initially claimed that he was "unilaterally" removed from the band despite assuring he could still record in the studio, and that his cut from their profits was reduced from 25 percent to 5 percent since he'd no longer be touring
"How did Mars' brothers of 41 years respond to Mars' tragic announcement [about quitting the road]?" the suit read [via Variety]. "They noticed an emergency shareholders' meeting for the band's main corporate entity in order to throw Mars out of the band, to fire him as a director of the corporation, to fire him as an officer of the corporation, and to take away his shares of the corporation. When he did not go away quietly, they purported to fire him from six additional band corporations and LLCs."
"Now they're trying to take my legacy away, my part of Mötley Crüe, my ownership of the name, the brand," stated Mars in a later interview with Rolling Stone. How can you fire Mr. Heinz from Heinz ketchup? He owns it. Frank Sinatra's or Jimi Hendrix's legacy goes on forever, and their heirs continue to profit from it. They're trying to take that away from me. I'm not going to let them.
In April, upon learning of Mars' lawsuit, the Crue called it "unfortunate" and "completely off-base," while also noting that they feel "empathy" for him and they hope "he can get better guidance from his advisors who are driven by greed."
Motley Crue's manager Allen Kovac stated, "What's upsetting to me is not Mick, but his representatives, who have guided Mick to say and do harmful things to the brand he cares about so much, Motley Crue. He has a degenerative disease and people are taking advantage of him. It's called elder abuse. Mick's representatives have no idea what they've created, but I've stopped the band from speaking about this, so they're not going to turn the fans against Mick. But I am going to make sure that people understand that Mick hasn't been treated badly. In fact, he was treated better than anyone else in the band, and they carried him and they saved his life."
Kovac went on to recollect Mars' poor health status in the early 2000s, where he and the band helped him recover from a fragile physical state wrought by a combination of ankylosing spondylitis (the degenerative condition Mars has been enduring since he was 27) and opiate addiction.
He also clarified how Crue used backing tracks on tour last year, contending, "Everything is live with Nikki's bass playing and Tommy [Lee}'s drum playing," while also confirming the band uses "augmented" vocals that were recorded in the studio and played in the background, amid onstage backing singers as well.
"Unfortunately, Mick is not the same. He hasn't been the same for a long time. Which was in reviews! You see that the professionals knew. Def Leppard (which alternated headlining spots on tour) knew. And (Mars) caused a train wreck up there, because he would play the wrong songs and the wrong parts, even with the guide tracks. When he played the wrong song, it wasn't Nikki Sixx that had a tape; it was the soundman bringing it into the mix so the audience could hear a song, even though the guitar player was playing a different song," the manager stated.
READ MORE: The Text Mick Mars Sent John 5 When He Joined Motley Crue
Where Can You See Motley Crue in 2023?
As stated, the band continued touring with Def Leppard this year, taking their touring outside of the U.S. but also scheduling some dates for stateside fans. The group is currently playing stateside, with shows in Fargo, North Dakota and Omaha, Nebraska this weekend. See their full touring slate and get ticketing info here.
Motley Crue: A Timeline of Their Storied Career
A photo timeline of Motley Crue's career.