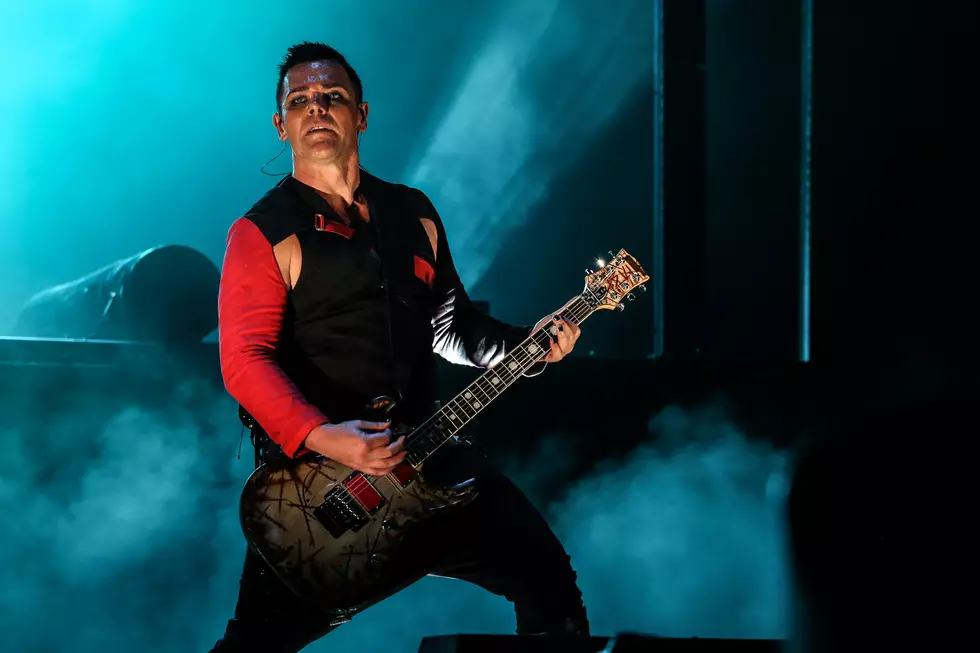 Richard Kruspe: Rammstein Will Tour for Next Three to Four Years
Johnny Perilla, Loudwire
While Rammstein have taken a decade to release their seventh studio album, guitarist Richard Kruspe has remained active with his alternative metal side project Emigrate. Here, he plays guitar and serves as the band's frontman and the group released their third album, A Million Degrees, late last year.
Kruspe was a guest on Full Metal Jackie's weekend radio program and discussed his activities with both Emigrate and Rammstein, explaining the type of creative and musical freedom he's afforded with Emigrate. He also reassures fans that Rammstein's new record is finished and mapped out the industrial legends' tour plans, which will last upward of four years.
Check out the chat below.
We're here to talk about your side project, Emigrate and the new album, A Million Degrees which is different from the previous Emigrate albums. Why is it important for you to reboot the style and sound of the band?
Well, I guess growing up in a system where you were basically centered and you couldn't really do what you want to do... also being in a band for 20 years, which is kind of a closed kind of universe, brings you to a situation where you want to try everything. You try to be open as much as possible.
Secondly, I think I grew up in two different worlds. On one hand, I was always introduced to guitar and rebellious kind of music just to turn off your parents. But I also really liked the kind of pop music when I was listening on the radio, so I'm trying to get those two worlds together in a way. That's what I do especially on that project. It's important for me that I really try to be open as possible and let everything flow through me, what I like and don't put myself in a corner where people expect certain things like Rammstein to just do what I like to do.
Emigrate allows you to make music that doesn't fit the Rammstein mold. Why is having that creative diversity so important to you?
Well, it keeps me alive, it keeps me in the band of Rammstein. I needed another outlet besides Rammstein to fulfill my need to create, just like the most important thing to me in my life, to create. If you ask me the most important time or the most fulfilling time that I have is actually being in the studio, writing those tunes, getting those things together and that moment when everything comes together it's better than an orgasm.
That's like something that I love to do and with Rammstein, I have to be in the team, I have to compromise, I can't fulfill the vision that I had so I needed this side project to just stay alive and to be in balance with myself.
Just like the last Emigrate album, the new one has guest performances. This time people from Ghost, Billy Talent and Till Lindemann (who is also in Rammstein with you). What influences your choice of musicians to collaborate with?
Well, basically what I learned very early in my life as someone that plays music and writes songs is that there's a certain time when you create songs, songs start to come alive on their own and what do you have to learn is to listen to that song, where that song will go and for me, I developed like kind of a method where the song is basically telling me, you know which singer it likes — some real spiritual and esoteric [stuff] but that's what I'm trying to do.
I listen to the song very carefully and the songs will tell me which singer it needs and sometimes obviously, it's just theory — it doesn't really go together.
For example, I had this song "War" and I always felt that Serj [Tankian] from System of the Down would be the perfect voice for that. Then he listened to the song, it was very like, energetic and very suggestive about the song and he called me back the next day and said, "Well I don't know really what to do with that song, I think it's perfect like it is." And, I took it as someone that doesn't really have the time or you know have something else better to do and I told him, "Just be straight with me." He's like, "No, no, no I really like the song as it is, just leave it like that" and that's what I did.
Work on the next Rammstein album sounds like it was done in a more natural collaborative fashion with everyone all together at once. What's different about this process?
Yes, I mean at the beginning I wasn't convinced of actually doing another Rammstein record because it's so painful and like, they're...The last time we almost broke up doing that kind of procedure, and I was very, very nervous about it. In the beginning, we took all the pressure away. We say - let's just get back together, and do maybe two or three songs and see how that works, and then we started, and I must say, something happened between us.
While doing it or getting back together, we kind of developed respect like some kind of faith in each other that all of a sudden I realized that feels like the beginning that we had. All of a sudden the circle was closing. It took us like, three years actually [laughs] to finish the whole thing but I think what I was trying to do, what we were trying to do with Rammstein was try to get a little bit away of that Rammstein fire, pyrotechnics. I always felt like we needed to have a balance between that kind of thing and the music. All of a sudden the fire was overshadowing the whole musical work of Rammstein.
What we tried to do on the new Rammstein record was to bring that love of music above again. I'm very happy. I'm satisfied with the result and I'm also satisfied that we are kind of developing a work method that shows respect to each other. We listen. We talk a lot, and  it was a great experience.
Rammstein set a record for ticket sales for next summer's European tour. What's the commonality that makes Rammstein popular in so many different countries?
I think it is the visual expectation, even though you don't really listen to the music, it gives you visual satisfaction that you don't really have in other rock bands. We combine so many visual effects with the music that - in over a way that nobody else has. They've tried to do it but somehow Rammstein managed to bring it to a certain level that it's hard to top, actually. We're thinking now, what can we do in a stadium that's the same, but top any other shows that we've had or the other tours. It's almost like, you have a big bag full of stuff that you can't get rid of it. You're stuck in a way. It's very hard to fulfill that need.
Richard, you grew up in East Germany under a socialist government. What was the importance of being exposed to American music when you were living in that environment?
Well, I was grounded a lot so for me, music in general whether it was Australian music or English music or American music was the only escape that I had sitting there for a week. For me, rock 'n' roll were kinds of - it's a freedom to escape. That's the first memory I have besides trying to rebel [against] the system or parents or other people that think different. But most importantly it was an escape for me.
Richard, I read you were talking about the new Rammstein album and that it's probably going to be coming out in April. What can we expect beyond that?
We'll be on tour probably for the next three or four years. We start with the first European tour before we come to America and then we go to Australia, then probably back to Europe. It's gonna be a lot of touring, basically. We're also preparing ourselves for doing some videos. We're going to shoot probably like, five videos for the new Rammstein record. Besides that, I'm probably always in the studio writing new songs or trying different things so I'm always - if I'm not on tour I'm in the studio writing anyway.
Thanks to Richard Kruspe for the interview. Get your copy of Emigrate's 'A Million Degrees' at Amazon or iTunes. Follow Emigrate and Rammstein on Facebook to stay up to date with everything they're doing and find out where you can hear Full Metal Jackie's weekend show here.
See Rammstein in 2019's Most Anticipated Hard Rock + Metal Albums