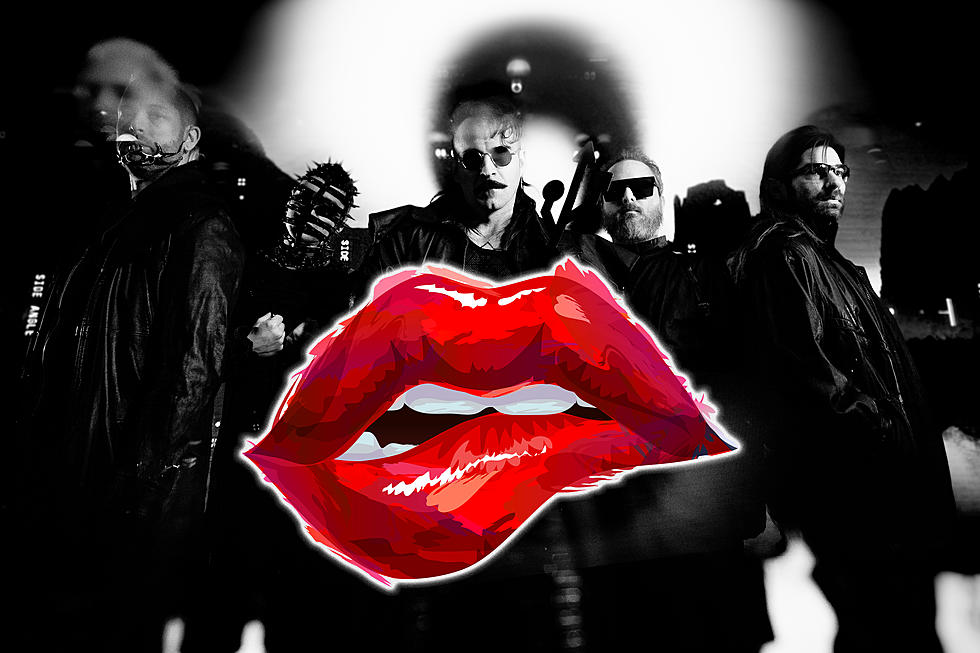 The Seven Horniest Cover Songs, Chosen by 3TEETH's Alexis Mincolla
Jim Louvau / deedly, iStock/Getty Images
Here are the seven horniest cover songs, chosen by 3TEETH frontman Alexis Mincolla.
To coincide with the release of their new album, EndEx, the industrial group dropped a brooding cover of "Everybody Wants to Rule the World" by new wave favorites Tears for Fears.
It's got a groove and a thump to it that's certainly enough to inspire some emphatic hip gyrations and pelvic thrusts... or at least that's what we presume was the intention of 3TEETH and, more specifically, Mincolla, because he's the one who approached us about schooling you all in some sizzling, sultry, steamy, sweat-soaked, sensual renditions of well-known songs.
The rest of EndEx is packed with slithering, stomping industrial grit and features a number of collaborative tracks with DOOM video game soundtrack legend Mick Gordon. Get a taste with the music video for lead single "Merchant of the Void" below.
3TEETH, "Merchant of the Void" (feat. Mick Gordon)
READ MORE: The Best Cover Songs From 50 of Metal's Biggest Bands
Jumping back onto the horny train and setting our sites on carnal covers, check out Mincolla's picks for the seven horniest cover songs further down the page!
Get your copy of 'EndEx' here. Follow 3TEETH on Instagram, X, Facebook and YouTube and see all of the band's upcoming tour dates here.
Deftones, "Chauffeur"

Originally By: Duran Duran

If you want to complete the ouroboros of horniness you must become both the "Passenger" and the "Chauffeur," and lucky for you Deftones decided to do exactly that when covering this absolute unit of a Duran Duran song. Chino Moreno's sultry and haunting vocals could make Jesus Christ himself get sent to horny jail with a single doge bonk.

Rammstein, "Stripped"

Originally By: Depeche Mode

Rammstein's industrial-metal take on Depeche Mode's "Stripped" does a phenomenal job of capturing rawness of human desire and distilling it into a sort of brutalist architectural strip club banger.

Marilyn Manson, "Cry Little Sister"

Originally By: Gerard McMann

This is one of those covers that I can honestly say is better than the original. Manson's rendition of "Cry Little Sister" is just dripping with these '90s vampiric third act climax vibes.

Revolting Cocks, "Da Ya Think I'm Sexy?"

Originally By: Rod Stewart

The raunchiness of this song swells like a contagious absurdity and spreads from body to body in the dumbest way possible. This song is a horny reminder to never take yourself too seriously or you'll never make it out alive.

Rob Zombie, "Brick House"

Originally By: The Commodores

Commodores' funk hit "Brick House" gets a gritty overhaul by Rob Zombie. The song's infectious groove combined with Zombie's raw vocals and edgy production make it a more rebellious and unabashedly passionate tribute to the true majesty that is a confident woman.

Korn, "Bitch better Have My Money"

Originally By: Rihanna

I know this technically is more of a remix than a cover song, but I just absolutely love it. Something about the tone of Rihanna's voice sits so nicely on top of those tuned down, ass-shaking Korn riffs.

3TEETH, "Pumped Up Kicks"

Originally By: Foster the People

And I don't care what you say, I'm putting one of my songs on this list because I can, and if you disagree you better run faster than my bullet.