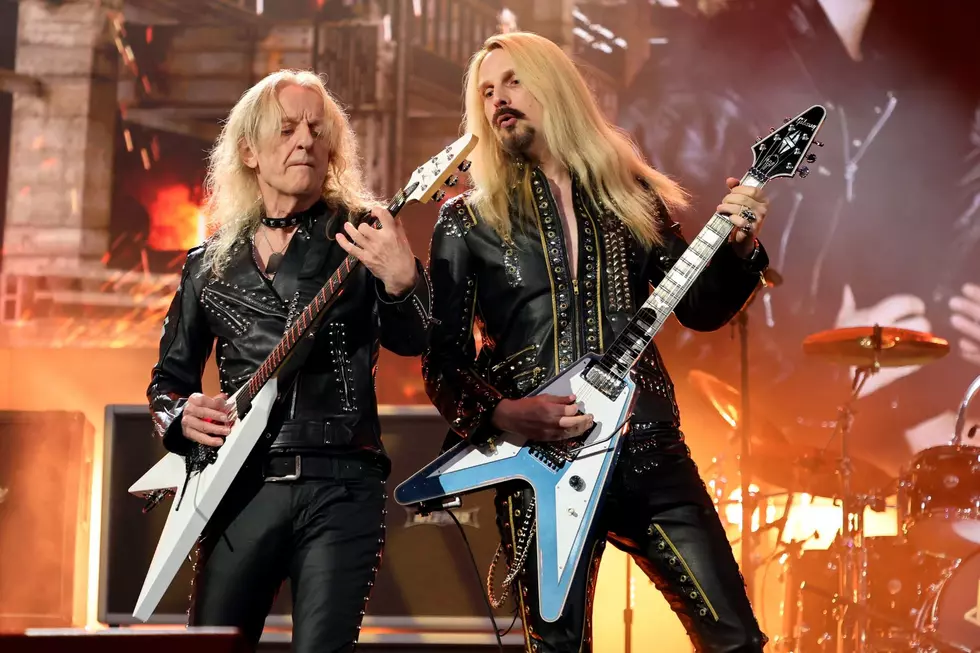 Richie Faulkner Offered to Sit Out Judas Priest Rock Hall Induction Performance
Theo Wargo, Getty Images for The Rock and Roll Hall of Fame
Richie Faulkner was the latest guest on Full Metal Jackie's weekend radio program, chatting about his new band Elegant Weapons and their debut album, Horns for a Halo. He also touched on Judas Priest's induction into the Rock and Roll Hall of Fame, revealing that he initially offered to sit out the performance, but the band insisted he take part in the big night.
While work continues on a followup to Priest's 2018 album Firepower, Faulkner has put his time into a new project, Elegant Weapons. The group features some familiar faces regarding the recording lineup and the live band that has now been assembled and offers another creative outlet for Faulkner to tout all of the influences that have molded him into the guitarist and songwriter he is today.
Read the full interview below.
How has Elegant Weapons provided an outlet reflected of your own tastes? What's the biggest thing you can do here that might not be an option for you in Judas Priest?
It's very much a reflection of my own influences and my DNA as a guitar player, a songwriter, and a musician. The main difference is I'm not in a room bouncing ideas off Glenn Tipton and Rob Halford, which we were doing in Priest. It was a priority for me to have something that stood on its own two feet sonically. If I came up with something that sounded like a Priest record, there wouldn't really be much of a point. That's what we do in Priest and they've been gracious enough to include me in the writing.
Horns for a Halo was another branch to the tree, but it's all those influences that I come up with on a Priest record, they get distilled and bounced off of Glenn and Rob. This one was purely me coming up with the music, so that was a big difference.
The album features some high profile guest collaborations and you've now got a live lineup that's pretty impressive as well. As Elegant Weapons moves forward, do you foresee the live band being the primary band for recording? It's still early to be talking about a follow-up, but do you have ideas for how you'd like to see this band move forward creatively?
I'm incredibly fortunate to have the guys on the record — Scott Travis (Judas Priest, Thin Lizzy), Rex Brown (Pantera) and Ronnie Romero (Rainbow, Lords of Black) on the record.
Ronnie and I move forward and obviously Scott and Rex are doing other things. So I had to put a band around the live format and the guys in the band now (bassist Dave Rimmer of Uriah Heep and drummer Christopher Williams of Accept) are the guys that are going to evolve and grow as a band. Those characters are going to come together and make something unique in its own right moving forward.
I'm just fortunate to have people around me that I can call up and say, "Hey, do you want to be in my band?" They make me sound good at the end of the day — you pick the best guys for the job and hopefully they say yes and join you. Ronnie's a fantastic singer. Christopher Williams is a fantastic drummer, I've known Dave Rimmer for over 20 years, so I couldn't think of a better group of guys to share the road with.
Elegant Weapons, "Do Or Die"
READ MORE: Richie Faulkner Names the Judas Priest Song He Most Enjoys Playing Live
As expected, there's some great guitar work on the new record reminiscent of some of the music that you grew up with, especially where guitar solos are concerned. Do you have a favorite all time guitar solo, both of something you've done as well as a solo that someone else did that you wish you would've been yours?
I'm so bad with favorites because you always miss out on other things. There's so many great guitar solos throughout history — "Victim of Changes," "The Sentinel" backwards and forwards, and that's just Priest. There's "Seventh Son of a Seventh Son" from Iron Maiden. There's Sabbath stuff, Randy Rhoads, Michael Schenker, Zakk Wylde, Brian May... there's so many.
One of my all-time favorite solos off the top of my head, I think I'd have to say is "Victim of Changes." I remember playing onstage with Priest, backing up Glen Tipton when he played that solo and I used to get goosebumps just playing the rhythm part and hearing that guitar solo being played live. It was just unbelievable. The emotion, the bluesy kind of metal licks that came from that man's hands were just unbelievable. Just the emotion that came from me, I just couldn't help but be moved by that. So I'm going to have to say that one.
Judas Priest, "Victim of Changes" (Live(
Richie, Ronnie Romero seems like such a great vocal fit for this band. What made him the right choice to front the group and how do you see that dynamic playing out in the future?
I was actually talking to Damon Johnson from Thin Lizzy, Black Star Riders and Lynryd, bouncing ideas off of him about who I could get in on vocals. He actually mentioned Ronnie Romero and a light bulb went off above my head. It was a no-brainer. You can hear the influence in Ronnie's voice and where he comes from and musically what's in his DNA, but he's also a singer in the modern age. I thought he was perfect for this music.
You can hear where our influences have come from musically, but it's a record that should be relevant in 2023. He's a guy that can front this band the way it needs to be fronted. He's not a shrinking violet, he's out the front. He's a great frontman and he's got the grace, charisma, finesse and the personality that I don't have. He's out there doing the frontman's job and that's what you need with a band with this caliber of musicians.
Having grown up a fan of Judas Priest and playing with them over the past decade, what did it mean to you to finally connect with K.K. Downing at the Rock Hall for last year's induction? Do you feel a door has been open for a better relationship with the guitarist moving forward?
For me, definitely.
First of all, it was great to meet him. I've never met him before and I've never had any big beef with K.K., but we know the relationship with the band over the last 10 or so years has been a bit tumultuous to say the least. But that's not really my battle. I didn't really have any problems with him and I don't really think he had any problems with me, so we got on fine. He was a great guy — he looked great, he sounded great, he played great. He was all over the stage like he was normally.
It was great to be up there with him and Glenn as well. Priest is known for a double guitar attack and, for that night, it was a three-pronged guitar attack. I was overwhelmed to be a part of it with Ken with Glenn and the rest of the band.
They were adamant that I was up there with them as part of Priest in 2023. I actually opted to sit out. Obviously I wasn't inducted, but they were adamant I took part in the performance to represent Priest in 2023. I'm grateful for that, but I was just happy to be there.
It must have been a really amazing experience to just even be there that night.
Not only playing with one of the most iconic heavy metal bands in the world as they got inducted into the Hall Of Fame, but you look around and there was Lionel Richie and Duran Duran and Pat Benatar and Annie Lennox and Neil Giraldo... it was like a who's who of the music that I grew up with in the '80s. It a pretty awe-inspiring night.
Do you still get ever get like fan boyish about meeting any of your heroes or being out there and having these other musicians come to you now for being in Judas Priest?
Of course. I don't think that stuff ever goes away. It's music that we grew up with and we connect with in a different way when we are young and we've grown up with it.
If you meet like Simon Le Bon from Duran Duran, you say, "Oh my goodness, that's Simon Le Bon." It's always going to be special in a way.
We lost Tina Turner... these people are legends. They created music that will be here long after we are gone and it's it's a privilege to meet them if you get the chance.
Judas Priest have been working on their new record for some time now. At this point in their career, a lot of ground has been covered musically. What do you see as the biggest challenge moving into the next album? And do you find there are still things left to learn and inspire this far into the group's career?
The main driving force that I've seen in the two (now three albums) that I've recorded with the band is there's a drive to make an album that's "better" than the last one. There's a drive for creative integrity and to be better, whatever that means to us. Is it a better production, better song, better performance?
It comes from the commitment to the fans that have given the band that commitment for the last half a century and more. Whatever that thing is that makes it better is always different and you've got to find what that is. That's the challenge.
Firepower is a high benchmark. It connected with a lot of people around the world as you know, so we've got to beat that. It's a challenge that we all relish and rise to. It's a beautiful thing.
Thanks to Richie Faulkner for the interview. Get your copy of 'Horns for a Halo' on CD or vinyl and follow Elegant Weapons on Facebook, Instagram, Twitter and Spotify. Find out where you can hear Full Metal Jackie's weekend radio show here.
29 Most Prolific Rock + Metal Artists of the 21st Century (10 or More Albums)