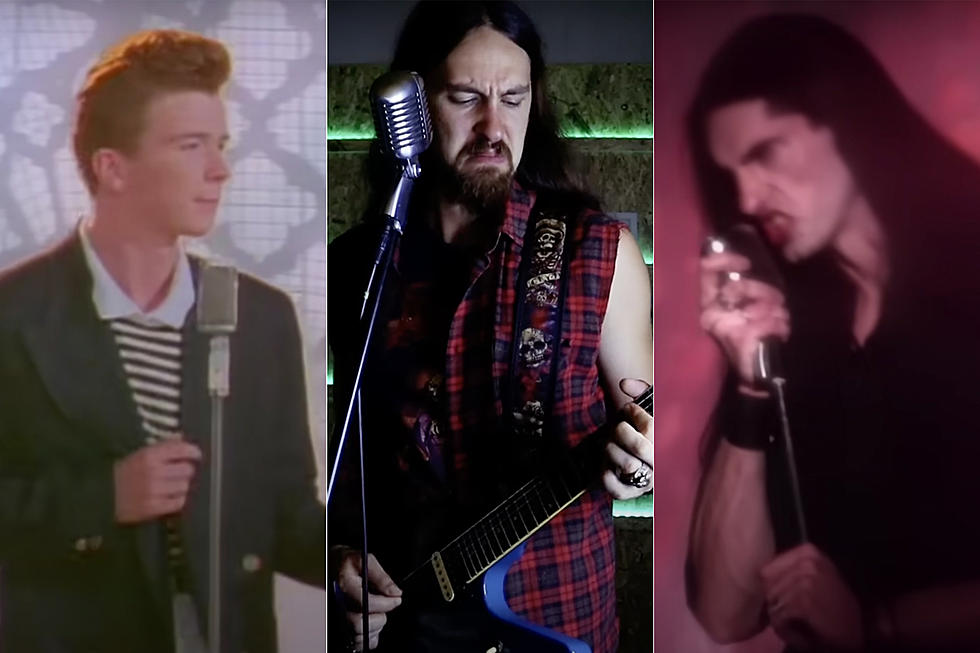 Rick Astley Covered in the Style of Type O Negative Is Ridiculously Good
YouTube: Rick Astley / YouTube; Denis Pauna / YouTube: Roadrunner Records
Rick Astley has one of the more deceptively deep voices from the '80s pop world. Type O Negative's Peter Steele also definitely thrived in the lower register. But what if you mixed the two together? YouTube sensation Denis Pauna recently experimented with Astley's signature song, giving it the Type O Negative makeover it so rightly deserves.
This gothic Rick Roll is ridiculously good, stripping away the pop sheen of the '80s hit and dirtying it up with chugging, slow-burning guitar, bass and keys. Pauna showis off his own lower register aping how Steele might have approached it. And honestly, now it's a version we wished the Type O Negative vocalist had done. If they can cover the yacht rock classic "Summer Breeze," then why not?
It's an impressive production, with Pauna handling three instruments on screen, alternating between the lowest of muddled gutturals and angst ridden screams. He even provides his own backing vocals, helping the true angst of Astley's lyrics to shine through.
In case you're wondering, Pauna does actually have his own band. The Croatian musician plays multiple instruments in the group Planleft and you can see some of the band's original material via his YouTube channel. But Pauna has also garnered plenty of attention since launching the channel in 2016 by his intriguing interpretations.
READ MORE: Type O Negative Approve AI Video for World Goth Day
Knowing his strengths, Pauna goes further down the "What If Type O Negative Covered..." rabbit hole, with versions of Blue Oyster Cult's "Don't Fear the Reaper," Duran Duran's "Hungry Like the Wolf," Billy Idol's "Rebel Yell" and Nirvana's "Come as You Are" among others. He also has dedicated space on his channel for "What If Alice in Chains..." crossovers, Southern Metal interpretations of songs and even attempted "What If ZZ Top Wrote Metallica's Kill Em All" album. You can check it out at this location.
But for now, it's time to troll your goth friends with this impressive interpretation of "What If Type O Negative Wrote 'Never Gonna Give You Up.'"
Denis Pauna - If Type O Negative Wrote Rick Astley's "Never Gonna Give You Up"
Type O Negative's Peter Steele Through The Years
When most people think of
Peter Steele
photos, a specific, well, centerfold photoshoot might come to mind. And while we can't publish those pictures (well, not exactly but we do have one little taste) here, we did collect a sampling of images of the beloved
Type O Negative
frontman through the years for your viewing pleasure.