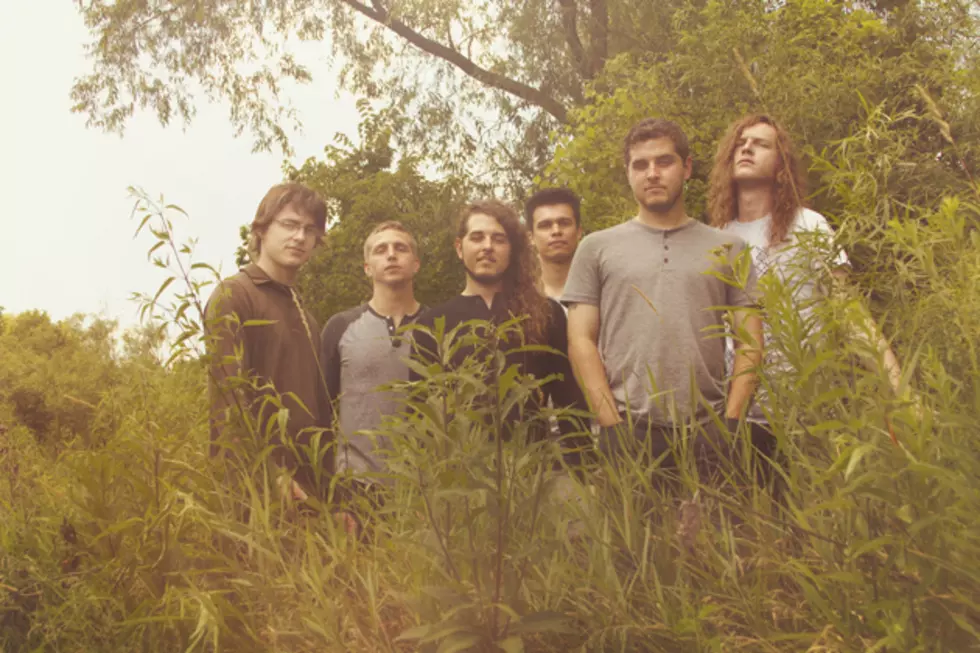 The Contortionist's Robby Baca Talks 'Language' Album, Michael Lessard's Addition + More
Good Fight Music
The Contortionist are back with their third album, 'Language,' and it's a key one for the band as they make the transition to new frontman Michael Lessard. Loudwire had a chance to chat with guitarist Robby Baca about the 'Language' album, welcoming Lessard as well as bassist Jordan Eberhardt and keyboardist Eric Guenther into the band and their fall tour plans. Check out the chat below:
Congrats on the new album. This is definitely a key album for the band with Jonathan Carpenter's exit and Mike Lessard taking over and it sounds like a pretty smooth transition. Can you talk about Mike entering the fold and if the approach to recording changed at all by having a new vocalist and bandmate?
Thanks! Mike was our first choice as a fill in. After Jon left we already had about three months of shows already booked that we really didn't want to back out of. We hit Mike up and he was available. He REALLY saved our asses. That three months of touring was some of the most fun shows we had ever played up to that point. We could all tell that there was no better replacement for Jon. After Mike's band, Last Chance to Reason, decided to take a hiatus, it wasn't even a question. Mike wanted the spot and he had more than earned it.
As far as recording goes, Mike and our producer Jamie King already had great chemistry together from a previous LCTR record (a record called 'Level 2.' One of my favorite metal records). The amount of effort and creativity that went into the vocal aspects of 'Language' were unprecedented for our band. Mike spent a lot of time demoing his melodies before we even got to the studio, so he was very well prepared. On top of all that, Jamie has a brilliant ear. The way those two dudes went to work building melodies and harmonies was incredible to watch!
Along the same lines, can you discuss what the additions of bassist Jordan Eberhardt and keyboardist Eric Guenther have meant to evolving the band's sound?
Jordan is an incredible bass player. Unfortunately given the circumstances, he didn't really join the band until after I had already written pretty much all the bass parts. He did fly out to North Carolina while we were in the studio and tracked the bass solo on 'Thrive.' I can't wait to see what he has to offer creatively on future albums.
We first worked with Eric on our last record 'Intrinsic,' and that's kinda how we found ourselves asking him to join the band. He's got a really good ear for note choice, so that kind of added new elements to each song. He was working with parts that we had already written for keys and his own original parts. Very easy dude to work with! I feel like we've found our lineup that we can stick with.
Let's get into the album. You stated in the recent Reddit chat that 'Language' is truer to the band's musical tastes than what the previous albums have been. I can see that being fun and enjoyable, but is it the same thrill that you would get from the challenge of attempting something outside of your wheelhouse?
It's definitely easier. You listen to a bunch of new music and you learn from it and are influenced by it and it kind of just finds its way into the music. Doing things outside of the box is kind of the only way I can productively write music. I can bash my head into a wall for weeks trying to be a "songwriter" or I can play with a 12 tone row -- which is almost a random process of composition -- and come up with a whole song's worth of material in just a couple hours. It's a tight rope though. I definitely wouldn't say that I have any one set way that I go about writing music. I'm kind of all over the place.
You chose Jamie King to produce this disc. Can you talk about what made Jamie the right choice and the influence Jamie had on the new album?
Jamie has been one of my favorite producers since around 2005 when I heard Between the Buried and Me's 'Alaska.' I've always been a fan of the guitar tones, drum tones and overall mix he gets. And it's been cool to see his production work grow and improve since then. Jamie has a really good ear for vocal harmonies. He'll be tracking one vocal part while doing all these crazy harmonies. Like I said before, watching Mike and Jamie build harmonies was really cool.
The band recently released the 'Language 1: Intuition' song and video. Can you share your thoughts on the video and the final outcome? Are you fans of doing music videos and is it everything you imagined it would be before you got to the point of doing them yourselves?
The video turned out beautifully. Far surpassed my expectations. Cory and his crew at Bonfire films really have everything together and are a really cohesive group. All of the acting/nature shots were filmed in Maine, so I wasn't much a part of that. All of the band shots we're filmed in Indiana, and it was actually a lot of fun. We'll probably do more videos with them in the future and we'll have a better budget and more time to make really cool thought out videos.
One of the great things of listening to this band is the musicianship and seeing how certain parts play off each other. Can you talk about the live experience and how in tune you are with the other band members?
Being in tune with the other guys on stage makes the show. If we're out of sync in any way it can pretty much ruin the experience for me at least. I would say that there's even more of an in sync-ness now with the new lineup. These recent shows we've played on this run have been the most fun I've ever had playing in this band.
What songs off the new album are you most anxious to get out there and share live and see the audience response?
The two 'Language' tracks have been really fun to play. That's probably my favorite part of the set. I really can't wait to play 'Thrive' and 'Integration.' Both of those songs have really intense moments that I think will be way sick live.
This fall you've got a tour with Periphery, Intervals and Toothgrinder. If you want to talk a bit about the upcoming trek, your relationships with the other bands on the trek and what you expect from the run.
We've toured with Periphery and Intervals before, and both bands are full of awesome dudes. Toothgrinder as well -- rad guys. Not to mention that everyone on the tour is a real musician and that's always cool. I've learned so much stuff from Aaron from Intervals. I've kind of been eavesdropping on his guitar lessons too. I expect to be a total shredder by the time this run is over.
Anything else on the horizon for The Contortionist we should be looking for?
More cool music! We're already itching to get writing now that we have a few more guys to have in the mix for writing tunes.
Our thanks to The Contortionist's Robby Baca for the interview. You can pick up the band's 'Language' album on iTunes and Amazon. Catch the band on tour at these locations.