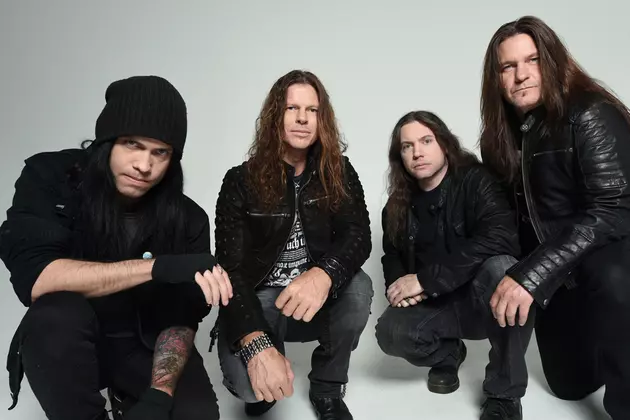 Act of Defiance Plan Summer 2016 North American Headlining Tour Dates
Metal Blade
Act of Defiance kick off this touring leg April 30 with their first-ever appearance in the Philippines at Pulp Summer Slam, a festival featuring Lacuna Coil, Protest the Hero, Veil of Maya and others. The North American tour kicks off May 20 in Orangevale, Calif.
Broderick says, "I am extremely excited to get back out on the road to tour. Starting with the Pulp Festival, it will be the first time Act of Defiance will play on a different continent and I couldn't think of a better festival to start with. After that, opening up for Hatebreed and DevilDriver will be a great experience for us as both of those bands put on a killer live show and will be awesome to see live. I'm also excited to do some more headlining shows in the US and Canada, meeting more of our fans, and making more friends. I hope to see you all out there."
Drover adds, "For me, going back to the Philippines is something I am really looking forward to -- the fans of heavy metal there are so amazing and I cannot wait to bring Act of Defiance over to the Pulp Summer Slam Festival. As well, I am extremely excited about the Act of Defiance 2016 North American tour - both headlining and playing several shows with Hatebreed, which will be crushing. Come out and rage with us!"
Act of Defiance Tour Dates
4/30/2016 -- Manila, Philippines -- Pulp Summer Slam
5/20/2016 -- Orangevale, Calif. -- Boardwalk #
5/21/2016 -- Bend, Ore. -- 3rd Street Pub @ Metalfest
5/22/2016 -- Tacoma, Wash. -- Jazzbones #
5/23/2016 -- Everett, Wash. -- Tony V's Garage #
5/24/2016 -- Spokane, Wash. -- The Pin #
5/26/2016 -- Calgary, Alberta -- Dickens Pub #
5/27/2016 -- Edmonton, Alberta -- Brixx #
5/28/2016 -- Saskatoon, Saskatchewan -- Louie's #
5/29/2016 -- Regina, Saskatchewan -- The Exchange #
5/31/2016 -- Winnipeg, Manitoba -- The Park Theatre #
6/01/2016 -- Thunder Bay, Ontario -- Rockhouse #
6/03/2016 -- Sudbury, Ontario -- The Asylum #
6/05/2016 -- Montreal, Quebec -- Corona Theatre ***
6/06/2016 -- Toronto, Ontario -- Opera House ***
6/07/2016 -- Milvale, Pa. -- Mr. Small's Theatre ***
6/08/2016 -- Albany, N.Y. -- Upstate Concert Hall ***
6/09/2016 -- Burlington, Vt. -- Higher Ground ***
6/10/2016 -- Providence, R.I. -- Lupos ***
6/11/2016 -- New Haven, Conn. -- Toad's Place ***
6/12/2016 -- Elmhurst, N.Y. -- Blackthorn 51 #
6/13/2016 -- Amityville, N.Y. -- Amityville Music Hall #
6/14/2016 -- Philadelphia, Pa. -- Kung Fu Necktie #
6/16/2016 -- Dayton, Ohio -- Oddbody's #
6/17/2016 -- Memphis, Tenn. -- The HiTone Cafe #
6/18/2016 -- Oklahoma City, Okla. -- Diamond Ballroom #
6/19/2016 -- Lubbock, Texas -- Backstage #
6/23/2016 -- Albuquerque, N.M. -- The Co-Op #
6/24/2016 -- Flagstaff, Ariz. -- The Green Room #
6/25/2016 -- Los Angeles, Calif. -- Whisky-A-Go-Go #
# - Act of Defiance headlining shows
*** - supporting Hatebreed, DevilDriver