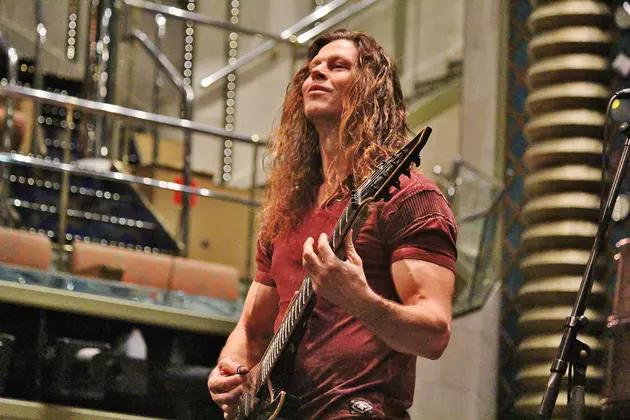 Act of Defiance's Chris Broderick Reveals Work Has Started on Next Album
Liz Ramanand, Loudwire
Act of Defiance have been out on the road sharing stage time with Killswitch Engage, but during a recent chat with guitarist Chris Broderick, he revealed that the focus is turning to a new album.
"Personally, I'm working on four songs that I've got right now," stated Broderick. "I know Shawn's [Drover] already circulated two songs that he's working on and so that's really where we're at. We're at the writing process, the demoing process, but it's going really good."
The musician also revealed that one of the songs he's working on offers a different approach, explaining, "I do have one classical guitar piece that I've already written for it and I'm excited to see what people think about that one."
Act of Defiance formed shortly after Broderick and drummer Shawn Drover left Megadeth. They fleshed out the band lineup with singer Henry Derek and bassist Matt Bachand and the guitarist says that with a full album and tour cycle under their belt, he's really excited about recording their second album.
"I think we're coming together as a team. We definitely know what each other is capable of and we definitely have an idea of … we just know each other so much better now. So I think this writing process is going to be much more cohesive and collaborative between all of us and I look forward to that," says the guitarist.
As for the decision to leave Megadeth, Broderick says the first album cycle has driven home how this was the right move for him. "For me, it's definitely every time I write," says Broderick. "Every time I write something I know it's going to make it on the CD and it's something that I'm really proud of and I love that I had a part in that. That's the moment when I realize I made the right choice."
Keep an eye out for more music coming from Act of Defiance, likely in 2017.
100 Metal Facts You May Not Know