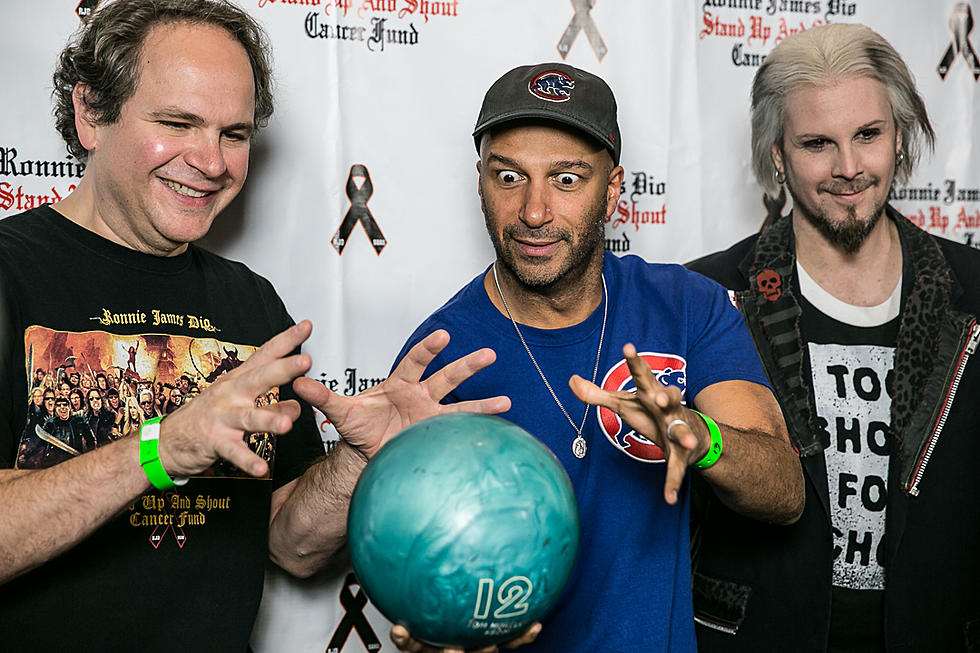 Tom Morello, John 5 + More Roll for a Good Cause at 2016 Bowl 4 Ronnie Event
Kathy Flynn, WickedGoddessPhotography.com
Let's roll! The rock and metal community turned out Friday night (Nov. 4) at the Pinz Bowling Center in Studio City, Calif. for the second annual Bowl 4 Ronnie benefit. The event was designed to raise funds for the Ronnie James Dio Stand Up and Shout Cancer Fund but also serve as a fun way for fans to mix and mingle with rockers all in the name of a good cause.
The event started with a red carpet introduction for those participating along with a VIP hang upstairs. Those in attendance were invited to bowl, eat and drink before the actual tournament started at 9PM. The Bowl 4 Ronnie emcee for the night, SiriusXM Volume host Eddie Trunk, fielded one of the teams, welcoming back Tom Morello and Jeff Scott Soto from his team last year and pulling in John 5, Tim "Ripper" Owens and Rock Feinstein. Morello came ready to roll, arriving on the scene with his own ball and bag.
"I would not miss this event because I'm such a huge fan of Ronnie James Dio. I miss him. I only knew him very casually, but I miss his music so much, so I'm here to support his memory and his spirit and do anything I can to stop cancer from claiming any other great people. I'm here to do anything I can. And I brought my own damn bowling ball. None of these other metal dudes bring their own ball. I know what's up," laughed Morello.
Meanwhile, Soto was hoping for a better outcome than last year, telling us, "I've practiced a little bit. Last year was a catastrophe, me and Nuno [Bettencourt] sucked, so this year, it's redemption." Trunk also was looking for redemption, sharing, "I don't want to make excuses, but I did pull a muscle after my first roll [last year] and I was in pain for the rest of the night and Morello hasn't let me live it down."
Many of the other rockers in attendance fielded their own teams as well and there were several corporate teams also raising money for the Ronnie James Dio Stand Up and Shout Cancer Fund. Others' John Hetfield and Jessie Sanchez appeared ready to roll, while joking that their English vocalist Joe Colover might fare better if it were a Ronnie James Dio cricket event. But the one thing that united all in attendance was their love and respect for Ronnie and what the organization has done for cancer research over the last six years.
Before the tournament, Eddie Trunk led the presentation of a $25,000 check to UCLA, helping to further the research of Dr. David Wong, who is developing a non-invasive saliva test for early cancer detection. Wendy Dio spoke to the crowd of the importance of getting checked for cancer regularly, especially for the males on hand who typically are less likely to visit the doctor.
"The saliva tests will help for men's cancer, which is what ours is all about. Breast cancer has come a long, long way since it started and so much research has been done, and now it's going really well, and we want to do that for stomach cancer, gastric cancers, colon cancer, pancreatic cancer, prostrate cancer, because these cancers don't have enough money being given to research," stated Dio. "But we have to bring attention to it because more and more people are dying, especially men, because they don't get checked. Women are going to get checked, but men, you've got to drag 'em there. Early detection saves lives, so please get yourself checked."
Ride 4 Ronnie committee member Sean McNabb of Lynch Mob added, "I've just loved seeing the community rally around us. That's really where it's at. Everyone's been affected in one way or another by cancer with their families or they knew somebody, so it's been great to see people getting on board with us. The cool part about our foundation has been that the money goes right to the research, so how cool would it be to actually have a saliva strip that can give you markers for cancer? And that's where a lot of this research money is going. How cool would that be?"
There was also the auctioning off of a sweet Ronnie James Dio leather jacket that elicited a bidding war, as well as a Chris Broderick donated six-string Jackson guitar that he played during his time with Megadeth. "The guitar that I brought here to donate, it was played across the globe, everywhere from Russia to Europe to the States to South America. It's been everywhere and was during the time I played with Megadeth so I hope people really enjoy that," revealed Broderick to us. "And then also I have a few little extra goodies that I brought to go with the guitar for whoever wins it, so I hope they like that."
Also during the evening, there was a specially branded Bowl 4 Ronnie bowling ball and pin custom made by the Pinz Bowling Center as well as several autographed bowling pins signed by the rockers in attendance and a number of other items being raffled or auctioned off as well.
All in all, it was a fun night of bowling, reminiscing about the legacy of Dio, sharing stories and having a great time, all while raising money and drawing attention for a cause that very much needs addressing. For more info on the Ronnie James Dio Stand Up and Shout Cancer Fund, check here. View our photos from the event in the gallery above and read a few more quotes about Dio's legacy and the Stand Up and Shout Cancer Fund below.
"It's really warming to the heart. Ronnie would have been so overwhelmed and I think everyone supports because he was a wonderful human being, not only a great talent but such a great human being who did a lot of charity work for a lot of causes -- animals, cancer, autism -- he did a lot of charity stuff for the people." -- Wendy Dio
"It's what Ronnie would've wanted. It's what Ronnie was about. And Wendy has done such an amazing job of keeping things in perspective. Dio Disciples, people sometimes think that we only work for the cancer fund, but we're our own entity an the cancer fund and us cross paths. But this bowling thing is really cool, cause we don't have to work [laughs]. I have fun and I bowl and it's a blast and we see old friends." -- Dio Disciples' Scott Warren.
"To see him succumb to this horrible disease was just awful for all of us in the community and we're doing everything we can. I'm a board member on the foundation and we're doing everything we can to find a cure for this disease." -- Lynch Mob's Sean McNabb, a Ride 4 Ronnie committee member, who also revealed that plans are already underway for the 2017 Ride 4 Ronnie benefit.
"It means a lot because he was a big influence on a lot of the bands we listen to and ourselves included. I think it's great that Wendy has raised so much money for a terrible disease that took him away from us. It just feels good to be here and to do this. It's great to be involved in something awesome like this. It's a great cause." -- Stone Sour's Christian Martucci and Roy Mayorga.
"I'm glad it's growing and it keeps growing every year with not just the metal community but people in general donating funds for this issue. I hope that it keeps getting bigger and bigger. Unfortunately, everyone gets plagued with this in one way or another. It affects, whether it's a family member, a loved one or a friend, the only way we're going to beat it is to donate and help." -- Fear Factory's Dino Cazares.
"Everyone here's a Dio fan. It is very important for us musicians to contribute and give something back. I'm so bad at bowling, but if anyone wants a really bad bowler, take me in, and they said, 'Yeah, you've got to come.' So here I am and I'll do the best I can. I think it's great that so many musicians, especially the ones not on tour right now, can come right out and contribute. I know a lot of musicians who you'd think they'd want to stay home after tour, but it's great to see this turnout. There are a lot of friends here tonight and it's great to see them." -- Dragonforce's Herman Li, who ducked out of the recording studio for the night to attend.
"I knew Ronnie like most of us back in the day and for me it's a privilege and an honor to invest my time into this cause and everything that's going on with the foundation. But more so, it's important that we all show our strength and support for something like this in anyway we can. If it means I have to throw some balls down and knock some pins down to raise some money for cancer research, I'll definitely do it." -- Jeff Scott Soto
"I think it's a true representation of what Ronnie James Dio was about. Every time I've met him and I followed the band as well, it was always the fans and the causes that were first and foremost for him." -- Others' John Hetfield.
"It's pure metal. What an enjoyment that everyone gets to come out and support as much as they can. Fortunately tonight is bowling night and I'm a super fan of bowling so I'm super excited to just get together with everyone and have a fun time. And we want to raise as much as we can with this event." -- Budderside's Johnny Santoro.
"It's a legend associated with a deep cause. I think everyone can say that someone you know has been affected by cancer. So to be here and to be helping find a solution to something so important is fantastic. And having people so passionate about coming together, it's a magical night." -- Barb Wire Dolls' Isis Queen.
See Where Ronnie James Dio Ranks Among the Top 50 Hard Rock + Metal Frontmen of All Time
10 Unforgettable Ronnie James Dio Moments