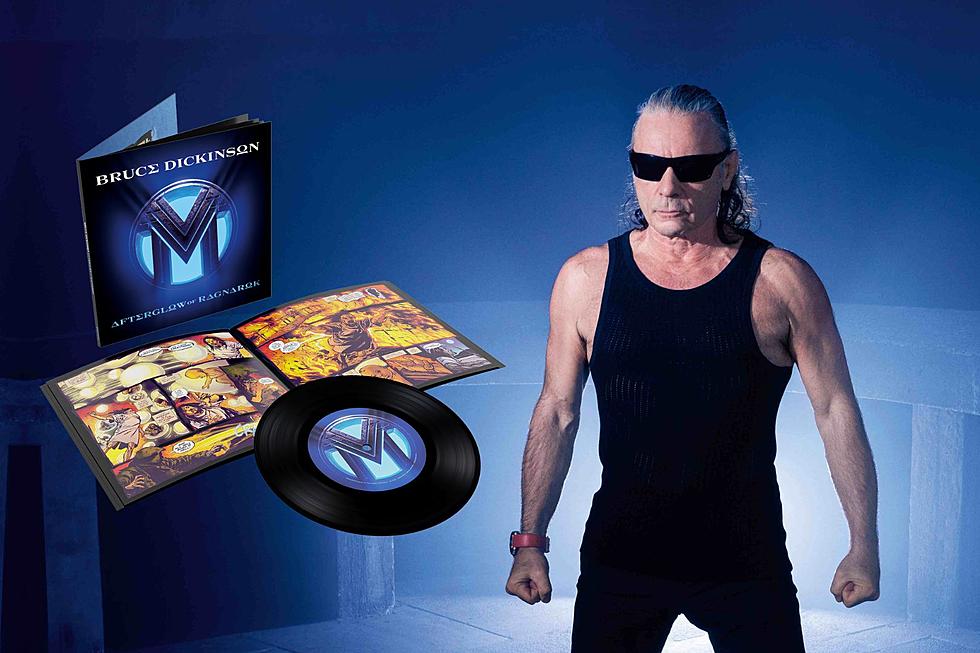 Bruce Dickinson Reveals Live Solo Band Members, Shares Heavy Teaser of First New Song 'Afterglow of Ragnarok'
John McMurtrie / BMG
Iron Maiden singer Bruce Dickinson will release his new solo album, The Mandrake Project, some time in 2024 and he's just revealed the members of his live band as well as a teaser for the new single "Afterglow of Ragnarok." He's also shared details regarding a series of coinciding graphic novels and put more European tour dates on the books.
Hear a Teaser of "Afterglow of Ragnarok"
"It was important to set the tone of the project with this track," Dickinson says of "Afterglow of Ragnarok," a snippet of which can be heard in the Instagram post below.
"As befitting its title, it's a heavy song and there's a great big riff driving it…but there's also a real melody in the chorus that displays the light and shade that the rest of the album brings," he continues, setting up another tease, exclaiming, "and just wait until you see the video!"
The single will arrive in full on Dec. 1 and pre-order for a deluxe gatefold 7" vinyl that comes with an eight-page comic prequel is available here. It also features the original solo demo version of "If Eternity Should Fail," which was repurposed for Iron Maiden's 2015 album The Book of Souls.
Additional details about the album will be unveiled on Nov. 30 when Dickinson makes an appearance as a keynote speaker at Brazil's Comic-Con event CCXP23.
About The Mandrake Project Graphic Novel Series
A press release describes the forthcoming graphic novel trilogy as "a dark, adult story of power, abuse and a struggle for identity, set against the backdrop of scientific and occult genius."
A total of 12 episodes will span three graphic novels which were created by Dickinson, scripted by Tony Lee and illustrated by Staz Johnson and each will be released by the venerable Z2 Comics in 2024.
Bruce Dickinson's Live Band
Bruce Dickinson - vocals
Roy Z - guitar
Tonya O'Callaghan - bass
Dave Moreno - drums
Mistheria - keyboards
Dickinson's live band features both familiar and fresh faces. His longtime collaborator and songwriting partner Roy Z will return, while drummer Dave Moreno (who played on Dickinson's 2005 album Tyranny of Souls) will perform live with Dickinson for the first time. Moreno currently plays in Puddle of Mudd and has an esteemed career as an in-demand studio musician who has played on more than 100 albums as well as movie soundtracks, instructional CDs and commercials.
Meanwhile, Tonya O'Callaghan, who has experience in Whitesnake, Adler's Appetite and Dee Snider, has been tabbed on bass. There's also some familiarity with Dickinson as the two performed together earlier this year as part of the series of tribute performances in honor of late Deep Purple keyboardist/organist Jon Lord.
On keyboards is Mistheria (Giuseppe Iampieri), the namesake musician of the classical-inspired prog metal project Mistheria and a number of other like-minded outfits. He also contributed keyboards to Tyranny of Souls, but never played live with Dickinson.
New Bruce Dickinson 2024 Tour Dates
May 18 — Glasgow, U.K. @ Barrowland Ballroom
May 19 — Manchester, U.K. @ O2 Academy
May 21 — Swansea, U.K. @ Arena
May 23 — Nottingham, U.K. @ Rock City
May 24 — London, U.K. @ O2 Forum Kentish Town
May 26 — Paris, France @ L'Olympia
May 28 — Tilburg, Holland @ 013
May 29 — Groningen, Holland @ De Oosterpoort
June 01 — Budapest, Hungary @ Barba Negra
June 03 — Bucharest, Romania @ Arenale Romane
June 05-08 — Gdansk, Poland @ Mystic Festival *
June 05-08 — Solvesborg, Sweden @ Sweden Rock Festival *
June 09 — Oslo, Norway @ Rockefeller
June 16 — Berlin, Germany @ Huxleys Neue Welt
June 17 — Hamburg, Germany @ Grosse Freiheit 36
June 19–22 Copenhagen, Denmark @ Copenhell *
June 24 — Mannheim, Germany @ Zeltfestival Rhein-Neckar *
June 25 — Munich, Germany @ Circus Krone
June 27–30 — Clisson, France @ Hellfest *
June 30 — Esch-Sur-Alzette, Luxembourg @ Rockhal
July 03-06 — Ballenstedt, Germany @ Rockharz Open Air *
July 05 — Rome, Italy @ Rock In Roma *
July 06 — Vicenza, Italy @ Metal Park *
July 09 — Koln, Germany @ E-Werk
July 13 — Zagreb, Croatia @ Hala
July 16 — Sofia, Bulgaria @ Kolodrum Arena
July 19 — Istanbul, Turkey @ Kucukciftlik Park
*Festival Performance
The 46 Songs Iron Maiden Have Never Played Live
There's less than a third of Iron Maiden's total catalog that has never been played live.
Gallery Credit: Joe DiVita