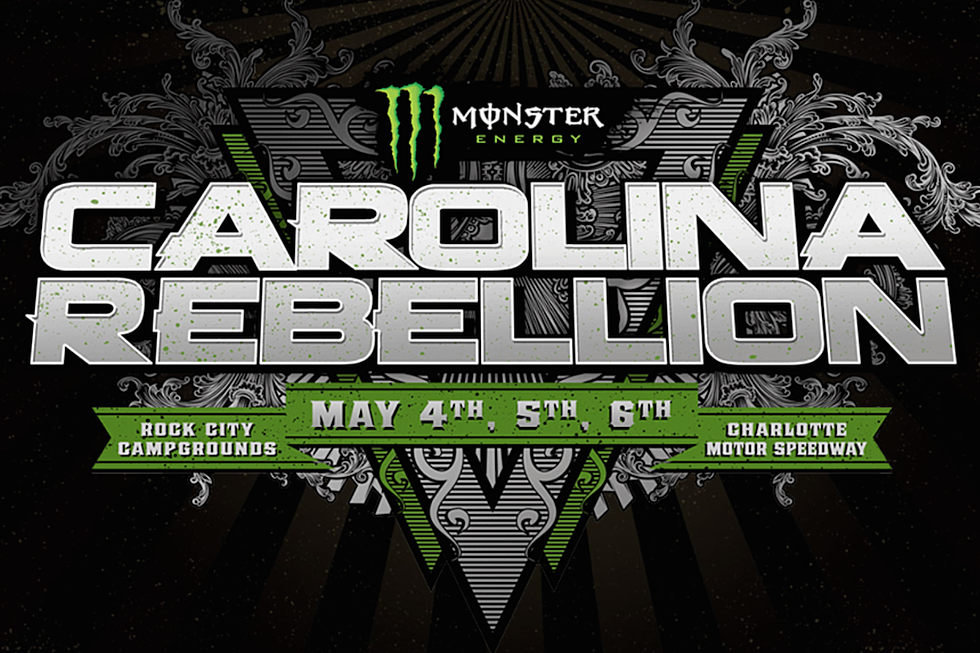 Carolina Rebellion 2018 Set Times Revealed
Carolina Rebellion
The folks behind the 2018 Carolina Rebellion festival have revealed the festival's set times so you can start planning out which of the 60-plus acts performing at the weekend event you want to see and how to go about it.
Each day will find bands performing on one of four stages -- the Monster Carolina Stage, the Monster Rebellion Stage, the Black Stage and the Gold Stage, with the two Monster stages providing the headlining acts for the day. On Friday (May 4), it's Alice in Chains and Shinedown. Godsmack and Five Finger Death Punch do the honors on Saturday (May 5) and Muse and Queens of the Stone Age get to close things out on Sunday (May 6). See a full listing of who plays where, when and at what time below.
9:35PM - Alice in Chains
6:45PM - Stone Sour
4:40PM - Bullet for My Valentine
2:50PM - Pop Evil
1:10PM - Red Sun Rising
8:25PM - Shinedown
5:55PM - Stone Temple Pilots
4:00PM - Parkway Drive
2:10PM - Sevendust
12:40PM - Avatar
7:35PM - Underoath
5:25PM - Tremonti
3:30PM - Power Trip
1:40PM - Turnstile
12:10PM - He Is Legend
7:45PM - Andrew W.K.
5:25PM - Texas Hippie Coalition
3:30PM - Stick to Your Guns
1:40PM - Counterfeit
12:10PM - The Wild!
9:40PM - Godsmack
6:50PM - Breaking Benjamin
4:50PM - In This Moment
3:00PM - Trivium
1:20PM - Shaman's Harvest
8:30PM - Five Finger Death Punch
6:00PM - Halestorm
4:10PM - Black Veil Brides
2:20PM - Asking Alexandria
12:50PM - From Ashes to New
7:40PM - The Used
5:30PM - Butcher Babies
3:40PM - New Years Day
1:50PM - Them Evils
12:20PM - Palaye Royale
11:30AM - Big Story
7:50PM - Hatebreed
5:30PM - Emmure
3:40PM - Joyous Wolf
1:50PM - Toothgrinder
12:20PM - Bad Wolves
11:30AM - Palisades
9:40PM - Muse
6:50PM - Incubus
4:45PM - The Struts
3:05PM - Greta Van Fleet
1:30PM - The Bronx
8:30PM - Queens of the Stone Age
5:50PM - Billy Idol
4:10PM - Clutch
2:30PM - Thrice
1:00PM - Quicksand
7:50PM - Baroness
5:20PM - The Sword
3:40PM - Code Orange
2:00PM - Jelly Roll
12:30PM - Spirit Animal
8:00PM - Red Fang
5:20PM - The Fever 333
3:40PM - The Blue Stones
2:00PM - Mutoid Man
12:30PM - Cane Hill
Given that it may be a little difficult to keep straight in your head, there is also a Carolina Rebellion mobile app that's available for free via iTunes or the Google Play store, complete with set times, maps, photo frames and social channels.
The Monster Energy Carolina Rebellion festival will be held at the Rock City Campgrounds at Charlotte Motor Speedway in Charlotte, N.C. May 4-6. For additional info on this year's event, check out the Carolina Rebellion website.
2018 Rock + Metal Festival Guide