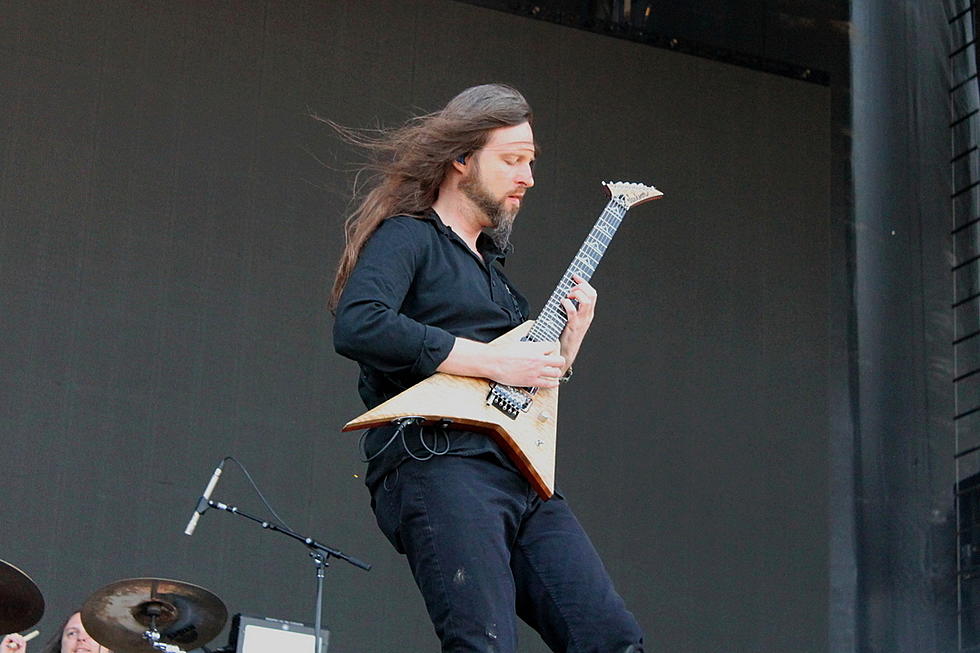 All That Remains' Oli Herbert on 'Madness' Video, 'The Thunder Rolls' Cover + Symphinity Side Project [Carolina Rebellion Interview]
Chad Bowar
All That Remains rocked Carolina Rebellion recently, just over a week after the release of their latest album Madness. They kicked off their set with two songs from Madness ("Safe House" and the title track). In addition to bringing the heaviness, they also injected melody with tracks like "What If I Was Nothing" and wrapped up their set with "Two Weeks" from 2008's Overcome.
We have photos of the band's Carolina Rebellion show above and also had the chance to chat with guitarist Oli Herbert before their set. Check out the interview below.
Did you do anything special on the album release date?
We were just traveling down to Welcome to Rockville and we just chilled on the bus, just doing our thing, just seeing where things are at. We weren't trying to make a big deal out of it but yeah, it's cool.
Is it still exciting this many albums in?
Oh, always. You've gotta always appreciate where you're at and still have a career after almost 20 years in the business.
How did the collaboration with producer Howard Benson on Madness come about?
He was recommended to us by our new management 10th Street. He was doing an album with In Flames, who are good friends of ours and huge influence on us, especially earlier on. And we were like, if In Flames is doing an album with Howard, that's pretty cool. We came by and watched how he worked. We were like, "This is going to be good." So we went down there and Howard was cool. He definitely put us in uncomfortable situations a lot, but I think it was for our own good.
How do you and Mike (Martin) divide the guitar parts?
We'll either come to practice with a part or a couple parts. I might have a whole song, he might have a whole song. A lot of times Mike will write a verse chorus and he's like, "I need a bridge." I'm usually the bridge guy. Mike and I have a good collaboration,. We usually work off each other pretty well and by the time we get through the things we have more or less a complete tune.
This album has been described as a vocal album more than a guitar album. What does that mean?
The process that Howard had us do, which put us in an uncomfortable status. He made us do a lot of the vocal stuff first. Lyrics and vocals.
Usually that's the last thing to do.
Yeah, so we wrote a lot of the music to the vocals, which I think is cool, because it actually gives me more freedom because I know that I'm not stepping on the toes of what the singer is going to be doing. I can dial a little bit more what I'm doing.
How did you decide to cover the Garth Brooks song "The Thunder Rolls"?
We were talking about a bunch of different covers and I know Phil [Labonte] always liked the song. I've always liked the song, even back when it came it out, I liked pretty much just metal and I was like, "That's a bad ass tune." So we brought it up. I'm like, "Yeah I could see us doing that," and we went and we tracked it over at the studio and it wasn't quite right, so I went to my friends in Boston, Benny Goodman from Speakeasy Studios, and I basically just kind of re-envisioned the song.
I was up recording a bunch of stuff with him for my side project Symphinity, which he is also the creative director of, but he recorded the vast bulk of "The Thunder Rolls," then we sent it back to L.A. and they added all the cool stuff and the cool amalgamation, so it was definitely a collaborative studio effort.
The "Madness" video is a really powerful video. How did it come together?
We wanted to represent the PTSD angle of it and Kris Paronto, having been in Benghazi and going through it, was the perfect candidate. We worked it out and we went down to Louisville, Ky., and shot the video. He was a stand up gentleman and the video I think turned out really, really good.
You have your summer plans lined up. Are you going to Europe after that?
Those things are kind of shaping up for the fall right now, so I cannot give you a clear picture just yet.
What's your level of awareness and popularity in Europe compared to the U.S.?
Europe's a little bit more difficult. When you go over there, you're sometimes dealing with a language barrier. The radio stuff doesn't work so well over there. So it's a different thing, but we do well at the festivals. We try to play those when we can.
When you're playing a festival like this, do you specifically pull out some of the harder edged stuff?
Yeah, we try to kind of cater to where we're playing at. If we're playing at a heavy, heavy festival of course we're gonna play a bit of a heavier set. You want people to be entertained, number one thing, and if you're going in there and not giving them what they really want, it's not so good.
Earlier you mentioned a side project you're working on. Tell me a little bit more about that.
I'm in this symphonic metal band called Symphinity. Benny Goodman is the creative force behind it. We're basically grabbing all these different guitar players from various bands and some guys that are up and comers and it's pretty killer. The album is being mixed right now and once it comes out I'm sure the guitar community at least will be aware.
Yes, it's all instrumental.
Do you have a release date set?
Not just yet, but we're working around the clock, so you'll see it posted on social media and all that and it's gonna be good.
Anything else you want to mention?
I do some teaching. I teach down at a place called Music Speaks in Agawam, Mass. I teach there about once a week and I'll be doing lessons when I'm not on tour. I also teach Skype lessons online. I've been teaching since I was 19-years-old. I love it.
Our thanks to All That Remains' Oli Herbert for the interview. The band's 'Madness' album is currently available at Amazon and iTunes and you can catch the group on tour at these locations. Stay tuned for info on Symphinity's album when it becomes available.
All That Remains' Phil Labonte Plays 'Wikipedia: Fact or Fiction?'