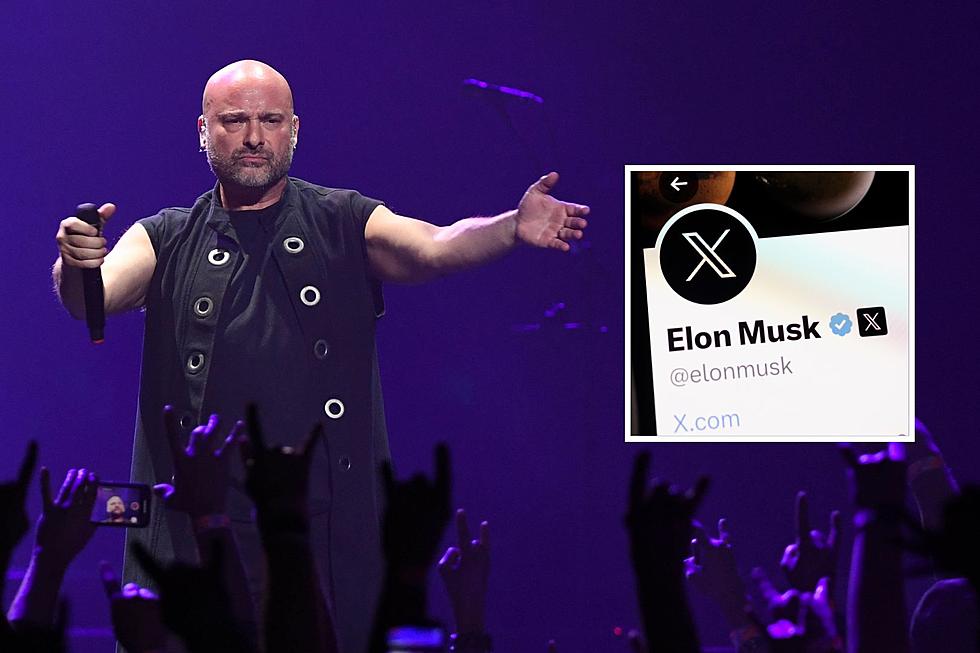 Disturbed's David Draiman Responds to Elon Musk's X Threatening to Sue Anti-Defamation League
Ethan Miller, Getty Images / Dan Kitwood, Getty Images
Disturbed singer David Draiman has responded to a post made by Elon Musk on X (formerly Twitter), where the tech mogul claims he is "pro free speech" and "against anti-Semitism." The remark came a day in advance of Musk announcing that X will be filing a lawsuit against the Anti-Defamation League (ADL), alleging that the civil rights organization is responsible for "destroying half the value of the company, so roughly $22 billion."
Musk issued a series of posts regarding a threat to sue the ADL, which he claims has been pressuring advertisers to stay clear of advertising on the social media platform.
The company has struggled to generate positive cash flow since Musk's placed a hostile bid to buy out Twitter last year. Shortly after the acquisition and due to some organizational changes, hate speech seen on the social media platform sharply increased before the year was over. And in late July, X filed a lawsuit against a nonprofit organization that tracks hate speech, claiming the organization was trying to hurt X with its research.
Now, Musk appears to be hoping to recoup about between $4-22 billion from the ADL if this all winds up playing out in court.
Draiman, who is Jewish and regularly uses his platform to combat anti-Semitism, has called for open dialogue with Musk, contending that he does not feel that he is anti-Semitic and wants to use this as an opportunity to "dispel that wave of anti-Semitism that's been unfortunately unleashed."
What Did Elon Musk Post on X?
This recent news began with a Sept. 4 post where Musk says he is pro-free speech and against anti-Semitism, followed up by the aforementioned accusation of the ADL trying to "kill" X, and, at a previous time, Twitter.
Musk also claims that advertising revenue is down 60 percent due to ADL pressuring advertisers.
Later that day, Musk posted, "To clear our platform's name on the matter of anti-Semitism, it looks like we have no choice but to file a defamation lawsuit against the Anti-Defamation League... oh the irony!"
In on follow-up post, Musk estimates the amount X is seeking to recoup in the lawsuit while responding to one X user who shared a screenshot of a headline of a 23-year-old article where a judge fined the ADL $10.5 million in a defamation lawsuit.
Almost immediately, Musk walks back the $22 billion figure and posts, "Based on what we've heard from advertisers, ADL seems to be responsible for most of our revenue loss. Given the maximum benefit of the doubt, I don't see any scenario where they're responsible for less than 10 percent of the value destruction," estimating the "destruction" to be roughly $4 billion.
What Did David Draiman Say In Response?
Today (Sept. 5), the Disturbed singer replied to Musk's post about being in favor of free speech and against anti-Semitism.
Draiman says he believes that Musk is not an anti-Semite, adding, "I think this whole thing was reactionary, and understandably so, given the damage done to the platform you bought."
Extending an invite to engage in civil discourse regarding these issues, the frontman goes on, "Let's talk. One on one to discuss the issues and clear the air. You choose the medium," concluding the first response with the hashtag #TheADL.
Draiman quickly posted another response to the same message from Musk, contending that they can help one another and that "neither one of us wants this fallout to continue, My family... my people are at risk. Let's give you the opportunity to express your legitimate issues while dispelling the wave of anti-Semitism that's been unfortunately unleashed," again ending the message with #TheADL.
READ MORE: David Draiman Shares His Frustration in Getting Help for Mental Health
What Is The Anti-Defamation League?
The ADL website states,
ADL is the leading anti-hate organization in the world. Founded in 1913, its timeless mission is "to stop the defamation of the Jewish people and to secure justice and fair treatment to all." Today, ADL continues to fight all forms of antisemitism and bias, using innovation and partnerships to drive impact. A global leader in combating antisemitism, countering extremism and battling bigotry wherever and whenever it happens, ADL works to protect democracy and ensure a just and inclusive society for all.
Learn more here.
Rock + Metal Songs With Social Messages
Music has the power to move people. It also has the power to move them to action.