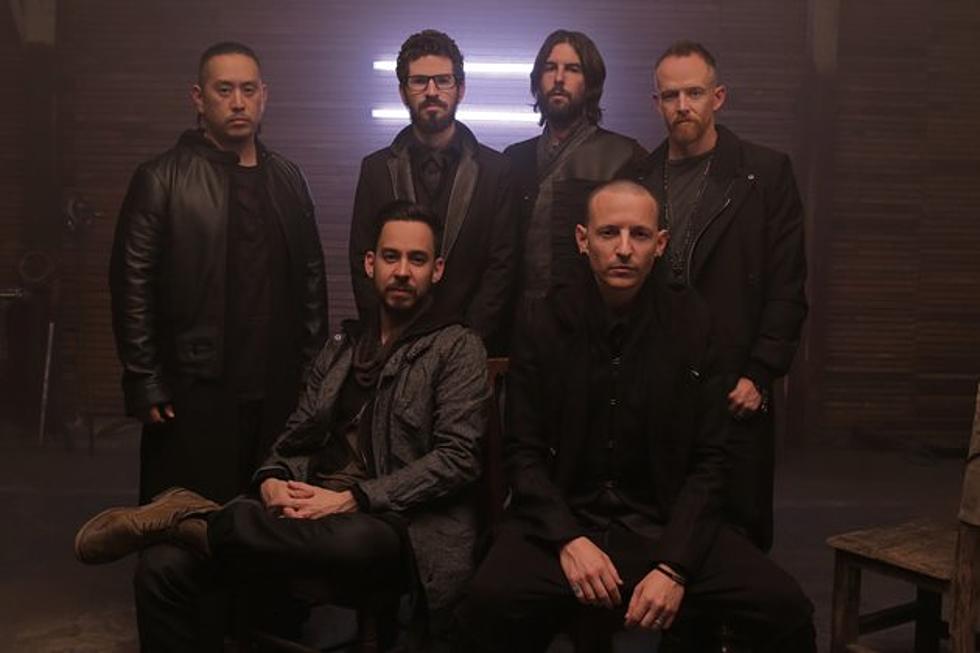 Early Preview: Linkin Park's 'The Hunting Party'
Photo by Brandon Cox
Linkin Park recently released their new single, 'Guilty All the Same,' giving fans a taste of the direction of their upcoming album, 'The Hunting Party,' due June 17. We were one of the lucky few who spent a morning at MSR Studios in New York City to listen to a handful of new tracks presented by none other than Linkin Park's very own Mike Shinoda.
The songs aren't even mixed and mastered yet but the five brand new tracks we got to hear were described by Shinoda as almost a "prequel to 'Hybrid Theory.'" He went on to say that 'The Hunting Party' is what it would sound like if the band had a chance to make "another first record." (We did the math, and we think they made out pretty well with 'Hybrid Theory,' but we got what Shinoda was trying to convey.)
Being in a recording studio definitely set the mood as Shinoda also gave an inside look to the creation of the new disc. He explained that they not only tracked a lot of the album using tape but they also have 12 full tracks ready to be mixed for the new disc. 'The Hunting Party' was produced by Shinoda and the band's guitarist Brad Delson.
Shinoda talked about what influenced the new disc and how he felt the rock genre was moving in "this indie-pop direction" and when he wanted to listen to something "louder with more energy" he only found it in older bands like Refused. He stated that with this new album they're "not trying to recreate that but the ethos of that."
From the sound of the handful of songs he played, it will definitely strike a chord with Linkin Park fans who have enjoyed the more aggressive nature of their earlier sounds. Shinoda also revealed some very cool guest musicians on the disc, which we mention below. Check out our track-by-track preview of the five tunes we heard here:
Linkin Park, 'The Hunting Party' – Early Rundown of Five Tracks:
'Keys to the Kingdom': Right off the bat this track has an old-school punk vibe with a new twist. The hasty drums and explosive riffs  a hardcore element to it. Vocalist Chester Bennington unleashes melodies and the balance of Shinoda's rap verses makes for a powerful combination. Although the band will be playing arenas on their forthcoming Carnivores tour, this song has an underground feel that would welcome them to a small, beat up venue in Brooklyn, N.Y.
'Wastelands of Today': This tune starts with a hip-hop verse and the song has a lot of groove with heavy drum and bass. The chorus is catchy yet sludgy and has some grit to it. Watch out for the heavy breakdown in the middle of the song. Linkin Park take you on a sonic roller-coaster ride as they play around with the tempo and ambiance of the song.
'Until It's Gone':  It's a more mid-tempo track with softer lyrics provided by Chester Bennington, who really shows his vocal versatility. The dreamy and atmospheric sounds are enough to whisk you away but Bennington brings you back down to earth as he belts out their take on a familiar chorus: "'Cause you don't know what you've got / No you don't know what you've got / You don't know what you've got / Until it's gone." This catchy song is one that's bound to get stuck in your head for a long time.
'All for Nothing': This one, when performed live, will get the crowd moving for sure. With a hip-hop flow in the first verse this quickly turns into almost a punk anthem. The song is relentless and unapologetic, with a stellar guitar solo by Brad Delson. It's no surprise that this heavy tune is hardcore especially since it features a guest spot Helmet vocalist and guitarist Paige Hamilton.
'Rebellion': With a name like 'Rebellion,' as a listener you would expect pure chaos and mayhem and that's exactly what Linkin Park give you. The vibe is almost thrashy with its speedy riffs and galloping drums. While listening to it one might think that it could even fit on System of a Down's first album -- that's probably because none other than Daron Malakian of System of a Down is featured on this song.
Hopefully, we'll hear some of these amazing tracks live very soon. Go here to see where you can catch Linkin Park on the Carnivores Tour this summer with 30 Seconds to Mars and AFI. Check out the album art for 'The Hunting Party' below: