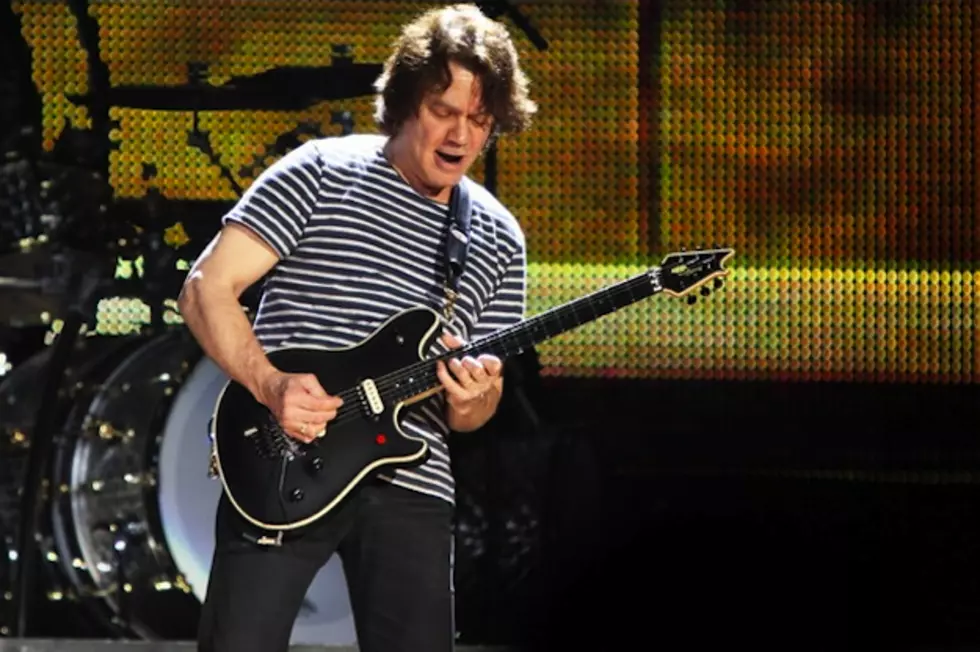 Eddie Van Halen: 'We Will Probably Hunker Down and Do a Studio Record' After Our Tour
Mary Ouellette, SheWillShootYou.com
Van Halen fans have a reason to celebrate, and we're not just talking about their upcoming North American summer tour. In a new interview with The Washington Times, guitarist Eddie Van Halen addressed the possibility of a new studio album, and he said they will likely record one after they finish the summer tour.
"After this touring cycle, we will probably hunker down and do a studio record. We certainly have enough material," Van Halen says. "It is a matter of timing and getting everybody together. That's the only way it can be done."
The guitarist adds, "We put out [A Different Kind of Truth] in 2012. But then you go onstage and play those new songs, and the audience looks at you like, 'What's this?' They really want to hear the classics."
This week, Van Halen released their first live album with David Lee Roth called Tokyo Dome Live in Concert. While talking with The Washington Times, Van Halen commented on his relationship with the lead singer. "He is always off doing his own thing. Getting tattoos in Japan. He's got an apartment over there. He's got an apartment in New York," Van Halen said. "The relationship has always been the same, really. Just because he quit back in 1985 to pursue a solo career, the press I think made a bigger to-do out of our relationship being sour than we did, you know what I mean? When [my son] Wolfgang joined the band, he was actually responsible for calling Dave and getting him back in the band."
During the talk he also said that releasing a live album was not his first choice, "What I originally wanted to do was remix the original 25 song demos. That would have been really cool. But the tapes are lost. They are gone. So that was out the window," he continued. "Then we started digging through bootlegs from the club days. We tried our best to make those sound good, but ultimately it wasn't good enough to put out... It just didn't jive. So we decided, 'How about a live record?'"
You can buy Tokyo Dome Live in Concert on iTunes and Amazon. Van Halen kick off their North American summer tour on July 5 in Seattle. They will trek around the U.S. and Canada through Oct. 2. Check out the full list of tour dates here.
See Where Eddie Van Halen Ranks on Our List of the Top 50 Hard Rock + Metal Guitarists
You Think You Know Van Halen?
See the Yearbook Photos of Eddie Van Halen + Other Rock Stars