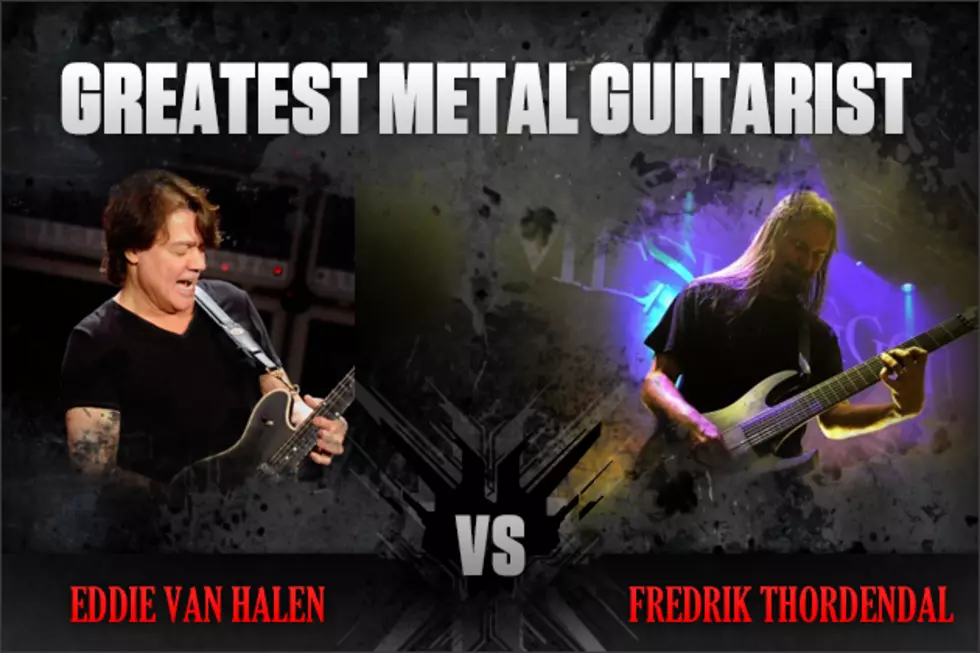 Eddie Van Halen vs. Fredrik Thordendal – Greatest Metal Guitarist, Round 1
Frazer Harrison, Getty Images / Meshuggah - Official Website
He's THE guitarist. Eddie Van Halen took technique to astronomical levels with the mighty Van Halen, which he started with brother Alex Van Halen in 1972. Over forty years later, there is still no "next" Eddie Van Halen. While you can argue whether Van Halen is a heavy metal band or not, you can't deny the influence EVH has had on hundreds of metal axeman to come after him. For that reason, Eddie Van Halen truly deserves consideration as the greatest metal guitarist.
Meshuggah will crush you, and this feat is perhaps most attributed to guitarist Fredrik Thordendal. It's crazy to think Meshuggah has existed for 26 years, as the guitarist's pieces remain fresh no matter how old they may be. Thordendal's ultra-low and djent-style tone trudges Meshuggah's music forward while vocalist Jens Kidman twist's the guitarist's parts into more twisted dimensions.
Eddie Van Halen or Fredrik Thordendal? Cast your vote for the Greatest Metal Guitarist in the poll below! Voting for this round closes on Sunday, July 21 at 11:59PM ET. Fans can vote once per hour, so keep coming back to make sure that your favorite metal musician wins!