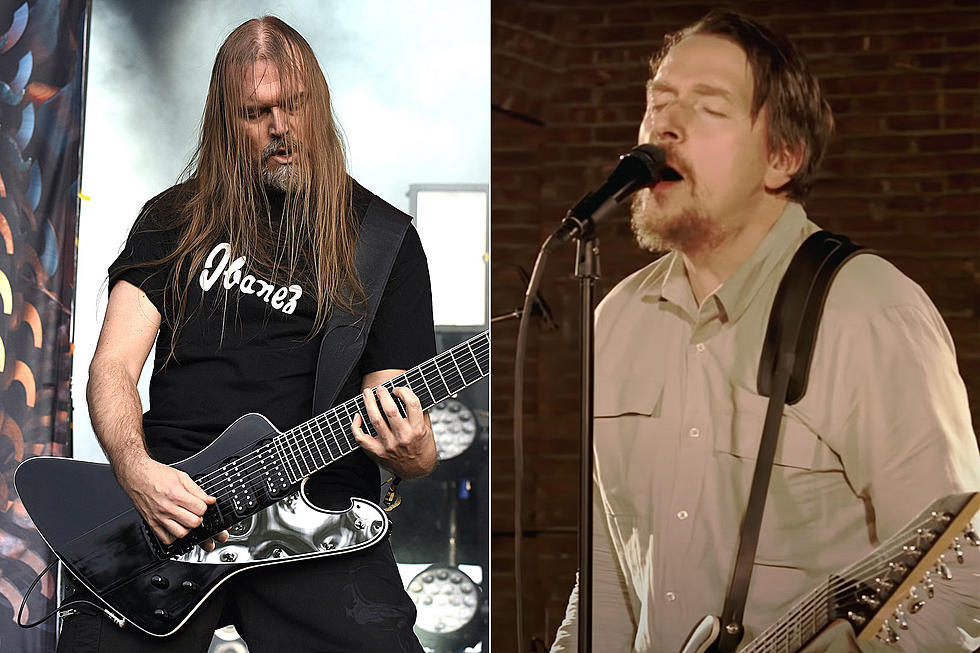 Two Extreme Metal Guitarists Made Rolling Stone's 250 Greatest Guitarists of All-Time List
Tim Mosenfelder, Getty Images / YouTube: Revolver
Being recognized for your prowess at a given instrument is honor enough, but it appears all the more impressive when you're tossed into an all-time list that encompasses all of music. Rolling Stone just released their 250 Greatest Guitarists list, and a quick look over the entire contents of the list reveals that two extreme metal guitarists made the cut.
Given that extreme metal doesn't often get the recognition of some more mainstream genres, it's great to see some representation where it's due. So which extreme metal guitarists made the cut?
Godflesh's Justin Broadrick Made the Cut
Congrats are in order for Godflesh's Justin Broadrick, who ranked No. 207 on the Rolling Stone list of all-time greatest guitarists. Broadrick has also spent time playing with Jesu and Napalm Death over the course of his career.
In their write-up on the guitarist, they note, "Justin Broadrick has created his own guitar lexicon between industrial-metal crushers Godflesh, grindcore pioneers Napalm Death and the psychedelic post-metal band Jesu (among countless other projects). His steamrolling, elastic riffs and spongy textures in Godflesh breathed rare humanity to the band's mechanical rhythms. In Napalm Death, he helped pioneer the 'grinding' sound of grindcore (hyper-fast death metal) by turning up his distortion so high you felt the pulse more than the notes on songs like 'Instinct of Survival.'"
They also note, "And in Jesu, his psychedelic post-metal guise, he layered miasmas of noise until they created a beautiful shadow world in which his voice echoed. On everything he does, his guitar sighs, groans, and weeps, but nothing else sounds like it."
In their write-up, they point to "Like Rats," "Silver" and "Scum" as key tracks within his musical catalog.
The guitarist is surrounded on the list by musicians such as Kaki King, Gary Clark Jr., Amadou Bagayoko, Hugh McCracken and Eric Johnson.
Godflesh, "Like Rats"
Meshuggah's Fredrik Thordendal Made the Cut
Meshuggah's Fredrik Thordendal has been dropping some brutally heavy guitar work for years, and as one of the genre's most respected players, it's not too much of a surprise that he landed at No. 141 on the Rolling Stone list.
Of the guitarist, Rolling Stone notes, "Fredrik Thordendal of the Swedish extreme metal band Meshuggah strikes his strings in a way that sounds more like percussion than guitar, since he restricts his strings so much with palm muting (depressing his picking hand at the bottom of his strings so hard that they barely move). In his chokehold, only the faintest shadow of a pitch breathes."
They add, "On Meshuggah's 'Bleed,' the mechanical riffing rises and drops in minute measure, just enough to rattle your vertebrae, while on 'Rational Gaze,' he plays a funky array of rhythms that barely align with the drums. Thordendal's technique spawned a whole metal subgenre called 'djent,' an onomatopoeia for the sound of his pick hammering out chords, which includes groups like Tesseract and Animals as Leaders."
READ MORE: 30 Most Underrated Hard Rock + Metal Guitarists
They suggest "Bleed," "Demiurge" and "Born in Dissonance" as key tracks in his guitar playing history. Other guitarists ranked in Thordendal's vicinity on the list include Ira Kaplan, João Gilberto, Steven Stills and Susan Tedeschi.
Meshuggah, "Bleed"
What say you, extreme metal fans? Who else deserves to be on the list? The full list of the 250 Greatest Guitarists of All-Time can be found over at Rolling Stone. Let us know in the comments you thoughts on the picks.
Top 75 Hard Rock + Metal Guitarists of All Time
Counting down rock and metal's greatest guitar players.
Gallery Credit: Loudwire Staff