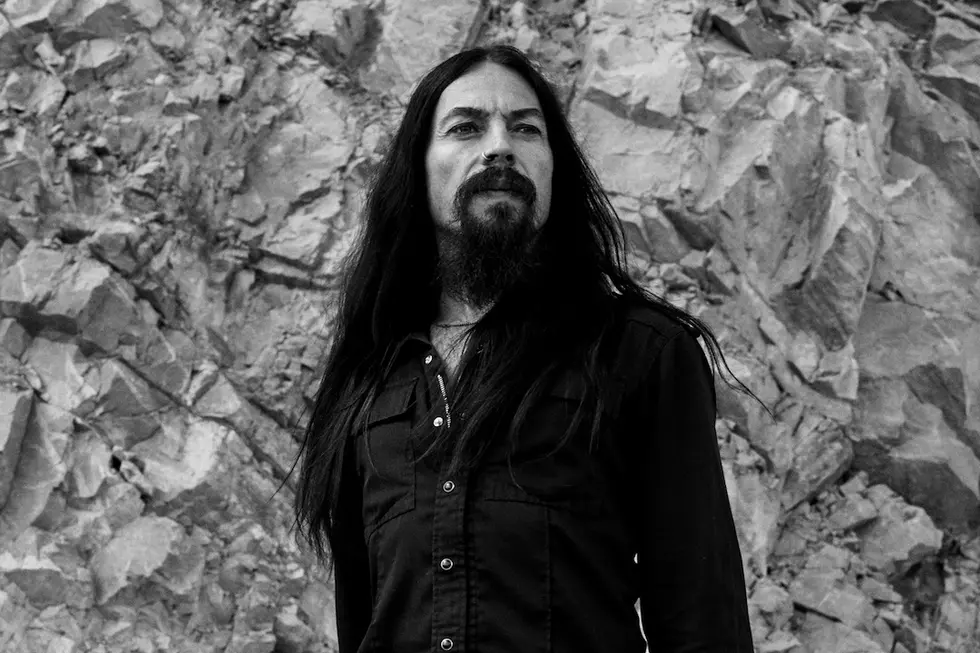 Frost on New Satyricon Album: We're Our Own 'Biggest Source of Inspiration and Motivation' [Exclusive Interview]
Marius Viken
Since Satyricon debuted with Dark Medieval Times in 1994, they've been constant innovators of the genre they helped give rise to as part of the early Norwegian black metal scene. Just two years later, their third album, Nemesis Divina, had arrived and has since been regarded as a masterpiece of cinematic majesty wrought from chaos-ridden angst. They've spent the better part of the new millennium refining their black 'n' roll approach with varying degrees of innovation, but on Deep Calleth Upon Deep, Satyricon promise wholesale reinvention. With the album set for a Sept. 22 release through Napalm Records, we had the opportunity to delve further into the new material with drummer Frost, so check it out below.
Deep Calleth Upon Deep has been billed as a "reinvention" of Satyricon's sound. The band has consistently broke new ground with each new album, so what makes this a true new era?
I believe we have found an entirely new expression on Deep Calleth Upon Deep – the album is simply alive in a different way than anything we've done up until now. Electric and magical – probably it is the result of musical evolution happening on a grand scale.
Of all the songs, "Midnight Serpent" is the closest to resembling Satyricon's traditional black metal side. Why was it important to open the album with this?
I shall not enter into an argument regarding the character of "Midnight Serpent" with you, but regardless of what type of song you consider that to be, sequencing is always important for Satyricon. The goal is to build a string of songs that facilitates a fine musical journey, so there needs to be a sense of natural flow from beginning to end.
The drums guide the direction of each moment, making for an unpredictable listen especially on "Blood Cracks Open the Ground" and "Black Wings and Withering Gloom." How much experimentation was done behind the kit when piecing these songs together?
A good deal of effort was put into the songs as you might imagine and the drum solutions went through different phases of development and progress as did the songs themselves. Deep Calleth Upon Deep is that kind of album that requires a lot from the rhythmical department, as it is a very exciting, loaded, creative and progressive piece of music.
The title track and "The Ghost of Rome" are among the most melodic songs Satyricon have ever written. You've always had strong hooks, but now they're coming from a lot of guitar melodies rather than vocals and rhythm riffs as well. Where did the inspiration for this new facet of your sound come from?
I can sincerely say that Satyricon itself, as our very own instrument for expressing our own musical ideas, is our biggest source of inspiration and motivation. If we feel that there is, within the world of this band, the stimulation, the will, the ability and the right atmosphere for really creating something fresh, different or intriguing, then we eagerly do so. This time it resulted in melodies of a kind that we haven't really made use of before, like on those two mentioned songs, among many other elements.
When Satyr was diagnosed with a brain tumor in 2015, obviously his health was of primary concern, but were you also concerned about that this meant the end of Satyricon?
I was forced to relate to the possibility, but I never really felt the end of the band to be the case and actually it seemed more important than ever to work with Satyricon and put heart and soul into it.
Satyr said this could be the last Satyricon album. Do you have any sense of finality with this band?
No. It feels, rather to the contrary, more like a new beginning than the end. But the possibility of this being the end times for the band will necessarily need to be taken into consideration now.
Thanks to Frost for the interview. 'Deep Calleth Upon Deep' will be released on Sept. 22 through Napalm Records and will mark Satyricon's ninth studio album. Pre-orders are available at the label's webstore. Follow the group on Facebook to stay up to date with everything they're doing.
See Satyricon in the Top 30 Black Metal Albums of All Time
See Satyricon in 10 Times Metal Infiltrated the Mainstream