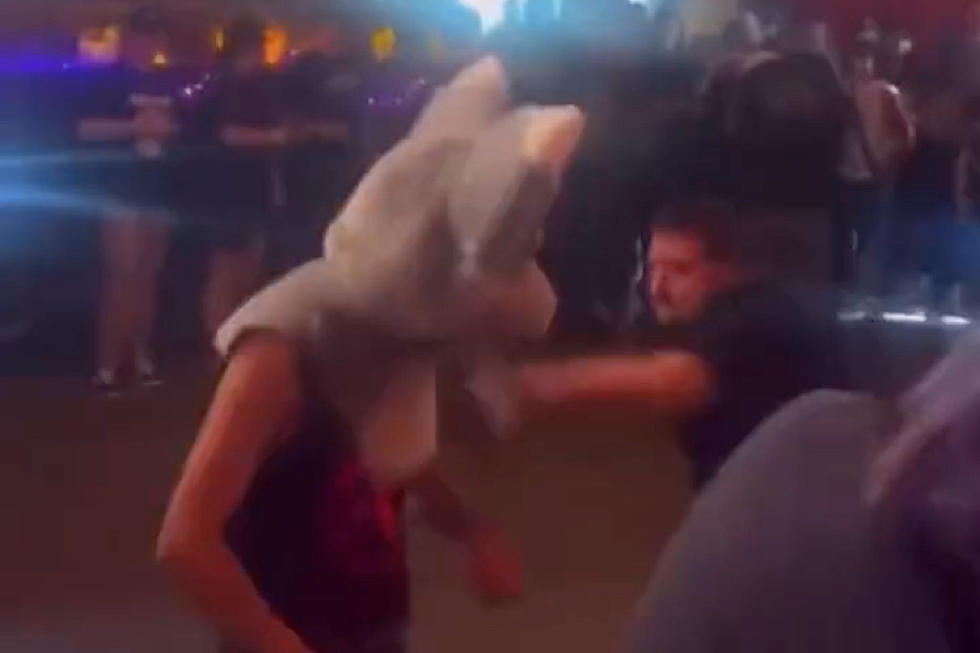 Concertgoer Dressed as Furry Badly Injured in Mosh Pit, Starts Fundraiser After Video Goes Viral
Twitter: @ReturnToPluto
The debate around excessive violence in mosh pits was reignited this week after a video went viral that appears to show a concertgoer partially dressed as a furry getting punched in the head by another concertgoer in a "crowd-killing" mosh pit move.
Subsequently, the injured person — their name is Chris, but they go by "Latte" on social media — has started a crowdfunding campaign to cover medical costs. They have also commented on the video and the extent of their injury, which they say threatens their eyesight and their livelihood.
The incident apparently occurred last Saturday (Oct. 14) as the Houston metalcore band Fromjoy played The Ballroom at Spider House in Austin, Texas, during a music fest called Heavy Hitters IV.
READ MORE: Totally Dangerous Mosh Pits
After the video emerged online, some seemed to make light of the incident, including fromjoy initially, who re-shared the video and added, "fromjoy is for the furries." However, it seems the band posted this before being made aware of the entire outcome.
Furry Injured in Mosh Pit
"On Saturday, I was assaulted at a concert in Austin," Latte writes in a message on their GoFundMe page, which was started on Tuesday (Oct. 17). "I was punched from behind in the head while watching the show. The person who hit me fractured the lower part of my orbital socket, concussed me and has jeopardized my job and vision. "
They explain, "There is a video going around on twitter of what happened. The person who hit me hasn't been identified, and after looking into the legal actions/repercussions, the chances of him owning up to his actions are slim. We are still trying to find him."
Latte continues, "I spent the first three days vomiting and sleeping for an hour at a time from the pain in my face. My face hurts all the time. … So far between clinic visits, a CT scan, and a consultation with a neural eye surgeon, I've spent just over $900."
They add, "The neural surgeon wants to wait 1 week to allow my swelling to go down and see if steroids will help my eye start to recover on its own so we can avoid surgery. The estimated cost of the eye surgery is $2200 and risks permanent alterations to my vision."
A screenshot found on X, formerly Twitter, shows subsequent correspondence between Latte and Fromjoy, with Latte telling the band, "I don't inherently blame y'all for what happened I chose to suit [up] at it." Latte told followers that fromjoy "didn't realize how bad I got hurt when they laughed at the video. It doesn't make the jokes OK, but once they found out they've done everything they can to help."
As of this posting, Latte's GoFundMe has surpassed its $6,000 goal.
The Weirdest Things People Have Done in a Mosh Pit
Everyone has an odd story from their time served as a pit veteran or warrior, whether it's actual sex acts happening in the mosh pit, or someone riding in on their motorcycle, we're sure some of these stories we're about to share are just half of the crazy stuff that's been seen down in the depths of the pit.
Gallery Credit: Yasmine Summan