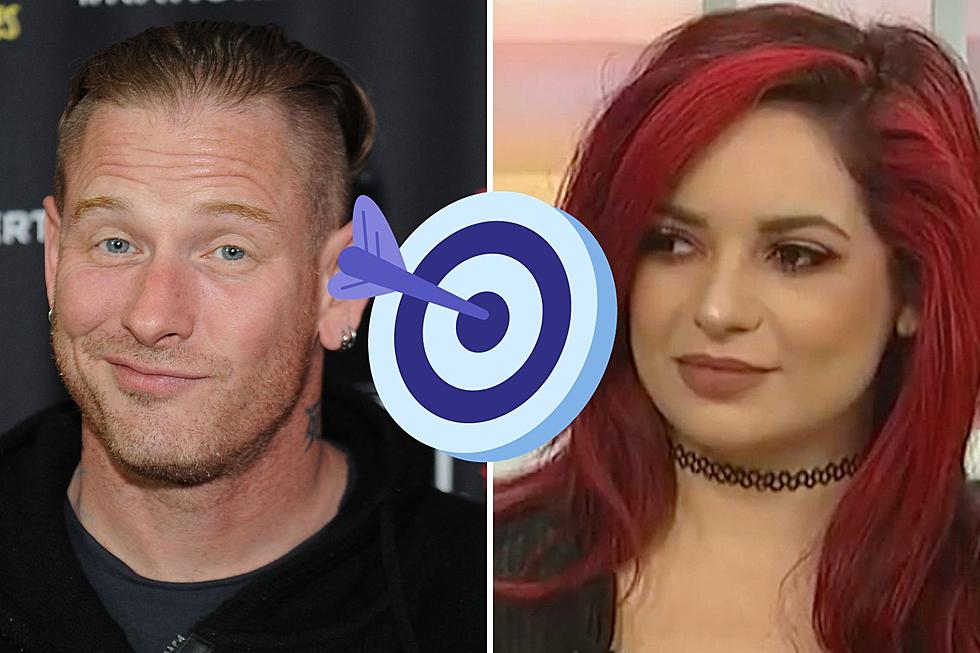 Watch Alicia Taylor Play Target Practice on Corey Taylor's Head – 'I Trust My Latina Wife'
Brad Barket, Getty Images / Canva / YouTube: KTNV Channel 13 Las Vegas
Slipknot singer Corey Taylor and his wife, Cherry Bombs founder-director Alicia Taylor, clearly have a lot of trust in each other. So much so, in fact, that the two recently took part in a viral video challenge going around on TikTok — "I Trust My Latina Wife."
Indeed, Corey says those words himself in the Taylors' version of the meme, right before Alicia gets in some target practice by knocking a disposable drinking cup off the top of the rock singer's head with a shoe. She then does it three more times.
See the video near the bottom of this post.
READ MORE: Corey Taylor Is Asked 'Slipknot or Solo?' + His Answer Is Completely Honest
"Thank fucking God," Taylor says after Alicia's first shot, showing some relief in his wife's targeting abilities. As the clip proceeds, Corey appears to get more comfortable with the game, even though he could get knocked in the noggin. (As shown in a subsequent outtakes video, Corey did indeed get hit in the head with the shoe at least once.)
'I Trust My Latina Wife'
The #itrustmylatinawife meme has been gaining steam on TikTok and elsewhere (such as YouTube) over the past few weeks. It is often paired with music, such as in Alicia's case, who coupled her video with the classic Mission: Impossible theme.
Corey and Alicia married in October 2019 after becoming engaged that spring. Corey has been married twice before, and he has four children from prior relationships, including Griffin Taylor, the lead singer of fellow metal band Vended.
Corey's latest solo LP, CMF2, is out now. He's currently on the road with his solo band. Slipknot recently wrapped their touring for 2023 and parted ways with their longtime drummer, Jay Weinberg, as they said in a statement Sunday (Nov. 5).
Want more rock news delivered to you daily? Subscribe to the Loudwire newsletter and download Loudwire's app for the latest.
Alicia Taylor + Corey Taylor Do the 'I Trust My Latina Wife' Challenge
Alicia Taylor + Corey Taylor 'I Trust My Latina Wife' Challenge Outtakes
The 42 Songs Slipknot Have Never Played Live
These are the songs Slipknot have never performed live.
Gallery Credit: Lauryn Schaffner